Advanced Specialty Education Program in Orthodontics
Program Director: Richard D. Faber, D.D.S., M.S.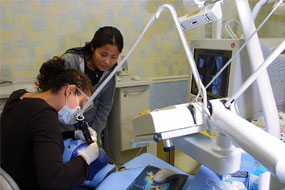 The postdoctoral program in orthodontics is a 36-month, full-time program designed to meet the eligibility requirements of both the American Dental Association for specialization in orthodontics and the certifying examination given by the American Board of Orthodontics. Applicants to the program must have a D.D.S. or D.M.D. degree, or foreign equivalent. Beginning on July 1 of each year, training will take place primarily in the School of Dental Medicine and its clinical facility (the Dental Care Center) at University Hospital, and at other teaching hospitals affiliated with the dental school and Health Sciences Center such as the dental department of the Long Island Jewish Medical Center. Instruction is provided through lectures, seminars, case presentation, conferences and clinical practice.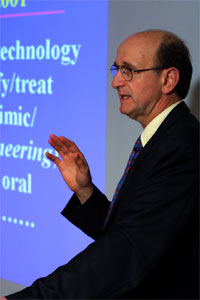 Emphasis is on diagnostic procedures and treatment planning, and the application of clinical methods best designed to meet the treatment objectives for the individual patient.
To receive a certificate in postdoctoral orthodontics, the student must:
Satisfactorily complete all courses listed below;
Submit two completed case write-ups as per standards of the American Board of Orthodontics
Pass an oral examination modeled after the certifying exam of the American Board of Orthodontics
Sit for parts I and II of the American Board of Orthodontics written examination
Present the findings and discuss their research project at a formal seminar
Submit for publication a clinical case report.
An application to the orthodontic specialty training program may be downloaded and printed from this website ( click on link below ) or obtained from:

Department of Orthodontics and Pediatric Dentistry
Stony Brook University
School of Dental Medicine
Stony Brook, NY 11794-8701
email: margaret.puglisi@stonybrookmedicine.edu

Deadline for Completed Application is September 1 of the year proceeding expected matriculation.

Application for Advanced Education Program in Orthodontics
Year I Program Requirements
Basic Science Core
Orthodontic Technique (Pre-clinical Orthodontics)
Cephalometrics and Radiology
Growth & Development
Orthodontic Theory & Practice
Head & Neck Anatomy
Diagnosis, Treatment Planning & Interdisciplinary Care I
Clinical Orthodontics I
Surgical Orthodontics & Craniofacial Deformities I
Temporomandibular Joint Dysfunction & Occlusion
Literature Review I
Journal Club
Research Project
Evolution of the Craniofacio dental mechanism
Year II Program Requirements
Orthodontic Theory & Practice II
Diagnosis, Treatment Planning & Interdisciplinary Care II
Surgical Orthodontics II
Literature Review II
Teaching Practicum
Research Project
Journal Club
Clinical Orthodontics II
Conferences in Clinical Orthodontics
Year III Program Requirements
Clinical Orthodontics III
Literature Review III
Teaching Practicum
Research Project
Diagnosis, Treatment Planning & Interdisciplinary Care III
Supervised Clinical Teaching
Conferences in Clinical Orthodontics