You can find the following information on this page: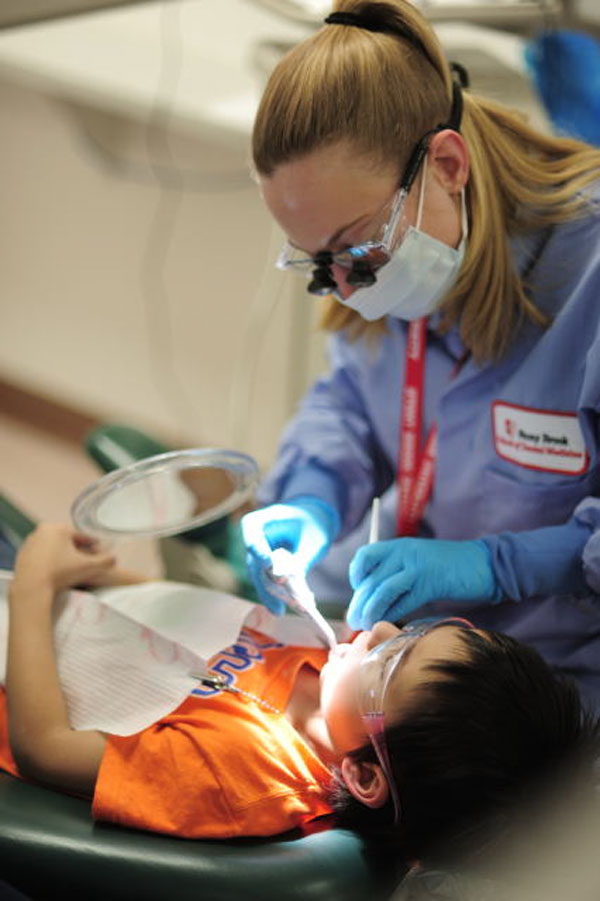 ---
Grading Policy
The School of Dental Medicine evaluates each student's academic and clinical performance quarterly using the following grading policies:
Didactic and technique courses are graded A (Superior), B (Good), C (Satisfactory), F (Failure).
Patient care courses and seminars are graded H (Honors), S (Satisfactory), U (Unsatisfactory).
W (Withdrawal) grade may be used if a student is given permission to withdraw from a course in progress.
I (Incomplete) grades may be given in cases where students do not complete the required coursework by the stated end of a course due to circumstances beyond their control. This grade will be changed to an appropriate letter grade upon completion of outstanding course requirements. This grade must be resolved by the end of the next academic quarter or start of the next school year (whichever comes first); otherwise it will be automatically changed to an F unless these deadlines are extended by written request of the course director.
R (Requirements) grade may be used in cases where students do not complete their clinical requirements by the end of any given year. Upon satisfactory completion in the following year the student's grade will be changed appropriately.
---
Academic Integrity and the Honor Court
The School of Dental Medicine Honor Court is responsible for interpreting and implementing the School's Honor Code. The Honor Court is composed of three elected representatives per predoctoral class plus three representatives from the postdoctoral programs (Endodontics, Orthodontics and Periodontics). Reports of violations of the Honor Code are brought before the Honor Court for resolution. Findings of the Honor Court are presented in writing to the Associate Dean for Education and Chair of the Academic Standing Committee or the affected Postdoctoral Director. The Academic Standing Committee may adopt or modify the Honor Court's recommended penalty for the violation. Decisions of the Committee may be appealed to the Dean of Dental Medicine and the Senior Vice President for Health Sciences. It is the policy of the School of Dental Medicine to ensure the integrity of its examination process, to promote ethical behavior in academic and clinical situations, and to develop a commitment by students to the integrity of the dental profession. Students have an obligation to refrain from any act which is designed to obtain for themselves, or others academic credit, grades, or other recognition which is not properly earned. They also have an obligation to take an active role in ensuring that other students refrain from such acts. Each student therefore has the responsibility to prevent or report acts of academic dishonesty.
---
Promotion/Advancement

Advancement to succeeding academic years and recommendations for graduation are made by the School's Academic Standing Committee…..Students who receive grades of I or R (with all other grades of C, S, or higher) may be considered for conditional advancement pending completion of those courses. Students' academic standing will be reevaluated which the I or R grade is resolved. Student on probationary status or modified programs for academic reasons who receive one or more F or U grades will be considered for academic dismissal. These policies are subject to change by the School's Faculty Council.
---
Medical Leave

Students who develop medical problems that interfere with their dental studies may be granted a medical leave of absence by the Associate Dean of Education. The Associate Dean will indicate the necessary documentation required to support the granting of a medical leave and the criteria for resumption of studies. A complete copy of the Academic Policies and Procedures of the School of Dental Medicine is given to each student at the start of each academic year for information and reference.
---
Pledge

Membership as predoctoral dental and postdoctoral students in the Stony Brook University School of Dental Medicine community is dependent on the commitment to the Honor Code and confirmed by signing the Honor Code Pledge, which states: "I hereby accept the terms of the Stony Brook University School of Dental Medicine Honor Code, realizing that it is my duty to uphold the concepts of personal and collective responsibility upon which the Honor Code is based."
---