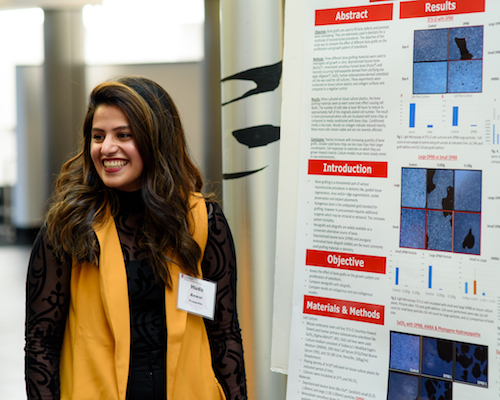 Stony Brook School of Dental Medicine's annual Research Symposium highlights oral health research through poster and oral presentations.

May 2018 - Stony Brook School of Dental Medicine's annual day of research, the Leo and Mickey Sreebny Lectureship and School of Dental Medicine Research Symposium, highlights research advancements in the field of oral health completed by members of the School of Dental Medicine (SDM) community.
This year's Research Symposium was held on May 2nd at Stony Brook University's Charles B. Wang Center and featured Yusuf Hannun, MD, Director, Stony Brook Cancer Center, as Keynote Distinguished Lecturer. Introduced by the day's Honorary Chair, Ira B. Lamster, DDS, MMSc, Director, Global Oral Health Programs, Dr. Hannun presented on the goals, status, and aspirations of the Stony Brook Cancer Center.
Hundreds of visitors to the event had the opportunity to view over 50 poster presentations by pre-doctoral, postdoctoral, graduate and undergraduate students featuring translational, basic, and clinical research.
"I love researching at Stony Brook because it allows us to apply our findings clinically and improve patient care," said Sonam Sheth, DMD, resident within SDM's Advanced Specialty Education Program in Orthodontics. Dr. Sheth's research presentation compares the level of radiation dosages from different imaging techniques used to examine impacted teeth with the goal of reducing future patient exposure to radiation.
SDM faculty members David Lam, MD, DDS, PhD, Professor and Chairman, Department of Oral & Maxillofacial Surgery, Soosan Ghazizadeh, PhD, Professor and Director of SCGT Core Facility, Department of Oral Biology & Pathology, and Steven D. London, DDS, PhD, Professor, Department of Oral Biology & Pathology each presented lectures on their research at the LI AADR Chapter meeting which took place onsite.
"As clinicians, we have the honor of helping one person at a time, but as scientists, we have the potential to help millions," said Dr. Lam who presented, "Novel Preclinical Models of Craniofacial Pain." "I hope my lecture inspired some of our best and brightest students to consider a future in science."
The Research Symposium concluded with a presentation of awards for exceptional research to eight predoctoral students, graduate students and residents. All awards were presented to the recipients by Dr. Lamster except for the AADR/Dentsply Sirona Student Research Award, which was given by Melissa Marlin representing Dentsply Sirona.
Ms. Marlin rounded out the successful event by announcing the placement of two Stony Brook School of Dental Medicine students in The Dentsply Sirona Restorative Global Clinical Case Contest which features aesthetic case studies. Erin Wang placed third nationally, and Jenna Chimon placed first nationally. Both Ms. Wang and Ms. Chimon were mentored by Christine Valestrand, DMD, Clinical Assistant Professor of the Department of Prosthodontics and Digital Technology. Ms. Chimon will represent the United States to compete globally in Konstanz, Germany, in June.
The Research Symposium also followed the induction of Hsi-Ming Lee, Research Assistant Professor, Department of Oral Biology & Pathology, to the Stony Brook University Chapter of The National Academy of Inventors on May 1st. The National Academy of Inventors is a US non-profit organization dedicated to encouraging inventors in academia.
"The annual Research Symposium continues to be an exciting event each year, and it serves as wonderful opportunity to view so many of the research initiatives taking place throughout the School of Dental Medicine within one venue," said Dean Mary Truhlar. "We are so proud of our students and faculty for their achievements in research and congratulate our recent award recipients."

Congratulations to the award recipients:

| | |
| --- | --- |
| AWARD | RECIPIENT |
| AADR/Dentsply Sirona Student Research Award | Parandis Nejati, BS (Parandis Najati, BS; Fadia S. Bazina, BDS, MS; Deana Cook-Dickershaid, BS; Maria Leon-Perez; Jena Savino, BS; Stephen G. Walker, MSc, PhD) Carbon-Sugar Influence on Mixed-Biofilms of Streptococcus mutans and Candida Species |
| The Hinman Symposium Award | Carmen Hung, BS (Carmen Hung, BS; Juyi Li, BS; Rose Hong; Bill Chen; Maria Rodriguez, BS; Katherine Vorvolakos, PhD; Miriam Rafailovich, PhD; Marcia Simon, PhD) Towards Optimizing Skin Bioprinting |
| The Omicron Kappa Upsilon Award | Nicholas Montanaro, BS (Nicholas Montanaro, BS; Sonia Motwani, BS; Rafael Delgado-Ruiz, DDS, MSc, PhD; Georgios Romanos, DDS, PhD) Optimization of Implant Thermal Control Protocol during Initiated Diode Irradiation |
| The NY Academy of Dentistry Award | Lucas Shapiro, DDS, The accuracy and precision of optical 3D surface scans from an iPad scanner |
| The Resident/Fellow Research Award | Ali Mehrabian, DDS (Ali Mehrabian, DDS; Thomas Manders, DDS; Jerome Cymerman, DMD) The Use of a Collagen-Carbonate-Apatite Scaffold in Regenerative Endodontics Followed by Traditional Intracoronal Bleaching Treatment in a Discolored Open Apex Tooth with Apical Periodontitis |
| The Resident/Fellow Research Award | Jalal Bukhari, DDS (Jalal Bukhari, DDS, Mina Mahdian, DDS, MDSc, Dan Colosi, DDS, PhD) Carotid artery calcifications detected by CBCT in patients with hypertension |
| The Graduate Student Research Award | Jie Deng, DDS, MSD (Jie Deng, DDS, MSD, PhD Student; Ying Gu, DDS, PhD; Hsi-Ming Lee, PhD; Veena Raja, BDS, MS, PhD; Francis Johnson, PhD; Lorne M. Golub, DMD, MSc, MD) Novel Modified Curcumin: Resolution of Cytokines and MMPs |
| The AADR National Research Day Award | Junaid Rajani, BS (Junaid Rajani, BS; Angad Singh, BS; Julio A. Carrion, DMD, PhD; Tae Jin Kim; Xiaojun Chan, PhD; Vincent J. Iacono, DMD, PhD; Srinivas Myneni, DDS, PhD) Osteogenic Potential of Gingival Mesenchymal Stem Cells Over |
| The AADR LI Section Research Award | Huda Anwar, DDS (Huda Anward, DDS; Marcia Simon, PhD; Georgios E. Romanos, DDS, PhD) Osteogenic Potential of Different Bone Grafting Materials |