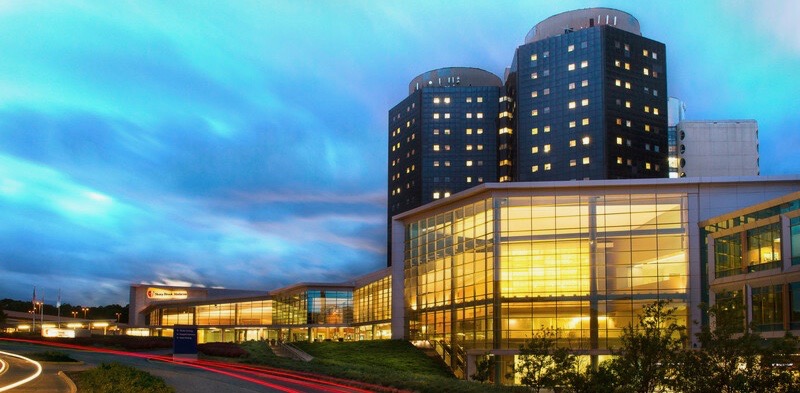 About the Program
Stony Brook University Hospital offers an exciting Advanced Education Program in General Practice Residency that cultivates the new dentist's transition from dental student to practicing clinician. Its academic and clinical programs are designed to grow the residents' skills, knowledge, and confidence to succeed in clinical practice and provide exposure to dental professional opportunities. The academic program year begins July 1 and continues through June 30. Established July 1, 1980, the GPR has progressed to 20 highly sought-after positions. Four of these positions are dedicated to residents opting for a second advanced year, serving as a chief resident in General Dentistry. Fully accredited, the General Practice Residency Education Program (GPR) provides clinical, didactic, and hospital experiences beyond that accomplished in pre-doctoral training.

Incorporated within the Departments of Hospital and General Dentistry, the GPR program emphasizes resident training in the treatment of complex restorative problems using a multidisciplinary comprehensive dental care approach, and management of medically compromised patients using an interdisciplinary healthcare team approach. Residents receive didactic and clinical training in the management of a diverse patient pool consisting of well patient care, medically compromised, geriatric, and phobic patients, as well as individuals with developmental disabilities and special needs. Instruction and clinical experience are provided in all areas of general dentistry, with an emphasis on implant, prosthodontic, and esthetic cases. The clinical component is supported by laboratory technicians, providing in-house state-of-the-art patient care. Residents work with dedicated hygienists, dental assistants, and clerks, simulating a group dental private practice. All residents participate in service rotations to Stony Brook University Hospital emergency department, operating room, and anesthesiology department designed to provide residents with the skills to manage the needs of more medically acute and complex patients.
Program Goals
The profession of dentistry has grown immensely in its knowledge of oral health disease and the treatment solutions available. It requires the dentist to be knowledgeable in dental medicine as well as cosmetic advances. To meet these professional demands the GPR program has designed the following goals to grow the residents' skills, knowledge, and confidence in these areas:
To graduate professionals who will be able to act as primary care providers in managing the delivery of emergency and comprehensive patient-focused oral health care to a diverse population of ambulatory and hospitalized patients.
To graduate professionals with the knowledge of how systemic disease and chronic medical conditions impact the provision of oral health care.
To graduate professionals with advanced knowledge in assessing, diagnosing, managing, and treatment planning for multidisciplinary oral health care.
To graduate professionals with advanced knowledge and clinical ability in techniques used for pain and anxiety control.
To graduate professionals with the ability to critically review evidence-based literature and apply this knowledge in clinical practice.
To graduate professionals who utilize self-assessment and strive for self-improvement in all aspects of patient care.
To graduate professionals who can manage the delivery of oral health care by applying concepts of patient management and quality improvement.
To graduate professionals who understand the essentials of practice management.
To graduate professionals who understand the oral health needs of the community and can coordinate the promotion of oral health care and disease prevention
To provide a postdoctoral program of clinical and hospital dentistry in a dynamic learning environment that meets the professional and educational needs of the new dentist.
To graduate professionals who understand the legal, ethical, risk, and practice management issues for practicing dentists, thereby ensuring the safe treatment of patients.
Supervised clinical training and the supporting didactic program is designed to provide advanced knowledge and experience in preventive dentistry, restorative dentistry, periodontics, endodontics, oral and maxillofacial pathology, oral and maxillofacial surgery, and dental emergency management. Residents treat patients with increasingly complex dental and medical problems, such as patients with lost vertical dimension of occlusion, rampant oral disease requiring advanced prosthetic solutions as well as patients with systemic or psychiatric disorders, the developmentally disabled, geriatric, and pediatric patients. The program is designed to ensure that the residents will be capable of anticipating, diagnosing, planning, and treating all phases of dentistry. Service rotations to Stony Brook University Hospital emergency department, operating room, and anesthesiology department are designed to provide the resident with the skills to manage the needs of more medically acute and complex patients.
Resident Responsibilities
Upon successful completion of the GPR program, each resident will receive a Certificate, certifying that (s)he has completed one year of an accredited advanced education program in general dentistry. This certificate is necessary for licensure qualification to practice dentistry in some states, specifically New York. To be successful, a resident must meet all academic and professional responsibilities, the summary of which are outlined below.

All residents are expected to partake of all the academic and clinical experiences offered to them. This includes, but is not limited to, ambulatory and hospital-based patient care, including all assigned rotations, attendance at all scheduled seminars, meetings, and ceremonies, and participation in the Postdoctoral Case Presentation Day. Generally, GPR clinical outpatient care is scheduled between 9:00 AM and 5:00 PM, Monday through Friday. Lectures and seminars are scheduled before and after clinical care. A schedule of didactic lectures and seminars is distributed monthly to all residents via e-mail distribution. A schedule of the year's resident rotation assignments is distributed during the Orientation program. A mandatory orientation program is held during the latter part of June, prior to the start of the GPR program. Orientation is mandatory as it prepares residents for program activities beginning July 1st of each academic year. The orientation schedule is provided to all residents within the first week of June. Accepted residents are advised to have the latter two weeks of June available for Orientation activities.

Emergency On-Call: Urgent and emergent dental care is managed 24 hours/day 7 days per week in the Emergency Department at Stony Brook University Hospital and on weekdays at the outpatient dental care center. Residents are assigned to daily and weekend call on a rotating basis.

Employment as a PGY1 resident by SBUMC prohibits employment outside the University and professional liability insurance coverage only applies to supervised treatment of patients at the SBUMC, Dental Care Center during clinic hours, and at affiliated institutions.
As employees of the State of New York, GPR residents are subject to the rules and regulations governing employees as listed in the State University of New York at Stony Brook: University Policy Manual, as well as policies and procedures of Graduate medical education at the Stony Brook University Medical Center (SBUMC). As doctors at SBUMC and the Dental Care Center at the School of Dental Medicine, it is expected that each resident conducts him/herself in a professional and ethical manner in his/her dealings with faculty, staff, other residents and patients of SBUMC and the Dental Care Center, during all aspects of their training. The program director and SBUMC work together to ensure a culture of professionalism that supports patient safety and personal responsibility.

Residents and faculty members must accept their personal role in:
Assurance of the safety and welfare of patients entrusted to their care
Provision of patient- and family-centered care
Assurance of their fitness for duty
Management of their time before, during, and after clinical assignments
Recognition of impairment, including illness and fatigue, in themselves and in their peers
Attention to lifelong learning
The monitoring of their patient care performance indicators
Honest and accurate reporting of duty hours, patient outcomes, and clinical experience data
Performance evaluations completed quarterly will critique the residents' professionalism in addition to evaluation of clinical/didactic performance. Compliance with state and federal laws pertaining to drugs, alcohol, weapons, discrimination, physical abuse, and racial, sexual, or sexual preference harassment is expected. State law prohibits tampering with state property including fire safety equipment, i.e., fire alarms, fire extinguishers, fire bells, etc. It is impossible to separate the concept of resident freedom or rights from resident responsibility. To this end, it is imperative that residents desiring respect for their rights must also accord other segments of the community the same respect.

The following contact information and links provide access to these policies and regulations.

Stony Brook University Medical Center graduate medical education policies

Any questions concerning these policies, or allegations of non-compliance, should be directed to:
Deepak Desai, MD
Phone: (631) 638-2698
Email: deepak.desai@stonybrookmedicine.edu

Stony Brook University School of Dental Medicine policies

Any questions concerning policies, or allegations of non-compliance, should be directed to:
Dolores Cannella, PhD
Associate Dean for Education
Phone: (631) 632-3029
Email: dolores.cannella@stonybrookmedicine.edu

Commission on Dental Accreditation Policies

General Practice Residency Education Program Standards: Refer to the Commission on Dental Accreditation at www.ada.org (under Education and Careers tab, followed by Accreditation tab).

Any questions concerning these policies, or allegations of non-compliance, should be directed to:
Commission on Dental Accreditation
American Dental Association
211 East Chicago Avenue
Chicago, IL 60611-2678
Phone: (800) 621-8099 Ext. 4653
Email: soeldnerp@ada.org (Ms. Peggy Soeldner)
Application and Selection Process
All those wishing to apply must do so through the PASS application system. Applicants interested in applying are encouraged to contact us, visit and review the GPR website for an overview description of the program. The following criteria must be met for consideration of admission to the GPR program:
Applicants must have completed or anticipate completion of dental degree training from a dental school accredited by the American or Canadian Dental Association prior to the start of the GPR program.
Passing of National Dental Board Exam Part 1 at time of application; passing of National Dental Board Exam Part 2 before July 1st start date of the GPR program.
All applications must be received through the PASS application service. Program application requirements for our GPR program are detailed in PASS, including the number and type of recommendations required. There is no supplementary application.
Following the initial review of completed applications selected applicants will be invited for an interview. Interviews are by invitation only. If selected for an interview, the applicant will be invited via an email invitation to meet with selected GPR faculty and residents. After all selected candidates have been interviewed, a selection committee will rank candidates for submission to the Postdoctoral Dental Matching Program.
Application Deadline Dates

The deadline date for all candidates wishing to apply to the GPR program must submit all application materials via PASS by October 15 prior to the start of the July 1 academic year.

Admission Notification

Applicants to the GPR are offered admission through the Phase 2 portion of the Postdoctoral Dental Matching Program. Applicants who match to our program for these positions will be notified through the Match system on January 24, 2022.

PASS Information

Program Name:
University Medical Center SUNY Stony Brook

Program codes:
The PASS program code for all the GPR applicants is: #626
Candidates ranking the GPR should use Match # 8575
Stipends/Benefits
The stipend for the GPR program is equivalent to that of a PGY-1 hospital-based resident. For the 2021-2022 year is $65,413 plus $2,500 living allowance, in addition to state benefits (paid holiday and sick leave, medical insurance, dental and vision coverage, and prescription plan) and tuition/fee waivers.

Each GPR resident will accrue 15 days of paid vacation time, one week of which must coincide with the observed winter recess of the School of Dental Medicine unless assigned to the emergency coverage or other service rotations. The remaining vacation time may be taken at a time that does not interfere with assigned rotations and must have the approval of the GPR program director or his/her designee. Each resident will also be entitled to all holidays observed by the UUP bargaining unit. The following are the State scheduled holidays to which the GPR residents are entitled unless a specific assignment or emergency coverage has been scheduled as part of the program on one of those days. In those instances, the GPR residents are entitled to compensatory time off in lieu of the day worked/assigned. The holidays are Labor Day, Columbus Day, Election Day, Veterans' Day, Thanksgiving, Christmas, New Year's Day, Martin Luther King, Jr. Day, Memorial Day, Juneteenth, Independence Day and Presidents Day. GPR residents accrue sick days during the calendar year to be utilized for illness and medical issues. In case of illness, please contact the GPR reception desk as soon as possible to allow for patient rescheduling.
Meet Our Team
Interim Program Director: Matthew Hanna, DMD
Phone: (631) 632-9365 | Email: matthew.hanna@stonybrookmedicine.edu
Program Coordinator: Pam Burger
Phone: (631) 444-2557 | Email: pamela.burger@stonybrookmedicine.edu
Faculty:
Julie Boerger, DDS
Robert DuBois, DDS
Pember Edwards, DDS
David Green, DDS
William Greene, DDS
Ronald Haas, DDS
Dawn Herber, DDS
Nick Nicastro, DDS
David Plosky, DMD
Martin Pokorny, DDS
Richard Sigismondi, DMD