The School of Dental Medicine is an active participant in meeting the general mission of the University. The School conducts an excellent educational program for its students, contributes to scientific knowledge through its active programs in research, and actively participates in community service through its programs in continuing education and its treatment center, which provides dental care to thousands of community residents each year.
The School is fully accredited by the Commission on Dental Accreditation and the New York State Education Department and is a component of the Health Sciences Center at Stony Brook. The school incorporates the disciplines of operative dentistry and dental materials into the Department of General Dentistry. Orthodontics and pediatric dentistry are combined into the Department of Orthodontics and Pediatric Dentistry. Other departments in the school include the Department of Periodontology, Oral and Maxillofacial Surgery, Oral Biology and Pathology, Prosthodontics and Digital Technology, and Hospital Dentistry and Dental Anesthesiology.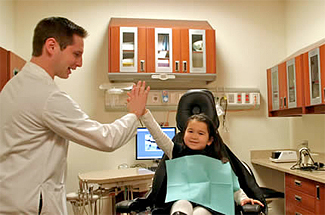 Dental students and medical students take the same courses in anatomy, biochemistry, microbiology, pathology, pharmacology and physiology. Small class size allows the student to receive highly personalized instruction. Didactic and clinical instruction is readily adapted to the needs of the individual student. The continued aim of the curriculum is to enable the graduate to readily enter into general practice, advanced training for specialty practice, public health, teaching and/or research.
The School offers the Doctor of Dental Surgery Degree, in addition to Advanced Specialy Education Programs in Endodontics, Orthodontics, Pediatric dentistry, Periodontology, General Practice Residency, Dental Anesthesiology, and Prosthodontics and Digital Technology. Graduate Master of Science and Doctor of Philosophy degrees are offered through the Graduate School of the University and the School's Department of Oral Biology and Pathology.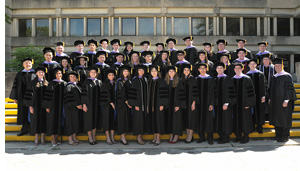 Excellence through diversity is the standard by which the school conducts its education and patient care programs. Multicultural representation by faculty and students is present at all levels in the school.
The school has affiliation agreements with a number of major regional hospitals, including Long Island Jewish Medical Center, Nassau County Medical Center, and the Veterans Affairs Medical Center at Northport. These institutions, together with the University Medical Center at Stony Brook, provide an environment for students to observe the effect of systemic disease on the structures of the oral cavity, and to participate as members of a health care team in the treatment of patients. Opportunities are available to students who desire experience in scientific research. These are made possible through the many research activities conducted by the faculty of the school. Extensive clinic experience in all fields of dentistry is provided for students in the Dental Care Center of the school. The Center is the largest dental care treatment facility on Long Island.
Since its inception in 1968, the School of Dental Medicine at Stony Brook has achieved an enviable reputation for the excellence of its educational programs. It continues to supply the community with dentists who are well educated in the latest technical, biological, and psychological aspects of dental practice.
For further information regarding the School of Dental Medicine call
(631) 632-8900 or write:

School of Dental Medicine
Stony Brook University
Stony Brook, NY 11794-8700
To inquire about treatment at our Dental Care Center please call (631) 632-8974