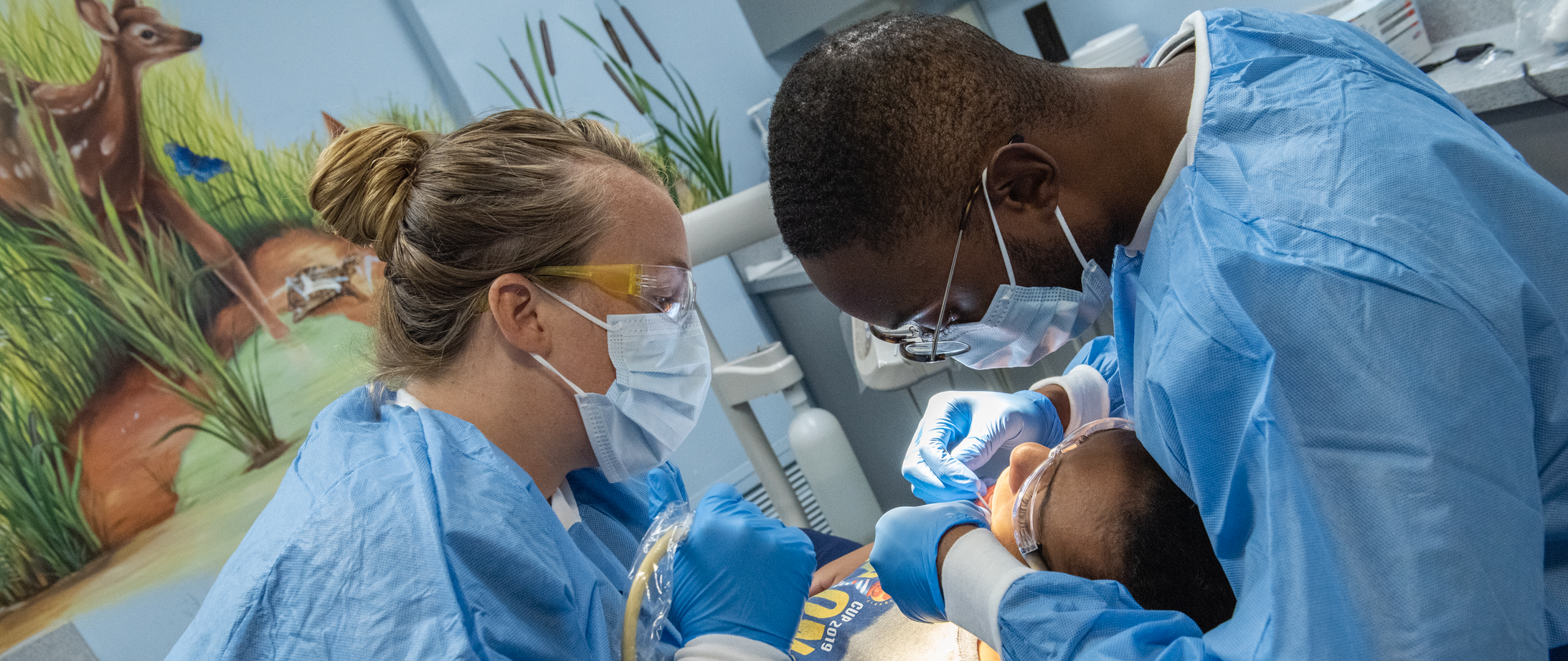 About the Program
This is a 24-month program beginning July 1 with five new positions offered each year. The program is a combined Hospital and University-based certificate program. The Stony Brook University Advanced Education Program in Pediatric Dentistry emphasizes resident training in the multidisciplinary comprehensive dental care approach and management of infants, children, and adolescents in addition to dental care for patients with developmental disabilities. Medically compromised patients are managed using an interdisciplinary healthcare team approach.

Program Goals
The Advanced Education Program is designed to provide clinical, didactic and hospital experience at the postdoctoral level. The program goals are as follows:
provide the resident with an appropriate and comprehensive education so that they become knowledgeable and clinically proficient in the specialty of pediatric dentistry
prepare the resident for a career in clinical practice and/or academics and encourage the resident to continue his/her professional growth after completion of the program through formal coursework, self-study, research, attaining board certification and an active role in an academic/teaching program
provide quality oral healthcare and education to the pediatric and special needs population of Suffolk County, New York
provide leadership and education in pediatric oral health to health professionals within Stony Brook University Hospital, Stony Brook Health Sciences Center, and the Long Island community
participate and collaborate in scholarly activity, research and service program

Coursework Requirements
The didactic curriculum complements the residents' clinical experiences. The core curriculum offers the knowledge and experience required in the medical and dental management of the pediatric and special needs patient. In addition, the curriculum meets the eligibility requirements of the ADA Committee on Dental Accreditation Standards for Advanced Education in Pediatric Dentistry and the American Board of Pediatric Dentistry.
The program is designed to ensure that the residents will become proficient in diagnosis, risk assessment and comprehensive treatment planning. Residents will develop the skills and knowledge to diagnose and treat acute infections and pain of the oral region, and traumatic injuries to the dental and maxillofacial tissues.
Residents will complete necessary didactic and clinical training in anesthesiology and pediatric dentistry to obtain a certificate in New York State for moderate sedation.
Service rotations to Pediatric Medicine, Emergency Medicine and Anesthesiology, which are designed to allow for continuity of patient care, take place at Stony Brook University Hospital and Stony Brook Medicine outpatient clinics.
The Pediatric Dentistry Residency program has a strong community service component. Residents participate in oral health programs, within school-based, Head Start and WIC programs and local family shelters. Residents participate in healthcare provider, allied health staff and caregiver education, and provide oral health services in the underserved areas of Suffolk County. Many of these community services take place in the Stony Brook Dental Mobile Clinic.
Research Opportunities
Stipends/Benefits
The salary of the pediatric dentistry residents is competitive with that offered in the tri-state area. No tuition is charged.
Current information is available upon request. Housing, parking, and meals are readily available.
Meet Our Team
Program Director: Kimberly K. Patterson, DDS, MS
Phone: (631) 632-3181 | Email: kimberly.patterson@stonybrookmedicine.edu

Faculty:
Ross E. Gruber, DDS
Yehuda Marciano, DDS
Kimberly K. Patterson, DDS, MS
Michael Reale, DDS
Mark Salerno, DDS
Rhona Sherwin, DDS
Dawn Sosnick, DDS
Viet Tran, DMD
Application Information
Application Requirements
Passed Part I, National Dental Board Examination or passed INBDE, or INBDE scores available prior to rank list submission
Proficient in the English language
Report postdoctoral Dental Match Program Code PED347 to PASS
Admission Requirements
Passed Parts I and II, National Dental Board Examination or INBDE
Earned a D.M.D./D.D.S. degree from a CODA-accredited U.S. or Canadian dental school
Submit an original dental school diploma directly to the program (not to PASS)
Application
The application deadline is September 15th of the year preceding matriculation. The Stony Brook University Advanced Education Program in Pediatric Dentistry participates in the American Dental Education Association (ADEA) PASS program and the National Matching Service program.
Applicants must be graduates of dental schools in the United States or Canada with a DDS or DMD degree that is acceptable for New York State Licensure and accredited by the Commission on Dental Accreditation of the United States or Canada. Questions regarding the Advanced Education Program in Pediatric Dentistry can be directed to:
Dr. Kimberly K. Patterson, Program Director
Stony Brook University School of Dental Medicine
124 Rockland Hall
Stony Brook, NY 11794-8700
fax: (631) 632-8717
email: kimberly.patterson@stonybrookmedicine.edu
Application for Advanced Education Program in Pediatric Dentistry