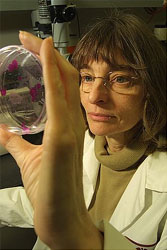 Introduction:
Oral Biology and Pathology is part of the School of Dental Medicine within the Health Sciences Center. It offers programs of graduate study and research leading to the M.S. and Ph.D. degrees under the auspices of the Graduate School of the University. Either degree can be taken in conjunction with the D.D.S. degree. The M.S. curriculum is of approximately two years' duration and is particularly suited for those dental graduates who wish to obtain basic and translatiraonal oral and related biological science training without or in conjunction with a clinical specialty. A major part of the Ph.D. is research and the development of a thesis on the findings. Areas of research are listed below but others may also be possible. Programs of study are also available to individuals with a Ph.D. or a clinical degree (dental or medical) who desire further research training or experience.

The main function of this program is to train oral biology educators and researchers to staff dental and medical schools, dental research institutes, dental and medical industrial laboratories, and to provide relevant basic science training for dentists and physicians taking postdoctoral specialty training. In addition, this program has been of particular interest to industrial based scientists seeking additional training and advanced degrees.

The course work consists of in depth exposure to knowledge, directly and indirectly related to oral biology and its related sciences, and is coupled with appropriate individual research, tutorial and thesis programs.
While the Department is interested in all aspects of Oral Biology, active programs of research presently being conducted include the following:
etiology, monitoring of and therapy for dental caries and dentinal sensitivity.
development, metabolism, and control of microflora on the teeth and various epithelial surfaces of the human body particularly those of the mouth, skin, vagina and gastro-intestinal tract.
oral putrefaction; etiology, measurement and therapy role in oral malodor/gingivitis-periodontitis.
ultra-structure and metabolism of healthy and diseased periodontal tissues with an emphasis on remodeling, matrix metalloproteins, host modulation.
diabetes and systemic disease relationships to oral disease.
bone metabolism and osteoporosis.
salivary gland function in normal and diseased states/secretory mechanisms, etiology, monitoring of and therapy for oral dryness (xerostomia)
chemistry of the biological calcium phosphates and their relation and application to oral and systemic disease.
biology of epithelial growth and differentiation
oral/dental stem cels
mechanisms of epidermal and oral carcinogenisis
wound repair
biology of skin and mucosal grafting

The Department also houses a new "clean room" facility that will be used to generate clinical grade cell and cell based therapies. This facility will contributes significantly to the clinical, research, and educational activities of the Department and other units of the University.
Besides a commitment to basic oral and medically related science, the Department is committed to technology transfer and its relation to clinical care. It is a leader in this area of activity and has and continues to develop products for the oral and medically related health market. Clinical trials are carried out to assess the safety and efficacy of various products developed by the Department and/or in conjunction with many U.S. and foreign industrial companies. Research grants are primarily from NY State, the National Institute of Dental Research, National Institute of Arthritis, Musculoskeletal and Skin Diseases and industrial companies and total between approximately 1.5 and 2.5 million dollars a year. In addition, the Department has brought into the University in 2007 more than 8.3 million dollars in royalty income.

Further details may be obtained from the Graduate Program Director, Dr. Marcia Simon;
e-mail: marcia.simon@stonybrook.edu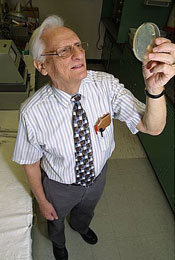 Facilities:
The Department currently occupies 18,000 square feet of space comprised of offices, research laboratories, special facilities and rooms with special equipment. These include:
extensive tissue culture facilities especially for growth of keratinocytes, fibroblasts and other cell types. The Living Skin Bank which can produce clinical grade cell therapies is housed in the Department of Oral Biology and Pathology under the scientific direction of Dr. Marcia Simon.
gene transfer facility to provide high titer retroviral and lentiviral vectors for stem cell transduction
scanning electron microscope
isotope counters and preparative ultra and analytical centrifuges
atomic absorption, ultraviolet/visible spectrophotometers
halimeter and oral malodor diagnostic accessories.
gas and high-pressure liquid chromatography systems
high-voltage, and polyacrylamide gel electrophoresis systems
extensive personal computer equipment with scanners and other accessories.
fluorescence densitometer and microdensitometer
microscopes of various types
automated colony counters
amino acid analyzer
automated micro-hardness tester
specialized anaerobic bacteriology, animal, and clinical facilities.
electronic, mechanical and wood shop facilities
research operatories are available in the Faculty Practice area for clinical research projects.
access to the university central computer facility as well as high speed Internet links connecting the Department to e-mail, medline and the internet through servers located in the University Hospital.
The university libraries maintain 1.7 million bound volumes and 3 million publications in microformat, and subscribe to approximately 13,300 periodicals and serial titles. Excellent collections are available in the biology and chemistry libraries. The Health Sciences Library contains more than 250,000 volumes and subscribes to 4,300 periodical and serial titles. Almost all of the dental research journals are included in this collection.
---
Chair: Dr. Maria E. Ryan - telephone: 631-632-9529
e-mail: maria.ryan@stonybrook.edu

Distinguished Professors: Lorne Golub and Israel Kleinberg
Professors: Maria Ryan, Marcia Simon, Soosan Ghazizadeh, Steve London, Barry Rifkin
Professors Emeriti: Hershall Kaufman, Thomas McNamara, Harry Soroff, Leo Sreebny, Lorne Taichman
Associate Professors: Lucille London, Stephen Walker , Denise Trochesset
Research Professor Emeritus: Nungavarm Ramamurthy
Adjunct Professors: David Baker, Robert Greenwald, Mark Wolff
Adjunct Associate Professors: Timo Sorsa
Clinical Associate Professors: Barry Cooper, Arthur Goren, Alvin Heller
Clinical Assistant Professors: Raveena Jagwani, Michael F. Paccione
---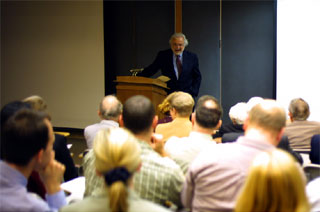 Admission:
In addition to the minimum Graduate School requirements, the following are required:
A bachelor's degree and grade point average of 3.3 in the sciences and 3.0 overall are required for admission into either the M.S. in Biomedical Sciences or Ph.D. program in Oral Biology and Pathology.
In addition to their transcripts, applicants are required to submit three letters of recommendation and proof of satisfactory performance on the General Aptitude and Advanced parts of the Graduate Record Examination (GRE).
All applicants are screened by the credentials committee of the Department. Interviews and discussions are arranged with faculty members and graduate students where possible.
Formal approval for acceptance into the program is given by the Graduate School.

To obtain applications and for more information, please access the Graduate School Web Site!
---

In addition to the minimum degree requirements of the Graduate School, the following are required:
Applicable to their course of study, students must complete all or part of the Oral Biology and Pathology Oral Systems course. In addition, M.S. students must complete three graduate courses selected from offerings within and outside the Department. Ph.D. students are generally required to complete six course offerings at the graduate level.
To officially reach Ph.D. candidacy after course work completion, the student must pass an advancement-to-candidacy examination. To do this, the student must prepare a written proposal in a format like that of a National Institutes of Health research grant application. A public seminar is presented by the student to members of his or her advisory committee, the Department, and the University community at large, in which the student defends his or her proposal. This is followed by a further defense by the student before his or her advisory committee. A recommendation for advancement to candidacy is then made and forwarded to the Graduate School for its official approval.
The candidacy examination is used to examine the student's ability to handle the intellectual and communicative processes involved in carrying out independent research.
Lastly and key is the requirement of an original research thesis both for the M.S. and Ph.D. degrees. For the Ph.D. degree, the format is similar to the advancement-to-candidacy examination in that the student defends the thesis in a public seminar followed by a second examination by the student's dissertation committee. For the M.S. degree, the student defends the thesis to the student's thesis committee. A public defense of the M.S. thesis is not required. If recommended for approval, this determination is submitted to the Graduate School, which makes the final decision to award the degree.
Each student has the opportunity to engage in various aspects of the teaching program of the Department, and a major effort is made to assist students to attend and present papers at scientific meetings.
Courses:
HDO 500 Biology of the Oral Mineralized Tissues
This course deals with the basic chemistry, crystallography, ultrastructure and metabolism of the calcium phosphates involved in the formation and physiological and pathological resorption of various mineralized tissues found in or associated with the oral cavity (enamel, dentin, cementum, bone). Ectopic calculus formation will be examined.
Prerequisites: HDO 560, 561, 562, and 563 or their equivalent; permission of the instructor
3 credits, fall and spring terms, Dr. Rifkin and faculty
HDO 510 Salivary Metabolism and Secretion
Consideration is given to the normal and abnormal structure and function of the glandular systems found in the oral cavity. The composition, regulation, and functions of the secretions from the major and minor salivary glands will receive particular attention.
Prerequisites: HDO 560, 561, 562, and 563 or their equivalent; permission of the instructor
3 credits, fall and spring terms, Dr. London and faculty
HDO 520 Oral Microbial Systems
Consideration is given to the structural composition, metabolism, and environmental relationships of the bacterial systems formed on and in association with the oral hard and soft tissues. Specific and mixed bacterial populations such as those resident on extra-oral mucosal surfaces and the skin and their role in oral disease will be dealt with.
Prerequisites: HDO 560, 561, 562, and 563 or their equivalent; permission of the instructor
3 credits, fall and spring terms, Dr. Walker
HDO 530 Molecular Biology and Pathology of the Periodontium
This course deals with the ultrastructure and biochemical composition of the periodontal tissues, remodeling of the extracellular matrix with an emphasis on the role of metalloproteinases, the microbial interrelations with the organic and inorganic components of the periodontal tissues, the biochemical dynamics of gingival inflammation and wound healing, and the metabolic processes responsible for the composition and flow of gingival crevicular fluid.
Prerequisites: HDO 560, 561, 562, and 563 or their equivalent; permission of the instructor
3 credits, fall and spring terms, Drs. Golub and Ryan
HDO 535 Epithelial Keratinization and Differentiation
This course examines the growth and differentiation of stratified squamous epithelia. Particular emphasis is placed on molecular events involved in the differentiation program. Consideration is also given to mechanisms involved in cutaneous disorders.
Prerequisites: Permission of instructor required; HBP 531 suggested; students must have had a background in cellular biochemistry and molecular biology
3 credits, fall or spring term, Dr. Simon

HDO 550 Oral Diagnostics and Therapeutic Technology, Lectures and Laboratory Techniques
Recent advances in the use and development of research technology for the early diagnosis and treatment monitoring of oral and systemic disease. Special attention is paid to the principles of technology transfer including patents and patenting. The course includes relationships of dry mouth to salivary physiology, diabetes, and drug medications; salivary film measurements, wetting of oral surfaces, visco-elasticity and lubricity; the use of the Periotron and enzyme assays for the diagnosis of gingivitis and periodontal disease; instrumentation used in sensitive teeth measurement and evaluation of treatment effectiveness using several types of; oral candidiosis and denture stomatitis, early detection and causes of dental caries; oral malodor measurements including use of the Halimeter and its use in formulation of oral compositions. Applications to clinical practice and clinical studies are covered.
Prerequisites: HDO 560, 561, 562, and 563 or their equivalent; permission of the instructor
4 credits, fall and spring terms, Dr. Kleinberg and faculty

HDO 560 Oral Biology and Pathology I
The first of four comprehensive courses on molecular structure, biochemical and physiological functions, developmental anatomy and pathology of the various systems that constitute the oral apparatus. Covers the embryological development of the face and oral cavity and the biology and pathology of the oral mineralized tissues.
Prerequisites: Undergraduate degree in basic science; permission of instructor
3 credits each, fall and spring terms, Dr. Ghazizadeh and faculty.

HDO 561 Oral Biology and Pathology II
The second of four comprehensive courses on molecular structure, biochemical and physiological functions, developmental anatomy and pathology of the various systems that constitute the oral apparatus. Covers the biology and pathology of the periodontal structures and the microbiology of the oral cavity.
Prerequisites: Undergraduate degree in basic science; permission of instructor
3 credits each, fall and spring terms, Dr. Ghazizadeh and faculty.

HDO 562 Oral Biology and Pathology III
The third of four comprehensive courses on molecular structure, biochemical and physiological functions, developmental anatomy and pathology of the various systems that constitute the oral apparatus. Covers the biology of the oral mineralized tissues.
Prerequisites: Undergraduate degree in basic science; permission of instructor
3 credits each, fall and spring terms, Dr. Kleinberg and faculty

HDO 563 Oral Biology and Pathology IV
The fourth course of four comprehensive courses on molecular structure, biochemical and physiological functions, developmental anatomy and pathology of the various systems that constitute the oral apparatus. Covers the biology and pathology of the oral sensory systems and the biology and pathology of oral motor systems.
Prerequisites: Undergraduate degree in basic science; permission of instructor
3 credits each, fall and spring terms, Dr. Cooper and faculty.

HDO 590 Research Projects in Oral Biology and Pathology
Individual laboratory projects supervised by faculty members to be carried out in their research laboratories.
Prerequisite: Enrollment in a master's or doctoral program.
3 credits each, fall and spring terms, Dr. Simon and faculty

HDO 599 Graduate Research
Original investigations undertaken with supervision of a faculty member.
Prerequisite: Permission of instructor.
1-12 credits each, fall and spring terms, variable, faculty

HDO 690 Oral Biology and Pathology Seminars
Research seminars by students, faculty and visiting scientists.
Prerequisite: Permission of instructor.
1 credit each, fall and spring terms, Dr. Walker
HDO 695 Oral Biology and Pathology Teaching Practicum
Practice instruction in the teaching of oral biology and pathology at the undergraduate level carried out under faculty orientation and supervision.
Prerequisite: Permission of instructor.
1-4 credits each, fall and spring terms, variable, faculty
HDO 699 Dissertation Research in Oral Biology and Pathology
Original investigation undertaken with supervision of a member of the faculty.
Prerequisite: Permission of thesis advisor.
1-12 credits each, fall and spring terms, variable, faculty
---
American Dental Education Association

American Dental Association

International/American Association of Dental Research

National Institute of Dental and Craniofacial Research (NIDCR)