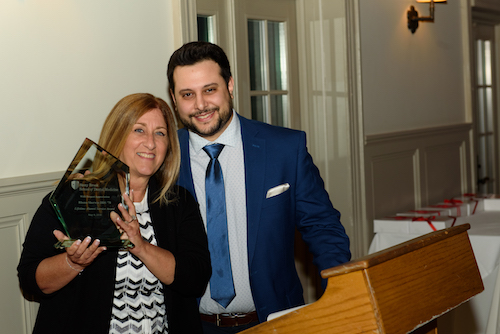 Dr. Sherwin's dedication to Stony Brook School of Dental Medicine was highlighted at the annual Senior Celebration Dinner

May 2018 - Stony Brook School of Dental Medicine's annual Senior Celebration Dinner brings together students, faculty, and staff for a joyful evening just ahead of commencement. This year, the Class of 2018 gathered at Old Field Club in Setauket, enjoying refreshments and joining in group photos in front of a sunset over the waters of Long Island's North Shore.

The Senior Celebration Dinner celebrates the accomplishments of the graduating class, and in doing so, brings into focus the positive influence a faculty member can have on the students' four-year educational experience. Rhona Sherwin, DDS '78, Clinical Professor, Department of Orthodontics and Pediatric Dentistry, serves as an example of a dedicated, encouraging mentor.

Dr. Sherwin received the first-ever Lifetime Alumni Service Award at the May 9th event which was presented by Thomas Grandville, DDS '11, President, SDM Alumni Board. Since graduating 40 years ago from SDM, Dr. Sherwin has continuously given back to SDM and its community.

Dr. Grandville cited Dr. Sherwin's service on the Alumni Board, her creation, and sponsorship of Dental Jeopardy Night, hosting her 20th-anniversary class reunion, and her critical role in SDM's community outreach programs through "Give Kids a Smile" days and the Mobile Dental Clinic, as examples of her continued dedication.

"I am delighted to recognize and honor one of my former faculty and now a friend, who taught me here when I was a student," said Dr. Grandville addressing the crowd, particularly the members of the Class of 2018. "At some point, she has also taught each of you, and I'm sure you'll join me in congratulating Dr. Rhona Sherwin."

Dr. Sherwin was greeted at the podium with her award, cards, gifts, as well as a large sign in the audience. "Working at Stony Brook has given me much pleasure and I am proud to say that I am a graduate of this wonderful University and a member of the faculty for nearly 30 years," said Dr. Sherwin. Dr. Sherwin attributes her motivation to the students, and her successes to those she works aside, as well as to her husband and children.

As part of the Senior Celebration Dinner, the soon-to-be graduates were presented with a celebratory gift in honor of their accomplishments and in anticipation of the impending commencement ceremony. In addition to congratulatory remarks from Mary Truhlar, DDS '84, Dean, and Dolores Cannella, PhD, Associate Dean for Education, the Class of 2018 selected Omar Nijem, now DDS, to provide a recap of their tenure at SDM. Dr. Nijem filled the room with laughter at inside jokes, fond memories, and spot-on impressions of various faculty members.

"The Senior Celebration Dinner is always a great opportunity to celebrate the accomplishments of our graduating class ahead of commencement," said Dr. Truhlar. "Honoring Dr. Sherwin for her many years of dedication and service to our School contributed an additional element of celebration to the evening."

For all photos from the Senior Celebration Dinner, visit us on Facebook.