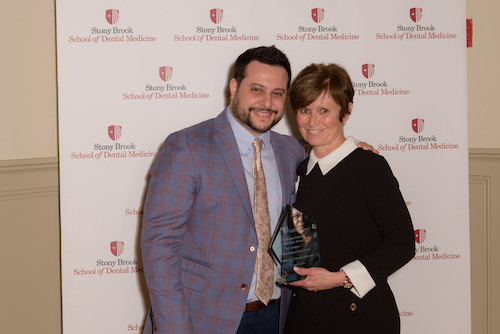 Dr. Debra Cinotti's dedication to Stony Brook School of Dental Medicine was highlighted at the annual Senior Celebration Dinner. 
May 2019 - The annual Senior Celebration Dinner celebrates the accomplishments of the graduating class, and in doing so, brings into focus the positive influence a faculty member can have on the students' four-year educational experience. At this year's event, Debra Cinotti, DDS '86, was honored for her service to the School, including her role as a dedicated mentor.  
Chosen as the second-ever recipient of the Lifetime Alumni Service Award, Dr. Cinotti has served in a multitude of leadership roles within the School of Dental Medicine over the course of 25 years. Her award was presented by Thomas Grandville, DDS '11, President of the School of Dental Medicine's Alumni Board.  
"It is very difficult to fully express the gratitude for the incredible dedication and loyalty that Dr. Debra Cinotti has shown to the School of Dental Medicine," expressed Dr. Grandville. Dr. Grandville applauded Dr. Cinotti for her willingness to always "roll her sleeves up and get the job done," and for her devotion to the provision of care to those with special needs.  
Set to retire this June, Dr. Cinotti has successfully completed terms as Associate Dean for Clinical Affairs, Assistant Dean for Admissions and Student Affairs, Director of the General Practice Residency, and Chair of General Dentistry within the School of Dental Medicine. Furthermore, Dr. Cinotti has served as director of the DCDD (Dental Care for the Developmentally Disabled) Program for over ten years and as a lead faculty member for over 20 years, in addition to volunteering as a member of various related local, state, and national committees and organizations, including the Long Island Special Olympics.  
"We are so grateful to Dr. Cinotti for her many years of commitment and leadership," said Dean Mary R. Truhlar, DDS '84. "I hope that Dr. Cinotti will inspire our Class of 2019, now alumni, to continue to come back and be a part of our outstanding institution."