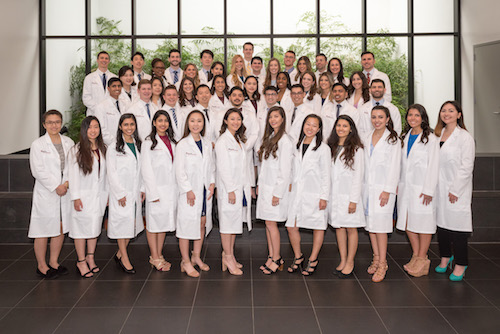 The White Coat Ceremony for Stony Brook University School of Dental Medicine's Class of 2022 was held on April 15th, 2019 at the Charles B. Wang Center Theatre.  
April 2019 - The acceptance of a white coat is a tradition among health professions and serves as a symbol of commitment to providing compassionate, ethical care to patients. Furthermore, the wearing of a white coat should be recognized as a major step in the journey to becoming a doctor and a marker of the transition into clinical education.   
On April 15th, 46 first-year students of Stony Brook School of Dental Medicine participated in the White Coat Ceremony, accepting their white coats from Mary Truhlar, DDS, Dean, and Steven Zove, DDS, Associate Dean for Clinical Affairs. In the eight months leading up to the ceremony, students had been learning the foundational skills to begin to interact with patients formally and deliver care.  
"The White Coat symbolizes not only our commitment to giving the best care to our patients but also creating a culture where we support each other at all times," reflected Class of 2022 member Dhaval Shah. "It is a passageway to serving humanity for the rest of our lives and having an opportunity to make a real difference in this world."   
As the students individually walked across the stage and accepted their white coats, they were met with supportive applause by onlooking honored guests, faculty, family, and friends. For Class of 2022 member Phil Bacigalupo, the dream of receiving his white coat has long been inspired by family. "Ever since I was little, I've admired my dad, a practicing dentist, and his ability to have such a profound impact on his patients' lives," said Phil. "When my older brother went through Stony Brook School of Dental Medicine and became a dentist, it only furthered my desire to follow in their footsteps."   
Following the Presentation of the White Coats, Thomas Grandville, DDS '11, President of the Stony Brook School of Dental Medicine Alumni Board, introduced Mark N. Hochman, DDS '84, Clinical Consultant and Director of Clinical Affairs of Milestone Scientific, Inc., as he accepted the Distinguished Alumnus Award from Stony Brook School of Dental Medicine.    
In his remarks, Dr. Hochman reminded the white coat recipients that Stony Brook School of Dental Medicine, "attracts the best and brightest dental school applicants in this nation." Dr. Hochman attributes this to the quality of the institution, namely, its intimate, supportive environment encouraged by small class size, the direct access to faculty for mentorship and guidance, and the commitment and principled-nature of its leadership.    
As the 2019 Distinguished Alumnus, Dr. Hochman reminded the Class of 2022 that they are "joining a noble profession in which the personal satisfaction of caring for another is both a privilege and an honor." He imparted on the class the importance of relying on and collaborating with your network, of being ready to and capable of embracing change, and of treating patients with a person-centered approach.  
Following the recital of the Hippocratic Oath, led by Dr. Zove, and concluding marks by Dr. Cannella, the students exited the hall, proudly wearing their white coats, and shared in embraces with their friends, families and loved ones among a bustling, celebratory reception.    
"Receiving my white coat comes as both an achievement and a challenge," said Class of 2022 member Chloe Doto. "I am so proud of all that myself, and my classmates have accomplished thus far, but this coat serves as a reminder that there is more work to be done as we enter the clinical phase of our training. Challenge accepted!"