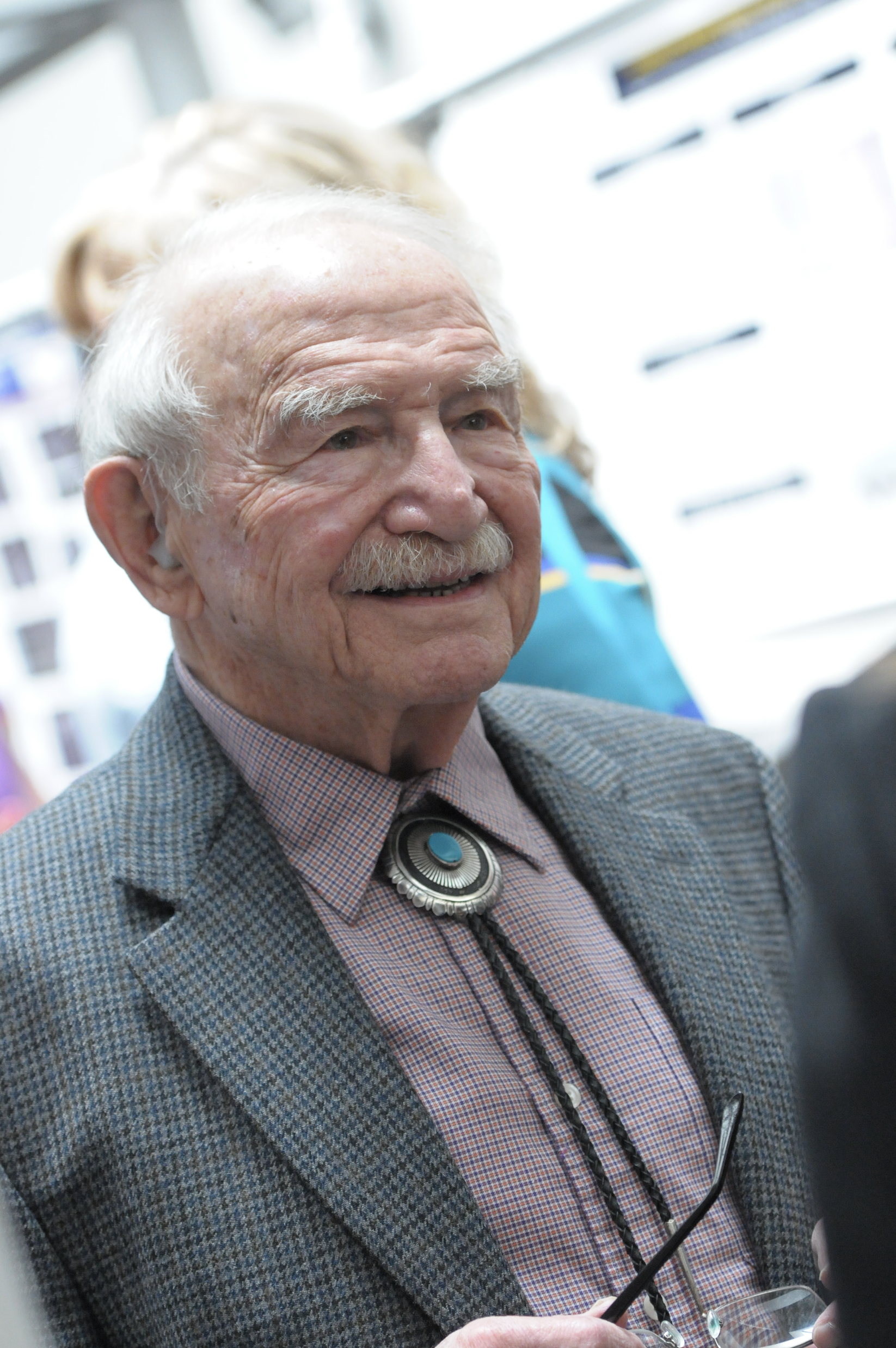 Dr. Leo M. Sreebny, former Dean (1975-1979) and faculty member (1975-2005) of Stony Brook School of Dental Medicine, passed away on April 5th, 2020 from complications caused by COVID-19. Dr. Sreebny was a passionate advocate for research and innovation. He encouraged discovery for hundreds within our community through his establishment and generous support of the annual Leo and Mickey Sreebny Lectureship and Stony Brook School of Dental Medicine Research Symposium.
Dr. Sreebny's impressive career — spanning from his military service in World War II to his numerous academic papers — is worth celebrating. Personally, Dr. Sreebny was genuine and kind, known within our community for his warmth and his backing of our students and their academic pursuits, particularly in the name of research. It is a testament to his legacy that his namesake day of research will live on within the School of Dental Medicine.
Dr. Leo M. Sreebny
Provided by the family of Dr. Sreebny:
Born in 1922 in the Bronx, NY, Leo Sreebny was the son of Morris and Lillie (Luba Bogdanoff) Sreebny, Jewish immigrants from Ukraine.  After graduating from Townsend Harris High School at the age of 15, he attended the City College of New York for one year, and then went west to study at the University of Illinois.  During his last quarter there, he met his future bride, Mathilda (Mickey) Sternfeld. They wed in 1945 and were married for 64 years until her death in 2009.
During World War II, Leo served in both the Army and the Navy, studying dentistry at the University of Illinois, Chicago and then serving in Guam for two years, where Mickey joined him and taught English while making their home in a Quonset hut. 
After the Navy, Leo and Mickey returned to Chicago, where Leo earned a Master's Degree in Pharmacology and a PhD in Medical Pathology.  In 1957, they moved to Seattle with their two young sons, where Leo established a new Department of Oral Pathology (later Department of Oral Biology) at the University of Washington Dental School. In 1967, he established a Center for Research in Oral Biology and served as its director. In 1975 Dr. Sreebny left the UW and went to the School of Dental Medicine at the State University of New York at Stony Brook where he served as Dean until 1979, and then as professor until his retirement in 2005. He and Mickey moved back to Seattle in 2006.
Dr. Sreebny authored numerous academic articles and papers and co-edited the 2010 book, Dry Mouth, The Malevolent Symptom: A Clinical Guide. He was an active member of the Federation Dentaire International, International Association for Dental Research, and other professional organizations.
Leo Sreebny loved life. As he put it, "One of my troubles is that I like so many things." He and Mickey enjoyed inviting family, friends, colleagues, and assorted others to their warm and welcoming home for every manner of get-together, party, and celebration. He was genuinely interested in each person he met and engaged people with his ready smile, twinkling eyes, and sharp wit. Leo was an accomplished pianist and accordion player, and at home invited everyone to join in the music, which ranged from classical and jazz to Yiddish folk songs and Hebrew melodies. He played tennis and bridge, made wine, and loved to swim and walk. He was an avid fisherman and gardener, especially in his historic home in East Setauket, NY.  Leo and Mickey traveled the world together, enjoying cross-country drives as well as extended visits to Europe, Africa, Asia, the Middle East and beyond.
Passionate about his Jewish identity, Leo was involved in Jewish activities throughout his life. He was a devoted member of the Habonim Labor Zionist youth movement in his younger years, spent two sabbaticals at Hebrew University in Jerusalem, and made countless other visits to Israel. In Seattle, Leo worked with the Music of Remembrance organization to remember the Holocaust through music, and he established the Mickey Sreebny Memorial Scholarship with the University of Washington's Stroum Center for Jewish Studies.
Leo had a profound love for his children and their spouses (Oren and Michele, Dan and Darcy), his grandchildren Rachel, Laura, and Mose, and their spouses and families, including his great-grandchildren Robin and Luka. In recent years he found great joy in his partnership with Jean Ross, her children, and grandchildren.
Leo M. Sreebny was a gifted scientist and loving human being. He was a true "mensch" – the Yiddish word for a person of honor and integrity. May his memory be a blessing for all who knew him.
His family and many friends mourn his passing and celebrate his generosity of spirit, his many accomplishments, and his ability to bring joy and happiness to everyone around him. He truly made the world a better place.