February 2020 – Stony Brook School of Dental Medicine students and faculty kicked off National Children's Dental Health Month by attending Give Kids A Smile events organized by local dental organizations, Nassau County Dental Society and Suffolk County Dental Society. Children that participated from Long Island communities were provided with free dental screenings, cleanings, and fluoride treatments.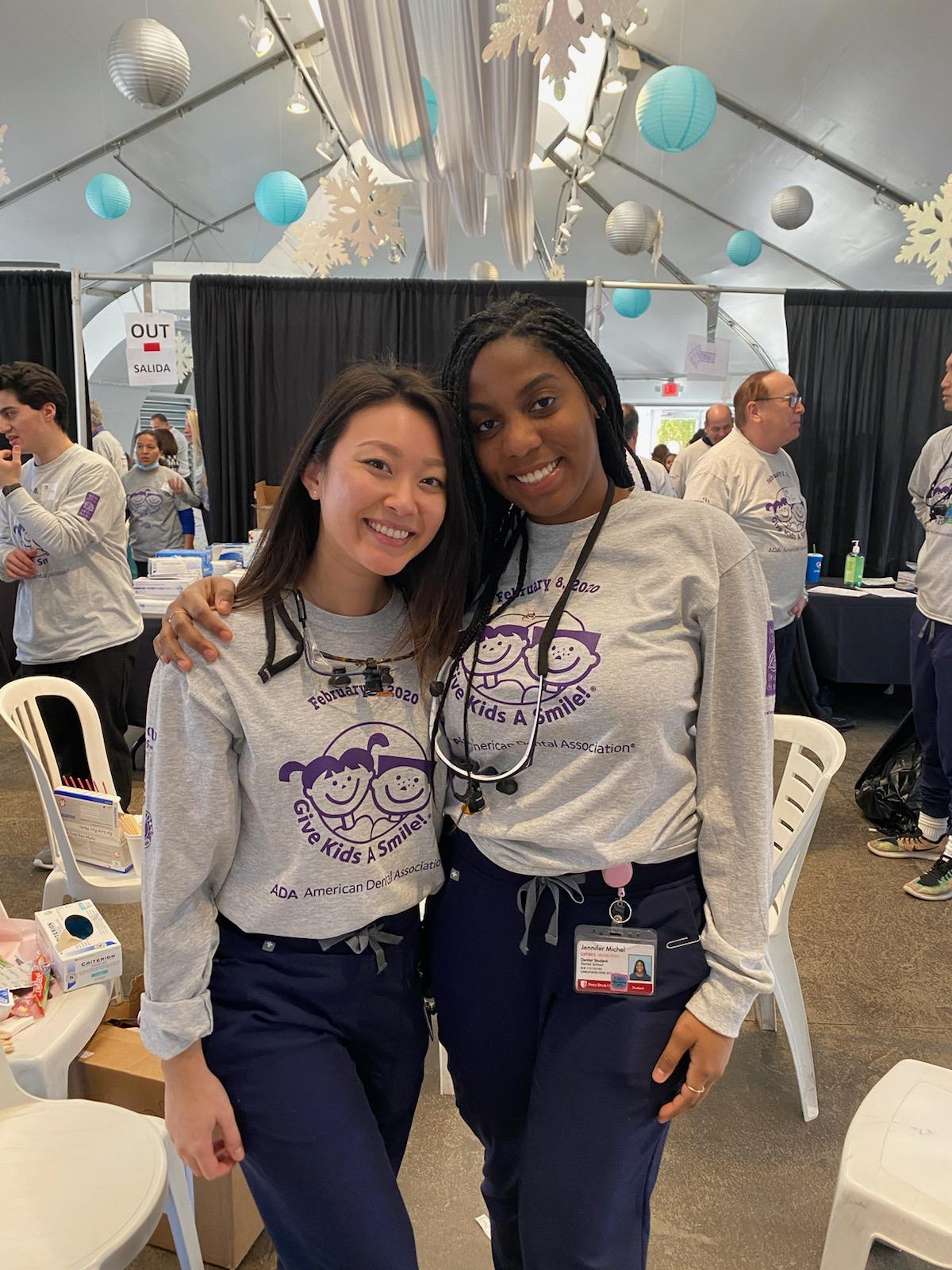 Members of the Stony Brook School of Dental Medicine community volunteered at back-to-back Give Kids A Smile events in Nassau and Suffolk Counties in support of expanding access to oral health care for local children.
The Give Kids A Smile program, launched nationally by the American Dental Association in 2003, has helped to bring more than 5.5 million underserved children free oral health services. Each year, Stony Brook School of Dental Medicine supports the two February events held locally in addition to leading its own back-to-school event held in August in its Dental Care Center.
With the support of Stony Brook School of Dental Medicine students and faculty, both the Nassau County and Suffolk County Dental Society events experienced record-breaking attendance this year. In Nassau County, the number of children who received oral healthcare services - 1,500 - topped previous counts. In Suffolk County, both the number of children treated and the number of volunteers surpassed expectations. In total, 150 volunteers coordinated to make their event possible.
According to Stony Brook School of Dental Medicine students Cynthia Kuang and Tiffany Chung, helping to provide oral healthcare to underserved families within the community was a fulfilling experience. For Tiffany, working alongside other dental professionals in this way has inspired her to be involved in similar events in the future. 
"Volunteering for Give Kids A Smile was incredibly fun and fulfilling, and knowing how far many of these families were willing to travel just to have their kids' teeth examined and cleaned reminded me of the privilege we have as future providers in caring for those who need it most," said Cynthia. "Educating parents on the importance of preventative dental care and watching kids get excited over toothbrushes made my day!"
Each year, the events are held in family-friendly locations. The Suffolk County Dental Society's Give Kids A Smile event took place at the Long Island Aquarium of Riverhead, and the Nassau County Dental Society's event at the Cradle of Aviation in Garden City. Each day welcomes children from local communities to receive free oral health care services, as well as to participate in a fun day of coloring stations, puppet shows, and face painting.
Dr. Dimitrios Kilimitzoglou, Clinical Associate Professor of Stony Brook School of Dental Medicine, described the event as the pinnacle of philanthropy, education, and community outreach. "It's a win-win for everyone involved: our dental students, the patients that we treat, and all of the volunteers who donate their skills and time." 
Dr. Kilimitzoglou is Past President of the Suffolk County Dental Society and has seen the Riverhead event grow from dozens of patients to hundreds since its inception eight years ago thanks, in large part, to the efforts of volunteers such as the students and faculty of Stony Brook School of Dental Medicine. "It is nothing short of amazing," said Dr. Kilimitzoglou.  
"We are happy to support both the Nassau and Suffolk County Dental Societies' Give Kids A Smile days each year," said Dr. Rhona Sherwin, Director of Pediatric Outreach and Clinical Professor of Stony Brook School of Dental Medicine. "An integral part of our mission is to provide accessible oral health care to the local community, and these experiences provide a meaningful opportunity to do so."