June 2021 – Dr. Ralph Epstein recently received the 2020 Distinguished Alumnus Award at the White Coat Ceremony for Stony Brook University School of Dental Medicine's Class of 2023. The event, delayed by the COVID-19 pandemic for over one year, was held in person allowing for palpable excitement for all in attendance. The School of Dental Medicine combines the Distinguished Alumnus Award within the White Coat Ceremony to inspire its students as they begin providing clinical care.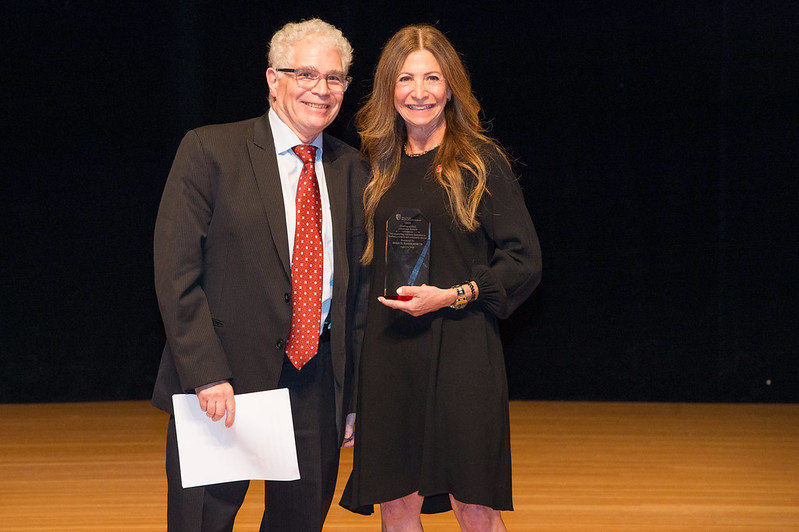 The Distinguished Alumnus Award was presented by the School of Dental Medicine's Alumni Board President, Stacy Reisfeld, DDS '88, and was given to Dr. Epstein following nominations based upon outstanding alumni achievement. "We honor the accomplishments of our alumnus, Dr. Epstein," began Dr. Reisfeld. "As a leader in his field, Dr. Epstein's passion for dental anesthesia is evident and enduring. Throughout his successes, Dr. Epstein has represented our institution in a way in which we can all be proud." 
Dr. Epstein received his Doctor of Dental Surgery degree in 1978 as part of only the second class of graduates of the School of Dental Medicine. Following graduation from the School of Dental Medicine, Dr. Epstein completed a one-year general practice residency at Long Island Jewish Medical Center. He then spent the next two years as a dental anesthesia resident at LIJ, serving as chief resident during his second year. 
The completion of Dr. Epstein's education marked the beginning of a passionate career dedicated to the advancement of dental anesthesiology. Dr. Epstein championed the recognition of dental anesthesiology as a specialty on a national level, and in doing so, raised the stature of this much-needed service for all patients, including children and patients with special needs. His legacy can be seen through his influence in crafting legislation language that governs the required education for dental professionals providing anesthesia. Through these critical changes, both outcomes and safety for patients as been improved. 
A focus of Dr. Epstein's work has long been his extensive commitment to the betterment of oral healthcare for individuals with special needs. Whether through approaching the needs of this population through policy within New York State or as a healthcare provider within his private practice, Dr. Epstein has been a dedicated and purposeful advocate. 
"We are grateful for the invaluable impact Dr. Epstein has had through the education of generations of dental anesthesiologists," said Dr. Reisfeld. A member of the Stony Brook School of Dental Medicine faculty, Dr. Epstein serves as a Clinical Associate Professor and Program Director within the Advanced Education Program in Dental Anesthesiology and holds dual appointments to the Departments of Anesthesiology and Dentistry at Stony Brook University Hospital. 
"Dr. Epstein, we thank you for your commitment to Stony Brook School of Dental Medicine and Stony Brook Medicine," concluded Dr. Reisfeld. "As School of Dental Medicine students accept their white coats today, please know that your work will serve as a powerful reminder of the importance of combining passion and expertise to make a difference in the lives of our patients and within the field of oral healthcare." 
Pictured above: Dr. Ralph Epstein (left) and Dr. Stacy Reisfeld (right) on stage at the Staller Center for the Arts. Dr. Stacy Reisfeld holds an award to present to Dr. Epstein.