February 2021 – Over the past ten years, many Long Islanders have spotted a giant, eye-catching red van making its way through Nassau and Suffolk Counties: Stony Brook University School of Dental Medicine's Mobile Oral Health Services Clinic. Beyond sightings on the highways, the 40' clinic on wheels has garnered attention for the oral healthcare services it has provided to underserved communities in its decade of existence.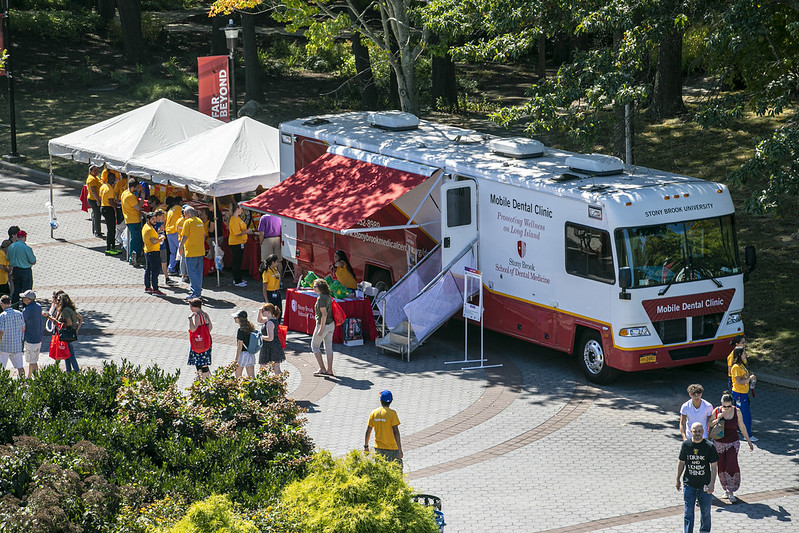 The Mobile Oral Health Services Clinic was established in 2011 through receipt of a multi-million-dollar New York State Health Care Efficiency and Affordability Law (HEAL) grant. The HEAL NY program was designed to increase healthcare services to the population of New York State. In meeting this mission, care has been provided to communities that lack transportation or providers willing to accept their insurance.   
Since it arrived from California in a cross-country journey, the Mobile Oral Health Services Clinic has dramatically expanded access to care for underserved populations on Long Island, particularly for pediatric patients. Offering a comprehensive scope of services, the Mobile Oral Health Services Clinic is fully equipped with three dental operatories and is manned by a team of experienced dental faculty, dental hygienists, dental assistants, and pediatric dentistry residents.   
It is readily evident that access to care has expanded through the Mobile Oral Health Services Clinic's existence. Since the 15 patients of its inaugural year, the mobile clinic welcomed close to 800 patients in 2019 alone and is nearing 5,000 patient visits overall. Visitors are offered services, including oral health education, screenings, cleanings, fluoride treatments, routine operative care, sealants, and emergency care.   
The Mobile Oral Health Services Clinic partners with organizations providing critical services to vulnerable populations, including homeless shelters, human service agencies, elementary schools, Head Start Programs, Women, Infants, and Children Programs, Give Kids A Smile® events, and health fairs. Bringing care and oral health education directly to those in need helps to transcend obstacles facing many underserved patients.   
"Families enter emergency housing during a time of turbulence and trauma," explained Lisa Kratter, MSW, of the Family Service League, Inc. "Oftentimes, dental care is overlooked, resulting in significant tooth decay. The Stony Brook Mobile Dental Clinic addresses medical need and eliminates [barriers to care] by providing reliable and comprehensive services literally in one's backyard… without such a model, there is no question that many families would neglect treatment."  
Relationships with community programs through the Mobile Oral Health Services Clinic expand well beyond the initial visit. The mobile clinic returns to locations with regularity to ensure continuity of preventive and restorative care. Perhaps more importantly, all patients of the Mobile Oral Health Clinic are welcomed as patients of the Dental Care Center, the School of Dental Medicine's teaching clinic, therefore establishing a "dental home."  
The Mobile Oral Health Clinic team is led by Rhona Sherwin, DDS, Director of Pediatric Outreach, and Christine Marsh, RDH. Their work includes oversight of the mobile clinic's operation and the organization and continuation of services for the patients. This continuity often includes working alongside parents to access health insurance for their children and investing resources into oral health education. Teaching children positive oral hygiene habits early on and in partnership with their parents often results in good oral health.  
In addition to Dr. Sherwin and Ms. Marsh, the Mobile Oral Health Clinic runs through the dedication of residents within the Advanced Education Program in Pediatric Dentistry, dental students, and dental assistants. The students' and residents' clinical experiences within the Mobile Oral Health Clinic are often integral to their educational growth. According to Dr. Lauren Heisinger, the outreach was the most rewarding part of dental school and a large motivator in her decision to devote her career to pediatric dentistry.   
"I feel very fortunate to be at a program that values community outreach ... the van gives us a chance to provide care for children and families who otherwise might not be able to see a dentist," said Dr. Amber Bruckner. "Maybe the most impressive part of the van is our patient follow up; we call our patient's parents after we see them on the van to give a summary of the visit and help them find a dental home." Like Dr. Heisinger, Dr. Bruckner's decision to be a pediatric dentist was influenced by the Mobile Oral Health Services Clinic.   
"The Mobile Oral Health Services Clinic has been essential in the dramatic expansion of oral healthcare outreach and services by the School of Dental Medicine in the past decade," said Dr. Allan J. Kucine, Interim Dean. "I am honored to have been part of the initial team integrating the mobile dental clinic into our programs and now look forward to the announcement of the gift of an additional mobile dental clinic in 2021. We will continue to expand these necessary services to our community with pride and dedication."