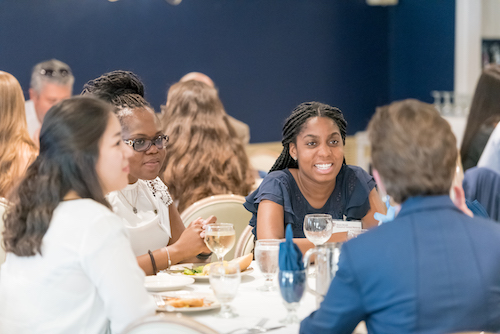 August 2018 - A celebratory reception was held at Stony Brook Yacht Club in honor of the incoming Class of 2022 on Tuesday, August 8th, 2018.

Each year, Stony Brook School of Dental Medicine welcomes its incoming first-year students with a celebratory reception that caps off a day within orientation week. At the August 8th event, members of the Class of 2022 were provided an opportunity to become better acquainted with their peers, as well as with members of Stony Brook School of Dental Medicine's faculty and staff.

"It's really nice that everyone gets together," said new student Tiffany Chung. "I loved meeting all the faculty and getting to know each person. Stony Brook is like a small family."

The evening kicked off with conversation and refreshments ahead of diving into a casual dinner. Students were then welcomed outside to take their first official photo as a group in front of the beautiful backdrop of Stony Brook Yacht Club.

As the evening progressed, attendees were welcomed by Dr. Dolores Cannella, Associate Dean for Education, and by Dr. Mary Truhlar, Dean, who led introductions around the room. Students connected with their peers by mentioning a hobby or what they're looking forward to, like playing volleyball in the area or finding friends who also love to cook.

Of course, all members of the Class of 2022 are united by their shared goal of becoming Doctors of Dental Surgery. "I love art, sciences, and research, and dentistry marries all three and also allows me the opportunity to help people," said Sara Supriyatno. "I chose Stony Brook because I feel at home. I went to Stony Brook undergraduate and already knew many of the faculty. Everyone is so welcoming."
Photos by Arthur Fredericks.