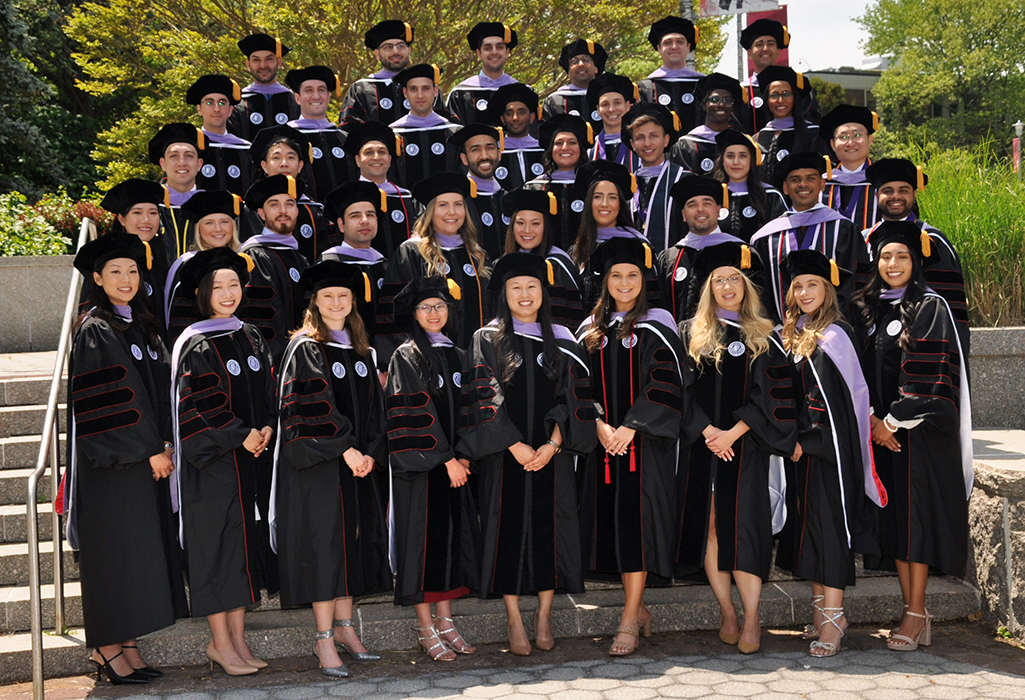 Forty-five Doctor of Dental Surgery students, as well as graduate students and residents of Stony Brook School of Dental Medicine's Class of 2023, received their degrees and certificates at the school's annual convocation ceremony held at the Staller Center for the Arts on the university's main campus.
Hundreds of family members and friends feted this year's DDS graduates, who will continue their careers at 28 residency programs across seven states, furthering their education and training in general practice dentistry, oral and maxillofacial surgery, orthodontics and pediatric dentistry. Other 2023 graduates committed to begin their careers in private practice or enlisted in the United States Army.
"I congratulate all the members of the Class of 2023, who continue the tradition of excellence in dentistry spanning 50 years," said Dr. Patrick Lloyd, dean of the School of Dental Medicine. "It was wonderful to confer DDS degrees, graduate degrees and advanced education certificates to this year's class as it demonstrates not only their great promise in the profession but also the wide spectrum and great depth of opportunities available here at Stony Brook."
Among the newest class of dentists was Mohit Varma, DDS '23, who graduated magna cum laude and with a Distinction in Research, and will begin a general practice residency at Veterans Affairs Medical Center in Providence, Rhode Island, this summer. He became the second doctor in his family, joining his brother, Yash, a physician who hooded him during the SDM ceremony.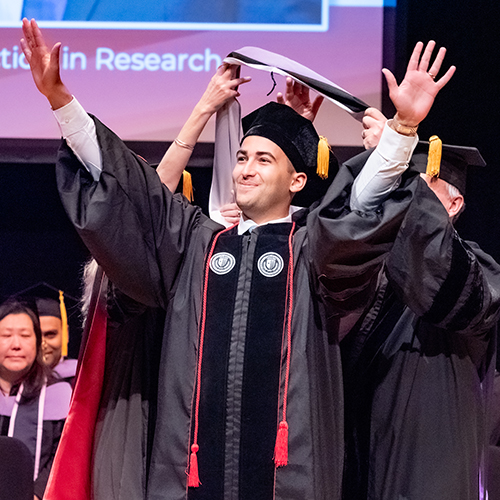 "It's been my grandparents' dream for someone in our family to work in healthcare, and being able to accomplish this with my brother, and for my entire family back in India and New Jersey, it's just a dream come true," Dr. Varma said. "It's been an amazing journey."
He cited the collegiality that comes with Stony Brook's small class size as the most positive element to his experience.
"We know each person individually. We know about everyone's path to this point and we've been able to connect with them on more than just a superficial level," he said. "We took classes together every single day, experienced the same challenges, and overcame them together."
Jonathan Shiloah, DDS '23, described the day as "surreal." The class's president graduated magna cum laude and was one of five class members inducted into the prestigious Omicron Kappa Upsilon, the national dental honor society. Dr. Shiloah will next join the orthodontics residency program at the Department of Dentistry at Montefiore Medical Center in the Bronx.
"It's amazing because you come into dental school with this goal in mind and you wonder how you're going to achieve it, but then you do all the things it takes to reach that goal," he said. "My goal was to become an orthodontist, and now that goal is coming to life. That is my next step, my next dream, and I can't wait to live it."
Helping see off Dr. Shiloah and his classmates was Dr. Michael Reddy, dean, professor and associate vice chancellor of oral health affairs at University of California San Francisco School of Dentistry, who served as the afternoon's Distinguished Convocation Speaker.
"You're entering an exciting time in your life, and I wish you all the best." Dr. Reddy said. "If you learn to work well with others, express gratitude and take a little time for yourself, and remember that what you do matters, big success and happiness will follow."
Karen Doh, DDS '23, who will soon start her general practice residency at Brooklyn Methodist Hospital, delivered the ceremonial graduate address. True to Dr. Reddy's advice, she expressed gratitude for her classmates, and belief in them as newly anointed dentists.
"We are a true family unit and this is such a privilege that no other program experiences; we move together, feel together and pick each other up," she said in her address. "I hope you know how valuable and worthy you all are, and can see how important your contributions are and will be to society. As we enter a larger scale of professionals, remind yourself where you started and where you came from, and that you are now a part of a small group of alumni from the prestigious Stony Brook School of Dental Medicine."