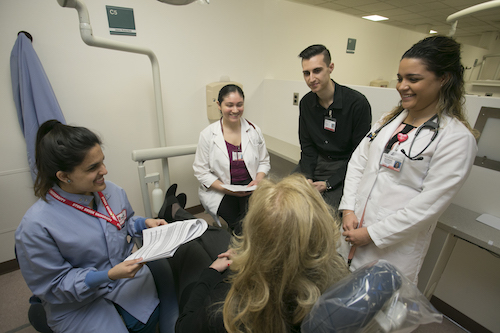 The U.S. Public Health Service and Interprofessional Education Collaborative Recognized Stony Brook Interprofessional Team for Work with at Risk Communities

April 2018 - The Partnership to Advance Collaborative Education (PACE) is an interprofessional wellness center that focuses on meeting the health promotion and disease prevention needs of adults on Long Island. Located in Stony Brook School of Dental Medicine's Dental Care Center, the PACE team includes a nurse practitioner and dental and social work professionals from Stony Brook University Schools of Dental Medicine, Nursing, and Social Welfare.

The PACE Center was recently awarded an Honorable Mention for its work with "At Risk and Vulnerable Communities," by the U.S. Public Health Service (USPHS) and the Interprofessional Education Collaborative (IPEC). According to USPHS and IPEC, teams were evaluated for their contribution to public health promotion through multidisciplinary collaboration among health professionals and community stakeholders. More specifically, the PACE Center was recognized for "using interprofessional teams to amplify clinical preventative services access and utilization among vulnerable older adults."

The PACE Center is supported by a $1.4 million HRSA grant and its funding allows for comprehensive health screenings for patients including blood pressure and cholesterol screenings, HbA1c testing for diabetes risk, falls risk assessment, home safety assessment, hearing and vision screening, oral health exam, screening for sleep apnea, health risk assessment, and caregiver support assessment. Based upon screening results, participants receive a personalized plan of care and a community-based resource guide with recommendations for follow up and referrals to available resources.

The team also holds community-based health promotion and clinical prevention screening events in nearby communities. Just last month, PACE was present at a resources fair located at the Long Island State Veterans home and provided screenings to hundreds of veterans and members of the community.

"We are so proud to be recognized by the U.S. Public Health Service and the Interprofessional Education Collaborative for our work with vulnerable members of the community," said Dolores Cannella, PhD, Associate Dean for Education and Program Coordinator of the PACE Center. "The PACE program has allowed us to work alongside the Schools of Nursing and Social Welfare to provide comprehensive, point-of-care health screenings to those in need. We look forward to continuing this important work within our community."