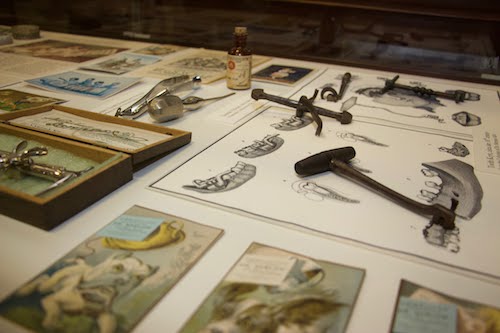 From Barber-Surgeon to Doctors of Dental Medicine, Learn Dental History Via Digital Display

April 2018 - Stony Brook University Health Sciences Library launched an online exhibit inspired by its physical display, Dental Instruments: Past and Present. The new digital component is accessed via a large touchscreen interface. Users are prompted to tap the screen to delve into text and images pertaining to dental advertisements, and topics ranging from anesthesia to restorative care from the 18th and 19th centuries through the present.

The April 3rd launch featured a lecture by Dr. Andrew Spielman, Associate Dean for Academic Affairs and Professor, NYU School of Dentistry. Spielman's presentation, "The Peer Review of Pierre Fauchard's 'Le Chirurgien Dentist' 1728 Book," provided historical context to the writing of Pierre Fauchard, a French physician widely considered the "father of modern dentistry." Fauchard was revolutionary in his thinking as the first to outline basic oral anatomy and function and is credited with the invention of various surgical instruments, dental fillings, braces, and dental prosthesis.

Following Spielman's lecture, attendees were invited to tour the exhibit in the Health Sciences Library. The exhibit includes text, images, and objects on loan from the Dr. Sherman Mills Collection, the Dr. Baer Collection, the collection of Allan Kucine, DDS, Associate Dean for Information Technology at Stony Brook School of Dental Medicine, and the Stony Brook University School of Dental Medicine, as well as a copy of The Long Climb: From Barber-Surgeons to Doctors of Dental Surgery, donated by the author, Philias Garant, DMD, Professor Emeritus at Stony Brook School of Dental Medicine.

"The School of Dental Medicine greatly appreciates the Stony Brook Libraries' commitment to hosting and expanding this wonderful exhibit, Dental Instruments: Past and Present," said Dr. Mary Truhlar, Dean, Stony Brook School of Dental Medicine. "We are delighted to make contributions and support the display, and look forward to members of the community enjoying and interacting with the exhibit."

Dental Instruments: Past and Present will continue to be on display for visitors of the Health Sciences Library on Level 3 of the Health Sciences Center at Stony Brook University.

Photos by SBU Libraries.