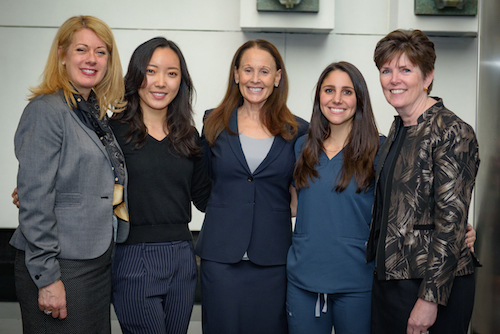 Stony Brook School of Dental Medicine's Jenna Chimon, DDS, Class of 2018, and Erin Wang, Class of 2019, were chosen as first and third respectively in the nationwide Dentsply Sirona Restorative Global Clinical Case Contest for their aesthetic case presentations.

June 2018 - The Dentsply Sirona Restorative Global Clinical Case Contest (GCCC), established in 2014, has quickly gained momentum, garnering 592 entries from 169 universities in 2016-2017 alone. Dental students with less than two-years of clinical experience are invited to participate by documenting an aesthetic patient case study.

For Stony Brook School of Dental Medicine (SDM), a submission for national consideration required one extra step: an internal competition among peers. With 15 talented and determined students, SDM well-surpassed the limit of three entries per school set by Dentsply Sirona. In response, a thorough grading rubric and panel of faculty judges was set into place, led by SDM's Associate Dean for Clinical Education, Ann Nasti, DMD.

"We were thrilled that so many of our talented students were interested in the Dentsply Sirona contest. As a team, our goal was to select the three entries that the panel of judges believed would meet the qualifications for a U.S. 1st, 2nd or 3rd place winner," said Dr. Nasti.

SDM's internal selection process brought success: two of the top three national rankings were secured by Stony Brook students. Erin Wang, a Year III student, placed third for her clinical case, and Dr. Jenna Chimon, a recent graduate, placed first. Both Ms. Wang and Dr. Chimon were mentored by Dr. Christine Valestrand, Clinical Assistant Professor, Department of Prosthodontics and Digital Technology.

Ms. Wang's case study featured restoration of maxillary incisor tooth fractures. "I felt very lucky to have the chance to do an aesthetics case as a third-year dental student," said Ms. Wang. "I will never forget the feeling of satisfaction and excitement when I saw the final results and how big of a difference it made in my patient's smile."

Dr. Chimon's placement as first nationally brought her to the official global competition on June 28th in Konstanz, Germany, where she competed against representatives from 38 other countries. "It was an amazing opportunity to go there and present my case, and to see the work of other students around the world," said Dr. Chimon.

Dr. Chimon's winning case was the closing of anterior diastemas, which she performed for her classmate, Michael Winter, DDS. "It was a higher level of pressure to perform aesthetic work on someone who is doing the same type of work as you are," said Dr. Chimon. "It's also exciting to see the results on a regular basis."

The outcome of the national competition was announced as a surprise during SDM's annual Leo and Mickey Sreebny Lectureship and Research Symposium by Dentsply Sirona's Ms. Melissa Marlin. "I was so excited when they announced it," said Dr. Chimon.

To make the moment even sweeter, Dr. Winter was there to celebrate his now award-winning smile alongside Dr. Chimon. "I could not be more pleased with my new smile and I'm so grateful for Dentsply Sirona's participation in this result," said Dr. Winter. "Dr. Chimon is an incredible clinician."

Dr. Chimon will be entering her residency in general practice at Kings County Hospital in Brooklyn, and Ms. Wang will be entering her final year at SDM this summer.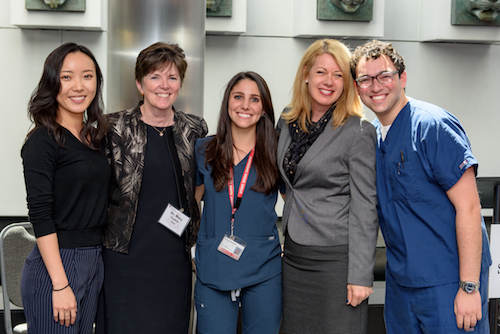 (L-R): Ms. Erin Wang, Class of 2019, Dr. Mary Truhlar, Dean, Dr. Jenna Chimon, Class of 2018, Ms. Melissa Marlin, Dentsply Sirona, Dr. Michael Winter, Class of 2018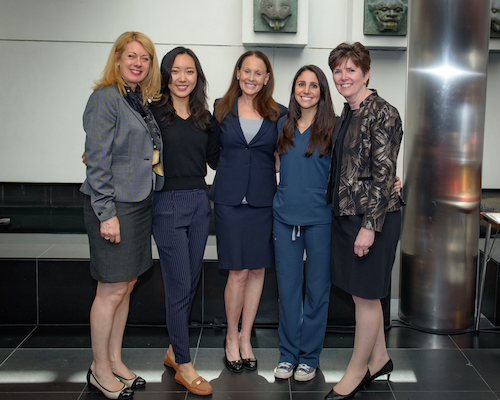 (L-R): Ms. Melissa Marlin, Dentsply Sirona, Ms. Erin Wang, Class of 2019, Dr. Ann Nasti, Associate Dean For Clinical Education, Dr. Jenna Chimon, Class of 2018, Dr. Mary Truhlar, Dean





Before and After Shown of Ms. Erin Wang's Aesthetic Case Study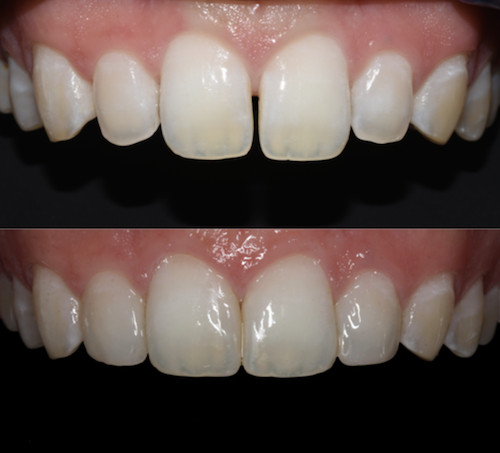 Before and After Shown of Dr. Jenna Chimon's Aesthetic Case Study