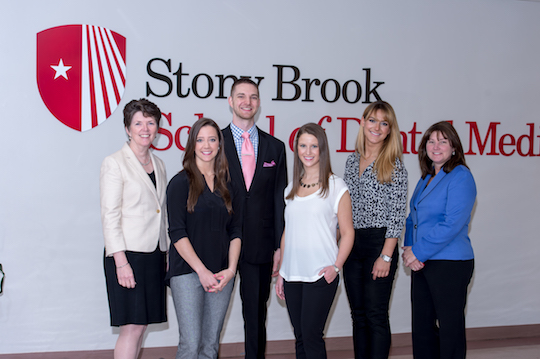 Four Dental School Graduates Inducted into Omicron Kappa Upsilon Dental Honor Society
May 2016-Stony Brook University School of Dental Medicine inducted four graduating seniors into the Omicron Kappa Upsilon Dental Honor Society.
Pictured here with Dean Mary Truhlar (far left) and Dr. Dolores Cannella (far right) are this year's inductees from left to right: Kelly Keifer, Summa Cum Laude, Cory Cole, Magna Cum Laude, Shari Ginsburg, Magna Cum Laude and Katherine Keifer, Cum Laude. An honorary dinner and reception was held for the inductees where dental school faculty, staff, students, family and friends celebrated this high honor.
Omicron Kappa Upsilon (OKU) had its inception with the class of 1914 at Northwestern University Dental School. It is a National Honor Society consisting of Dental Students exclusively. Admission and membership to OKU is based upon scholarship and character as manifested by election by the faculty.
The name of this Dental Honor Society was selected from the Greek Words - Omicron - meaning teeth and Upsilon - meaning health. These letters appear in the design of the key within the larger symbol Sigma - meaning conservation.
In the first year and a half of Omicron Kappa Upsilon's inception, eight (8) new component chapters were organized. Today, there is a component chapter in every dental school in the United Stated for a total of fifty-eight (58) active chapters. In addition, there are two (2) chapters located in Canada and one (1) in Puerto Rico. OKU conducts annual business meetings of the Supreme Chapter and National Symposia on varying topics, such as Professional Ethics, Human Values, Impact of Corporate Health Care on Dentistry and Dental Education.
The Sigma Tau Chapter of Omicron Kappa Upsilon was installed as the National Dental Honor Society at Stony Brook University, School of Dental Medicine on July 1, 1977.