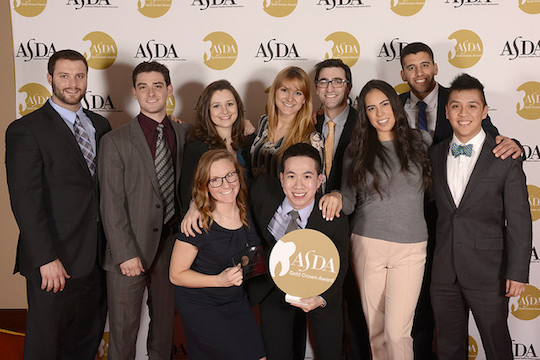 From left to right, front row: Stella Stavrou, Jimmy Shak, Stephanie Asusta, Sean Lee. Back row: Dennis Andreopoulou, Igor Lantsberg, Allison Greenberg, Kelly Krekel, Gregory Sabino, Omar Nijem
Stony Brook University School of Dental Medicine Receives the American Student Dental Association Gold Crown Award
March 2016-The American Student Dental Association (ASDA) chapter at Stony Brook School of Dental Medicine (SDM) was recognized as the Gold Crown winner for Chapter Achievement for distinguished leadership and accomplishment for the annual Leo and Mickey Sreebny Student Research and Vendor Fair Symposium at the 2016 National ASDA Gold Crown Awards Ceremony.
This national recognition highlights outstanding effort in collaborating with the Stony Brook SDM administration and the Office of Research in hosting the largest and highest attended Leo and Mickey Sreebny Student Research and Vendor Fair Symposium to date. Special recognition was noted for Dr. Steve London, Dr. Lucille London, Dr. Jeffrey Seiver, and the Office of Research, Anthony Cerciello, Virginia Judson and the Stony Brook ASDA Sponsorship Committee, all of the student researchers, and to Dean Truhlar for superior collaboration.
In addition, Stella Stavrou received the ASDA District 2 Delegate of the Year Award. This award is selected by the board of trustees from all chapter leaders in District 2 and is presented to the individual that demonstrates personal dedication, and outstanding achievement on behalf of ASDA and its local chapter members. This is one of the most prestigious awards that ASDA bestows.
Learning of this outstanding distinction Stella commented, "I am honored to represent Stony Brook University as Delegate of the Year for 2015. I could not have done it without the tremendous amount of support and motivation from Stony Brook ASDA members and Stony Brook faculty and staff."
To view more photography from this event click here.
Photo courtesy of Caught in the Moment Photography