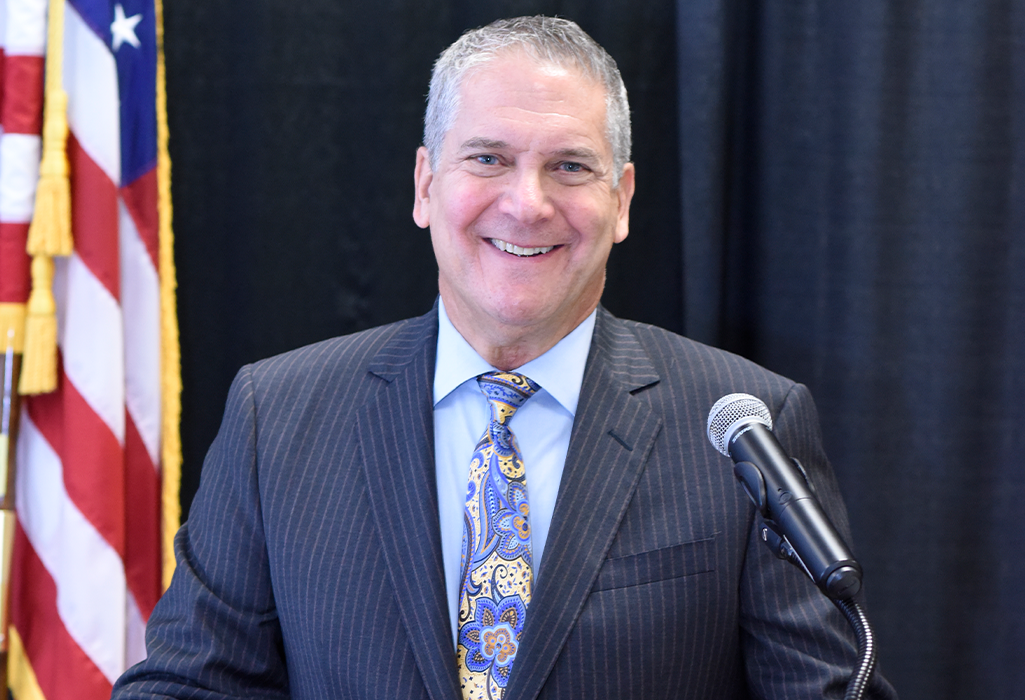 Robert M. Peskin, DDS '77, clinical associate professor in the Department of Oral and Maxillofacial Surgery's Division of Hospital Dentistry at Stony Brook School of Dental Medicine, has been named president of the American Institute of Parliamentarians (AIP), an organization committed to promoting decision-making and policy implementation founded upon sound democratic principles in dentistry and other fields.
Peskin, a member of Stony Brook's first graduating class, was elected AIP president at the organization's 64th Annual Meeting in Reno, Nevada, on August 10. He was officially installed as president two days later at the meeting's closing ceremonies, taking the reins of an organization comprised of more than 1,100 members worldwide. He is especially enthused about stepping into his new position as the organization prepares to unveil the second edition of the American Institute of Parliamentarians Standard Code of Parliamentary Procedure, a book relied on by many major health-related professional associations, next month.
"I am humbled and honored to be taking on the awesome responsibility of serving as AIP president," Peskin said. "I look forward to helping guide the organization for the coming year. I am confident the team I have assembled will be highly successful in promoting the parliamentary principles AIP espouses."
A general dentist and dentist anesthesiologist based in Garden City, Peskin has also been a member of the AIP board of directors since 2014, including as vice president for the past three years. He was credentialed by AIP as a Certified Parliamentarian in 2021. In addition to his responsibilities as president of the AIP, Peskin serves as speaker of the Academy of General Dentistry (AGD) House of Delegates, and parliamentarian to its Board. He has also served as speaker of the House of Delegates for both the American Dental Society of Anesthesiology (2005-2015) and the New York State Dental Association (2009-2015).
Peskin said his current and prior leadership experiences have provided a solid foundation for him to draw from going forward.
"I have been involved in organized dentistry for decades, and what I've learned is that, in order to be effective in any area of governance, you have to be involved," he said. "If you're not at the table, you're oftentimes on the menu. Leadership is not daunting to me. I look forward to bringing my expertise to the board, which consists of an eclectic and highly intelligent group of credentialed parliamentarians who work collegially and collaboratively to establish, maintain and teach parliamentary practices that are effective, straightforward and democratic."
The AIP was established in 1958, and now features members from all 50 United States, Puerto Rico, Canada and many countries worldwide. Per Peskin, by championing parliamentary procedure, the AIP acts as a "guiding light" for organizations that are building and implementing their own governing practices. "By abiding by parliamentary practices, an administrative body can be confident that any action it takes or decision it makes is able to withstand scrutiny," he said.
Peskin became a member of the School of Dental Medicine's charter class after completing three years as an undergraduate at Queens College. He subsequently received his bachelor's degree after having completed his first year of dental school. He graduated from Stony Brook in 1977, and went on to complete his general practice and dental anesthesiology residencies at Long Island Jewish Medical Center in Queens, New York. In 2012, the School of Dental Medicine recognized Dr. Peskin with its Distinguished Alumnus Award.