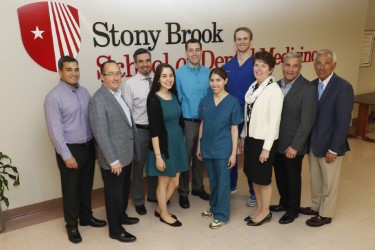 Caption: Sachem Dental Group partners, Sachem Dental Scholars, Dean Mary Truhlar (left to right): Dr. Robert Comanducci, Dr. Anthony Gentile, Dr. George Skevofilax, Danielle Kristal, '19, Sean Eccles, '18, Allie Luxenberg, '19, Luke Zambetti, '17, Dean Mary Truhlar, Dr. Louis Woolf, Dr. Philip V. Mazzola (retired)
Sachem Dental Group Partners Meet with Sachem Scholars
May 2016-The Sachem Dental Group met with the current Sachem Dental Scholars from Stony Brook University School of Dental Medicine (SDM) in May to discuss the scholar's experience at SDM and share stories, experiences, and professional insight.
The Sachem Dental Group has continued to be a generous friend and supporter of the SDM. In 2012 the Sachem Dental Group announced the dental practice's newest gift of $100,000 to the Sachem Dental Group Endowed Scholarship Fund at the Stony Brook University School of Dental Medicine. Their gift will be matched by the Simons Foundation for a total impact of $200,000.
The Sachem Dental Scholarship provides four years of support to a first year dental student who is a resident of New York State and who achieves and maintains a standard of excellence, demonstrates a commitment to community service, and exemplifies professional and ethical behavior. Recipients believe the scholarship does more than defray the cost of attendance; it provides meaningful validation for choosing the challenging career in dental medicine. This donation from the Group will enable the School of Dental Medicine to offer incoming dental students financial assistance throughout all four years of Dental School.
"This scholarship reinforced my belief that hard work is the foundation for success," said scholarship recipient Allie Luxenberg,'19. "The Sachem Dental Group recognized my potential to contribute as a future colleague in the dental profession."
Many employees at Sachem Dental Group are proud alumni from Stony Brook University as former undergraduate or Dental School students. The School continues to receive national recognition for excellence in dental education, patient care, and research including two FDA approved drugs, and multiple diagnostic and therapeutic modalities. Stony Brook's renowned doctoral program in oral biology has produced pioneering leaders in industry and academic dentistry.
About Sachem Dental Group
Sachem Dental Group (www.sachemdental.com) is a multi-office, multi-specialty general dental practice in central Suffolk County providing quality dental care for more than 30 years.