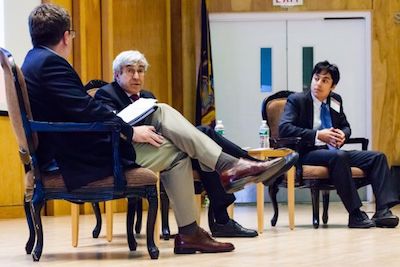 November 2016 - The Provost's Lecture Series Hosts Stanley and Eddie Bergman
The Provost's Lecture Series hosted Stanley and Eddie Bergman on Thursday, November 3 in the Student Activities Center, Sidney Gelber Auditorium. Stanley Bergman is CEO of Henry Schein Inc., the world's largest provider of healthcare products and services to office-based dental, animal health and medical practitioners. Eddie Bergman is President of a tourism consulting firm, Innovative Development Services, and Co-Founder of Miracle Corners of the World, a NGO devoted to empowering youth to make positive change in their communities.
Protegrity Advisors' Chairman, Joseph Campolo, moderated a lively conversation between Stanley and Eddie Bergman in their talk, entitled "Models of Corporate Social Responsibility and Social Entrepreneurship." This event is part of the Entrepreneur's Edge series, which showcases successful innovators from Long Island. For more information, please visit stonybrook.edu/business.
This talk is co-sponsored with Stony Brook University's College of Business, School of Dental Medicine, School of Social Welfare, and Office for the Integration of Research, Education and Professional Development.
Watch the video here.
Photo caption: Henry Schein CEO Stanley Bergman, center, and his son, IDS president Eddie Bergman, right, discuss the benefits of social responsibility on business with moderator Joe Campolo, chairman of Protegrity Advisors, on Nov. 3, 2016, during a presentation at Stony Brook University. (Credit: Heather Walsh)