School of Dental Medicine Dental Outreach Team to Receive Long Island Business Achievements in Healthcare Award 2016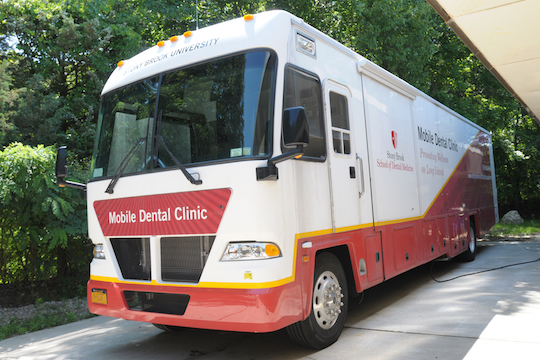 October 2016-The Stony Brook University School of Dental Medicine Pediatric Dental Outreach Team (Team) has built a network of community outreach services that span the Long Island community. The team consists of individuals devoted to providing increased access to health care to the underserved populations and communicating the importance of oral health to patients, parents, educators and other health care providers. The expansion into the community has become one of the foremost goals of the Stony Brook School of Dental Medicine. From its inception, our community outreach program has increased and grown to remarkable proportions.
The outreach team of Dr. Rhona Sherwin, Clinical Associate Professor Department of Orthodontics and Pediatric Dentistry, Carol Sloane, RDH Assistant Dean for Allied Dental Education, Margaret Bakos, MSW, MA, Director of Community Outreach Services and Christine Marsh, RDH hygienist, work together to maintain our existing affiliations, while increasing our community visibility.
Today, Stony Brook has expanded its program to include more than 20 community-based sites, which comprise Family Shelters, Early Head Start/Head Start, and various school-based facilities. Faculty, residents, students and our hygienist provide oral health education and preventive services to the children. An additional educational component on homecare and good oral health practices is provided to the parents, staff and home-care advocates of the facilities. Throughout the year, we speak at parent meetings at local schools and make our presence known at community events such as street and health fairs. All these activities are made possible by the New York State Department of Health Improving Oral Health: Preventive Dental Services Program awarded to Stony Brook.
A considerable interest of Dr. Sherwin's is to bring the message of oral medicine to other healthcare providers. She has lectured to local medical society groups on the subject and has been invited to speak to students, residents and attendings at Stony Brook University Hospital and Winthrop University Hospital in the Departments of Dental Medicine, Obstetrics and Gynecology and Pediatrics. Her lectures provide valuable information on the disease processes of the oral cavity and discusses the development of some common oral findings. Prenatal development is reviewed and providers learn of the affect oral health has on the pregnant patient, as well as the developing child.
Another significant impact for the outreach team has been the additional of Stony Brook's Mobile Oral Health Services Clinic awarded through a HEAL NY Primary Care Infrastructure Grant in 2008. The mobile clinic offers a full scope of oral health care services. This clinic has increased the access to care for approximately 4,500 underserved children within the Suffolk County community, while training and enhancing the delivery of healthcare by having available, high-tech dental equipment. The mobile clinic permits trainee education and access to patient care for those who do not have a dental home. The mobile clinic is fully equipped with three dental operatories, a digital Pan-Oral machine, and an area designed to house a central sterilization station. The Outreach Team continues to provide oral health care and preventive practices to the children of Suffolk and Nassau Counties that will improve their overall well-being and reduce health disparities of the underserved communities.
Each year the School of Dental Medicine participates in the annual American Dental Association's Give Kids A Smile Program, which offers dental care services to children from underserved communities. The Stony Brook University's School of Dental Medicine is especially proud of the positive influence we have had on the children of Suffolk County. Stony Brook has participated in the national "Give Kids A Smile Day." What makes our event unique is that we offer pro-bono dental services for the day. Children are offered free dental screenings, oral prophylaxis treatment, fluoride treatment, oral health education/home care and sealants, as needed. Children received emergency dental services, including root canals and extractions when diagnosed. Families are encouraged to find a dental home and sign up for dental insurance. This event has been so successful that we initiated an annual "back to school program" in August to ensure that prior to starting the school year children return to school with a healthy smile. We look forward to this continuing to provide excellent care during this year's upcoming event.
The current community service and outreach programs have proven extremely successful in enhancing the education of Stony Brook's students and residents. Perhaps, more importantly, these outreach activities have made a meaningful impact on our communities. These extraordinary programs serve to highlight the School's Mission of "continuous pursuit of excellence in education, patient care, discovery and leadership" through these humanitarian activities while providing the highest possible levels of care to populations in need.
At the School of Dental Medicine, a new academic year is about to begin and with that comes great possibilities. The programs in place are ongoing, while new sites are planned for the near future. The professional and personal experiences encountered through being involved with these programs will last a lifetime.