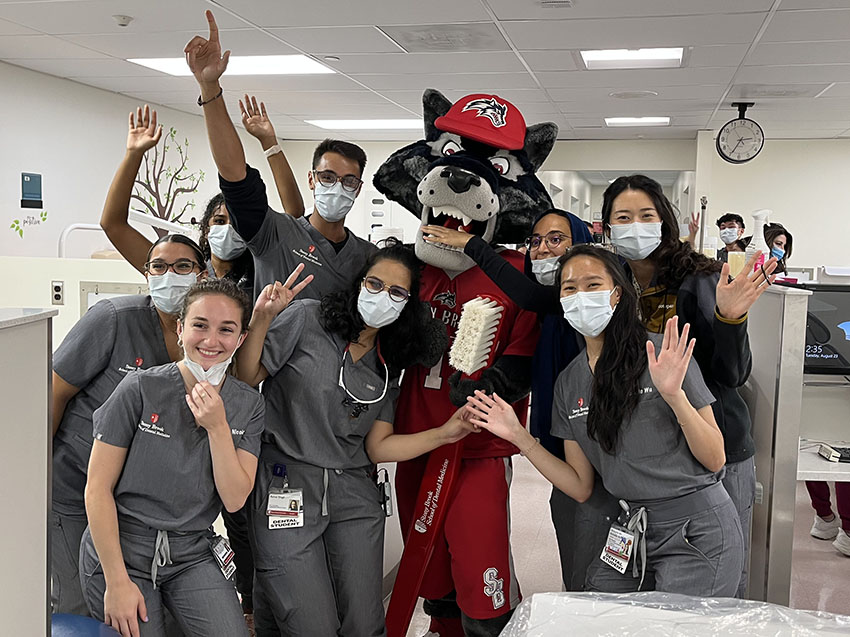 The Stony Brook University School of Dental Medicine (SDM) recently hosted its annual fall Give Kids a Smile Day event, at which more than 70 children were provided back-to-school oral health services.
With Wolfie on hand to make the day fun for all, participating children received preventive dental services, including an examination, prophy, a fluoride treatment, needed sealants and, most importantly, oral health education. Some children were also given follow-up appointments after their visit for more extensive treatments, and more than 40 of them expressed interest in receiving care at the SDM, making Stony Brook their dental home.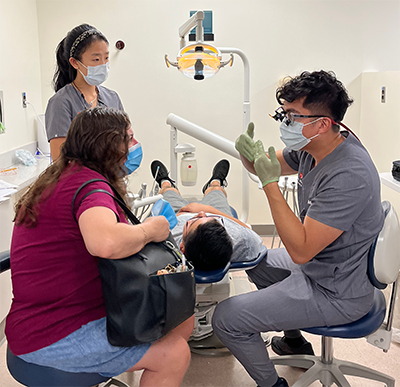 "We are so pleased to have been able to provide quality care for underserved children on Long Island — and to do so in a way that made it an exciting experience for them and our students," said Patrick Lloyd, dean of the SDM. "Give Kids a Smile Day is a fantastic opportunity to not only offer these dental services but to teach children about the importance of oral hygiene at an early age. We are thrilled with the turnout and look forward to future events where we can open our doors to the community."
Give Kids a Smile (GKAS), a national program sponsored by the American Dental Association (ADA) was designed to provide oral health education and free screening, treatment, as well as preventive and restorative services to children in need. The SDM holds the event each August as a way to provide children with optimum back-to-school dental health.
Third-year students, pediatric dental residents, as well as Drs. Jacob Lyss (General Practice Residency) and Daniela Mallack (Special Needs Dental Care Fellowship Program), provided care under the supervision of Dr. Rhona Sherwin, director of pediatric outreach; Dr. Kimberly Patterson, pediatric residency program director; Dr. Mark Salerno; Dr. Charles Larsen; and several dental assistants.
Community partner Fidelis Insurance provided patients with valuable information on eligibility for Medicaid and dental benefits, and representatives also distributed string backpacks filled with school supplies and goodies. Wolfie, meanwhile, managed to put smiles on everyone he encountered and made the event extraordinary.
According to the ADA, each year about 350,000 to 400,000 children are treated at more than 1,500 locations across the nation during Give Kids a Smile events. Stony Brook School of Dental Medicine has participated in the program since its inception in 2002.