Vincent Iacono, DMD, SUNY Distinguished Service Professor, chair of the Department of Periodontics and Endodontics, and Tarrson Family Professor of Periodontology in the Stony Brook University School of Dental Medicine, was recently presented the Distinguished Alumni Award from the Harvard School of Dental Medicine.
The award is presented each year to a member of the school's 50th and 25th anniversary graduating classes as a way to "recognize an individual who has made significant contributions that honor the mission of the school in addition to supporting HSDM through the generosity of their time, talent, and philanthropic commitments."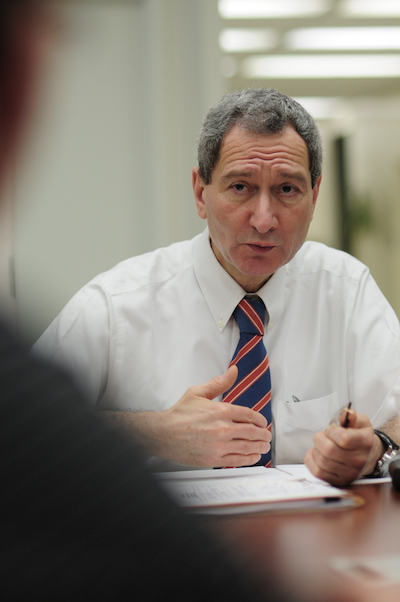 "I am incredibly humbled and honored to have received this award from Harvard School of Dental Medicine," Iacono said. "The education that I received at HSDM provided the foundation for my career in periodontics and academia, and I am grateful to the faculty, staff and classmates who made it such an exceptional experience. In addition, I thank Dean Giannobile and the Alumni Council, whom I am honored to call my colleagues in dentistry."
As a faculty member of the School of Dental Medicine, Iacono is a nationally recognized leader in periodontology research and dental education and founded the Advanced Dental Education Program in Periodontics at Stony Brook. He has received numerous honors in his career, including the Isadore Hirschfeld Award and Irwin Scopp Award from the Northeastern Society of Periodontists (NESP), the Oral Research Award and Fellowship from the Academy of Osseointegration (AO), the Charles W. Finley Visiting Scholar Education Grant from the AAP Foundation (AAPF) and the Outstanding Periodontal Educator Award and the Gold Medal from the American Academy of Periodontology (AAP).
He has published more than 100 papers, abstracts and textbook chapters, and has been active in the governance of numerous regional, national and international professional organizations, including being president of the AAP, AO. AAPF and NESP and chair of the American Board of Periodontology. He currently serves as a member of the SUNY Distinguished Academy Board.
"For the past 40-plus years, it has brought me great joy to share what I have learned and experienced with the students, staff and faculty at Stony Brook," Iacono said. "Best of all, it has been wonderful to see our graduates go on to make an indelible impact in their communities—through the services they have provided, and more broadly by advancing oral health practice through research and leadership roles in professional societies and dental education."