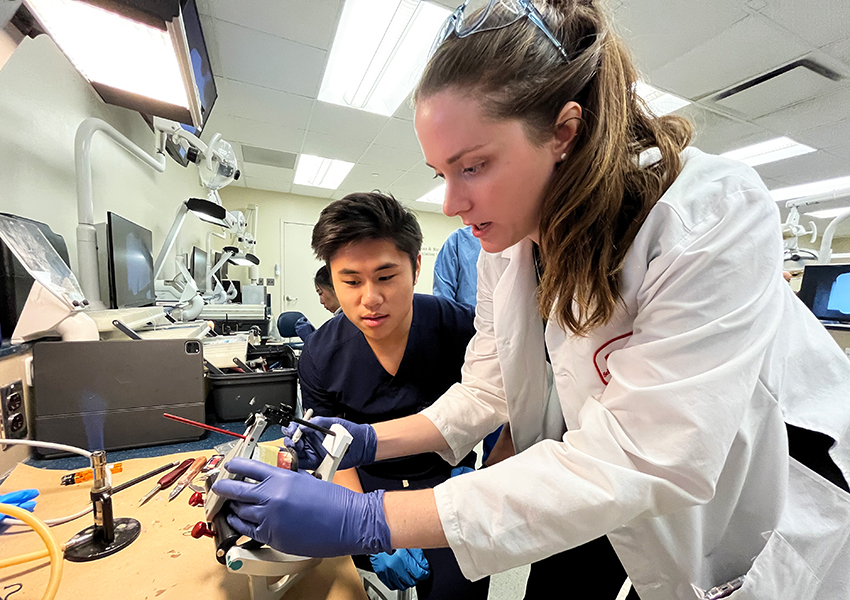 Patricia Swanson, DDS, FACP, clinical assistant professor and director of predoctoral prosthodontics at Stony Brook School of Dental Medicine, has been named Junior Educator of the Year by the American College of Prosthodontists (ACP).
She received the award at a ceremony held during the ACP's annual meeting on November 5 in Austin, Texas.
"It is a great honor to be recognized, as I know there are many talented junior educators in the American College of Prosthodontists," Swanson said. "I consider this award a reflection of the excellent mentorship I have received from the educators I had during my training, as well as my colleagues both locally and nationally.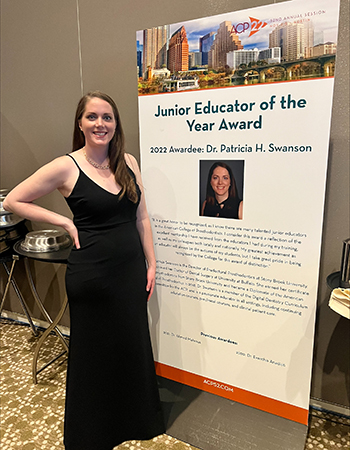 My greatest achievement as an educator will always be the success of my students, but I take great pride in being recognized by the College for this award of distinction."
Swanson joined the Stony Brook faculty in 2018 in her current role. In addition to teaching preclinical and continuing education courses, Dr. Swanson provides patient care in the school's affiliated faculty practice. Outside of a clinical setting, she has performed research in dental cements and dental implants, with a special interest in removable prosthodontics.
"We are so pleased that Dr. Swanson has been recognized by her peers for demonstrating the highest caliber of instruction here at Stony Brook," said Patrick Lloyd, DDS, MS, dean of the School of Dental Medicine. "She is highly respected by her fellow faculty members and by our students, and is very well deserving of this distinction."
Swanson obtained her Doctor of Dental Surgery from the University at Buffalo, graduating summa cum laude, before earning her Certificate in Prosthodontics at the SDM. She became a diplomate of the American Board of Prosthodontics in 2018, and also serves on the board of directors for the Suffolk County Dental Society and as an alternate delegate for the New York State Dental Society. Additionally, she is a member of the Digital Dentistry Curriculum Committee for the ACP. 
Swanson is only the latest Stony Brook faculty member to be recognized with a national award by the ACP. In 2014, Kenneth Kurtz, DDS, FACP, director of the Division of Maxillofacial Prosthetics at the SDM, received the Distinguished Clinician Awards for his outstanding contributions to academic dentistry and the sciences.