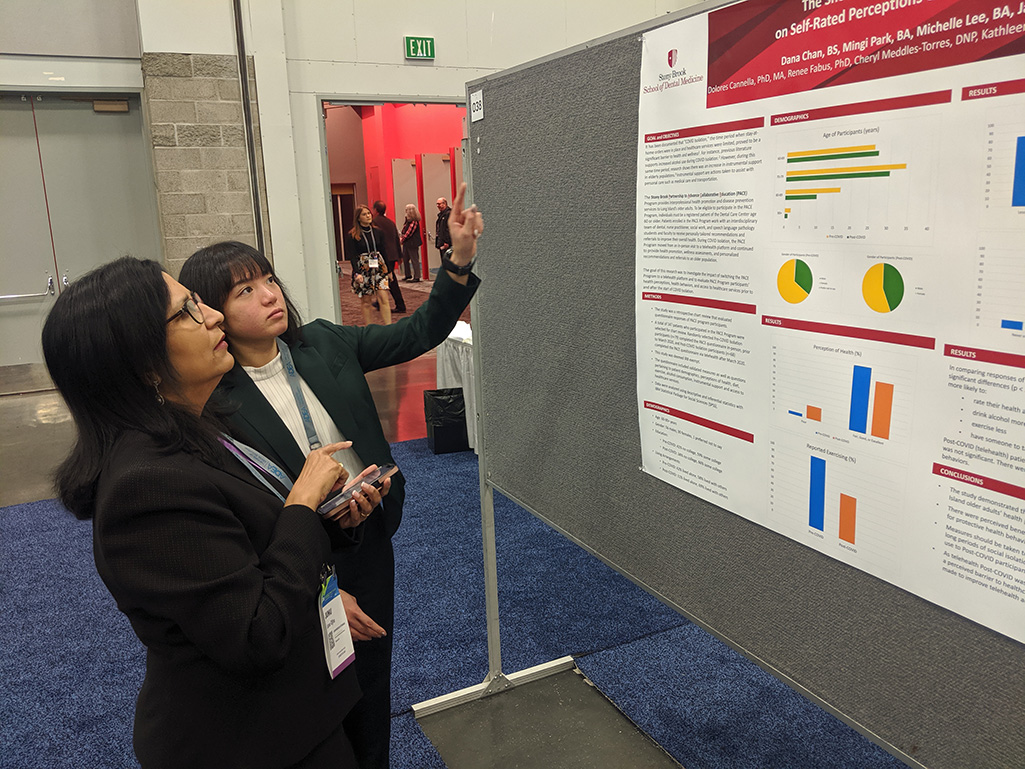 Dana Chan, a third-year student at Stony Brook School of Dental Medicine, received first place in the American Dental Education Association (ADEA) Student Poster Award competition at the organization's annual meeting in Portland, Oregon, in March.
Her poster, titled "The Impact of COVID Isolation on Self-Rated Perceptions of Health in Older Adults," was chosen among more than 170 presentations from dental schools across the United States.
"As I was presenting at the conference and amongst my peers from around the country, I was impressed by all of their knowledge and presentations, and because of that, when I was notified that I had won this recognition, I was in disbelief," Ms. Chan said. "In that moment, I felt the culmination and satisfaction of hard work from my team and me."
Ms. Chan and her team evaluated the health perceptions, behaviors and healthcare access of geriatric patients connected with Stony Brook's Partnership to Advance Collaborative Education (PACE) program — before and after COVID isolation. Overall, she and her colleagues learned that isolation negatively impacted Long Island older adults' health perceptions and behaviors such as alcohol consumption and exercise, but increased support for protective health behaviors such as having a friend or family member facilitate a doctor visit.
The research was completed by Ms. Chan and fellow third-year students Mingi Park, Michelle Lee and Jane Song, with support from Dr. Dolores Cannella, associate dean for education; Dr. Mary Truhlar, professor in the SDM's Department of General Dentistry; Dr. Renee Fabus, associate professor and chair of the Department of Speech-Language Pathology; Dr. Cheryl Meddles-Torres, nurse practitioner and director of psychiatric mental health; and Dr. Kathleen Monahan, associate professor and director of the Family Violence Education and Research Center.
"I am so proud of the dedication and commitment to excellence demonstrated by Dana and our entire research team," Dr. Cannella said. "The COVID-19 pandemic affected communities of all demographics, and learning more about our PACE patients' behaviors when faced with such adversity will help shape the healthcare decisions that our providers will make in the future."
Ms. Chan received her Bachelor of Science in public health from Rutgers University, and in addition to her pursuing her Doctor of Dental Surgery (DDS) at the SDM, she is pursuing a Master of Public Health (MPH) through Stony Brook Medicine. Complementing her involvement with ADEA and the Geriatrics Interest Group, Ms. Chan is an active participant in the American Student Dental Association (ASDA), Pediatric Dentistry Club, Prosthodontics Club, Students Act for Equity (SAFE) Subcommittee and Smile Savers, as well as New York State's Chinese American Dental Association.
Upon graduating next spring, she looks forward to improving the oral health outcomes of children, adults and elderly patients through providing quality dentistry and preventive care.
"I've always acknowledged the privileges I've been granted by having a full set of healthy dentition," she said. "Unfortunately, many others are denied opportunities and jobs if they can't put their best smiles forward during interviews or in their day-to-day lives. My long-term goal in the field of dentistry is to provide charitable dentistry in the hopes of elevating individuals through their hardships and mobilizing them to higher socioeconomic levels."