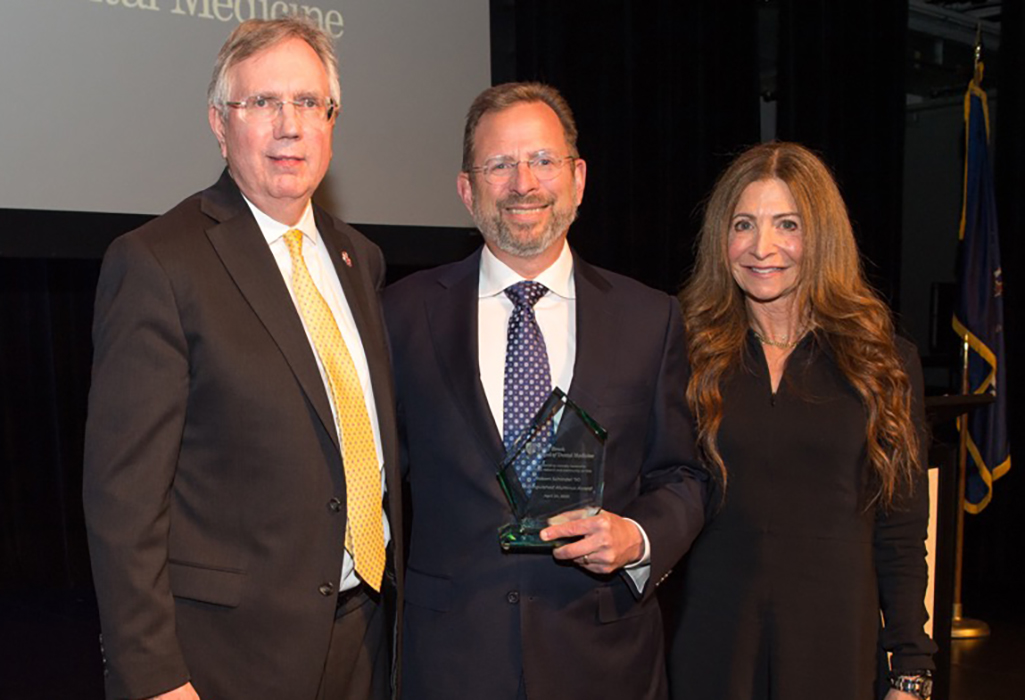 Robert Schindel, DDS '90, a decorated figure in orthodontics and longtime faculty member at Stony Brook School of Dental Medicine, has been presented with the 2023 School of Dental Medicine Distinguished Alumni Award. 
Schindel has been a clinical professor at his alma mater since 1994, providing mentorship for students in the orthodontics, pediatric dentistry and oral biology and pathology residency programs, as well as the undergraduate dental program. In addition to his role in academia, Schindel has been a fixture in the community of East Northport, New York, where he has provided dental care for residents for more than 20 years. 
Schindel was presented with the award at the Class of 2026 White Coat Ceremony, held on April 24 at the Charles B. Wang Center on Stony Brook's West Campus. 
"I'm beyond humbled to receive the Distinguished Alumni Award and to have the opportunity to speak to you today," Schindel said in his address. "I'm so proud of this not as an alumnus who is coming back to his school but one who's never really left." 
"The incredible influence that Dr. Schindel has had at the school and in his community makes him so very deserving of this honor," said Stacy Reisfeld, DDS '88, president of the School of Dental Medicine Alumni Association. "We are proud to count him among the more than 1,500 SDM graduates who have advanced the field of dentistry here on Long Island and well beyond." 
Schindel is a member of the prestigious Edward H. Angle Society of Orthodontists (EHASO), a worldwide organization committed to the advancement of the study and practice of orthodontics. Approximately five percent of orthodontists in North America are members of the society. Additionally, Schindel has served on its editorial board, The Angle Orthodontist. 
A leader in orthodontics research, Schindel has presented at numerous national and international meetings and has had his findings published in peer-reviewed journals such as The American Journal of Orthodontics and Dentofacial Orthopedics, The Journal of Clinical Orthodontics and The Angle Orthodontist. As a faculty member, he has been the thesis mentor for 11 orthodontic residents for their master's and science degrees. 
Schindel earned his Bachelor of Science from Binghamton University. He completed his Doctor of Dental Surgery and three-year orthodontic residency at Stony Brook before joining the SDM faculty. 
Of his time at the SDM, Schindel said, "When I walk around the school today, the memories flood in of the special faculty members who were mentors to me, my fellow dental students and residents who are friends to me, and all the residents and students I have taught over the years who are like sons and daughters to me."