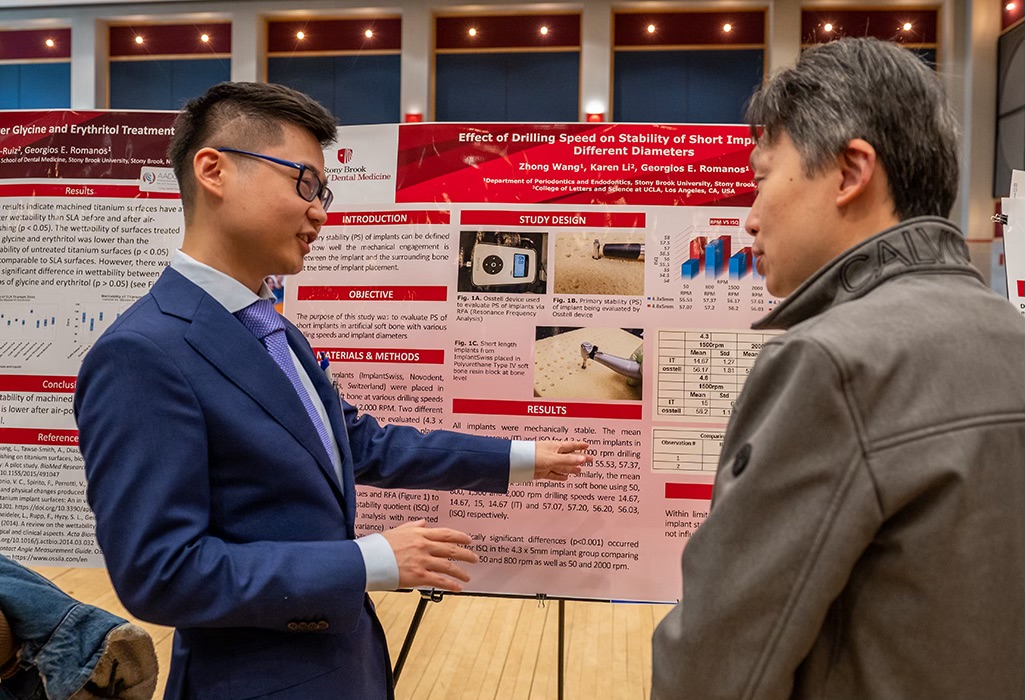 More than 40 Stony Brook School of Dental Medicine students and residents participated in the 2023 Leo and Mickey Sreebny Lectureship and School of Dental Medicine Research Symposium, held at the Student Activities Center on April 26. 
Stephen Walker, PhD, interim dean of research at the SDM, bestowed awards to six students and residents for their exceptional research and presentations. Additionally, a representative of Dentsply Sirona, presented third-year dental student Catherine Scanapico with American Association of Dental, Oral and Craniofacial Research (AADOCR)/Dentsply Sirona Student Research Award for her evaluation of concordance between clinical and microscopic diagnoses of oral lesions. With the award, Scanapico will receive funding from AADOCR to present her findings at the organization's 53rd annual meeting in New Orleans, Louisiana, in March 2024. 
"Research Day is an outstanding tradition at the School of Dental Medicine, one that Dr. Sreebny undoubtedly would have been proud to see lives on," Walker said. "The dedication, depth of knowledge and attention to detail that each presenter showcased was very much evident to those who visited with them. We are thankful for the contributions that our students, residents and faculty made to make the day such a success, as well as the judges who carefully evaluated the research on display." 
"I was truly in awe of the commitment to excellence that each student, resident and faculty member demonstrated leading up to and during Research Day," added Dr. Patrick Lloyd, dean of the School of Dental Medicine. "It is important that we continue to promote research opportunities as our community must not only seek chances to improve as dental practitioners but to advance the profession." 
Brian Foster, PhD, associate professor in the Division of Biosciences at The Ohio State University College of Dentistry, kicked off the day's events by serving as keynote speaker for the event, sharing a presentation titled "Key Regulators of Periodontal Mineralization: Lessons for Tissue Repair and Regeneration." 
The symposium is named after Dr. Leo Sreebny, who served as dean of the School of Medicine from 1975-1979, and was a decorated member of the SDM faculty through 2005. Dr. Sreebny was a passionate advocate for research and innovation, and was committed to promoting discovery to SDM students and residents. Before his passing in 2020, Dr. Sreebny and his wife, Mickey, pledged their support for fostering such developments by backing the school's annual Research Day. 
2023 Leo and Mickey Sreebny Lectureship and School of Dental Medicine Research Symposium Award Recipients 
AWARD 

RECIPIENT 

AADR/Dentsply Sirona Student Research Award 

Catherine Scanapico, D3 student (Rekha Reddy, DMD; Nora Odingo, BDS, DMD, MPH) 

Topic: Evaluating Concordance Between Clinical and Microscopic Diagnoses of Oral Lesions 

Hinman Symposium Award 

Daniel McErlean, D3 student (Prashansa Gautam, BS, D3 student; Nina Anderson, PhD; Nora Odingo, BDS, DMD, MPH; Rekha Reddy, DMD) 

Topic: Smoking Cessation: A Targeted Approach to Quitting 

AADOCR National Student Research Day Award 

Lauren Mistretta, D2 student (Georgios E. Romanos, DDS, PhD, Prof Dr med dent; Rafael Delgado-Ruiz, DDS, MSc, PhD) 

Topic: Wettability of Zirconia Implant Surfaces after Glycine and Erythritol Treatment 

AADOCR Long Island Section Student Research Award 

Maryam Hafeez, D2 student (George Kokkinos, BA, D2 student; Rafael Delgado-Ruiz, DDS, MSc, PhD) 

Topic: Differential Temperature Produced by Er,Cr: YSGG-Laser Irradiation on Ceramic Implants 

Resident/Fellow Research Award 

Erin Son, DDS, PD GPR '21, PGY2 oral and maxillofacial surgery resident (Nina Anderson, PhD; Dan Colosi, DDS, PhD; Mina Mahdian, DDS, MSc)

Topic: Incidental Findings (IF) in Limited Field-of-View (FOV) CBCT for Endodontic Procedures 

Graduate Student Research Award 

Qi Dai, D3 student (Hsi-Ming Lee, PhD; Stephen Walker, PhD; Rafael Delgado-Ruiz, DDS, MSc, PhD; Francis Johnson, PhD; Lorne Golub, DMD, MSc, MD(hon); Ying Gu, DDS, PhD)

Topic:Inhibition of Streptococcus Mutans esterase with a Novel Chemically Modified Curcumin 

Omicron Kappa Upsilon Sigma Tau Chapter Research Award 

Zhong Wang, D3 student (Georgios E. Romanos, DDS, PhD, Prof Dr med dent; Ker-Chau Li)

Topic: Drilling speed on stability of short implants with different diameters