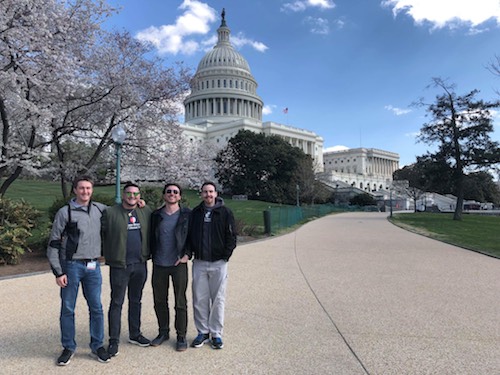 Students from Stony Brook School of Dental Medicine Headed to Washington D.C. to Participate in the American Dental Association's Dentist and Student Lobby Day

April 2018 - The American Dental Association's Dentist and Student Lobby Day provides an opportunity for dentists and dental students from throughout the United States to visit Washington D.C. and advocate on behalf of themselves and their patients on issues that affect their profession and oral health within our country.

Stony Brook School of Dental Medicine students Jack Lupfer, Stevie Lustofin, Joe Manzella, Alexander McGuiness, David Minoli, and incoming student Rocco Tedesco, attended the three-day event at the nation's capital and heard from political analysts, subject matter experts, and politically involved dentists. They also met with local elected officials including Congressman Lee Zeldin who represents the 1st District of New York.

"Not only was meeting with members of Congress new and exciting, but they were very receptive and understanding of the issues and talking points we presented them with," said Manzella, President-Elect, American Student Dental Association, Stony Brook Chapter. "They were surprised at how well organized and researched we were and showed the same respect for students as they did for the dentists."

In total, the event brought together a network of over 1,000 dentists and dental students. "If I can take away anything, it's that once you realize the power that is held by organized dentistry and the influence they have to help shape our profession, you will gain a deeper respect for taking part in an experience like this," said Manzella.
(L-R) Alexander McGuiness, Jack Lupfer, Congressman Lee Zeldin, David Minoli, Joe Manzella, Stevie Lustofin