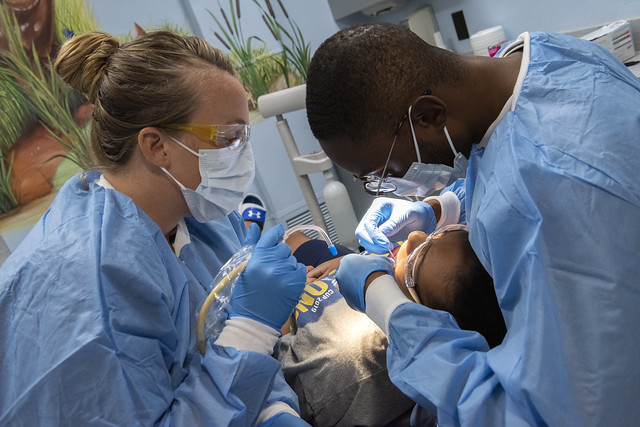 Stony Brook School of Dental Medicine provided free oral healthcare and education and school supplies to hundreds of children at their annual Give Kids A Smile® event.     
August 2019 – During a time of year when back-to-school lists are full of school supplies and to-do items, one important task often remains unchecked: a visit to the dentist. Unfortunately, for many parents of young children, oral healthcare is out of reach. According to the U.S. Centers for Disease Control and Prevention, nearly one in four children under the age of five already has cavities, and many children receive no dental services throughout the year.

Stony Brook University School of Dental Medicine hosts its annual Give Kids A Smile event each August to provide an opportunity to local families to ensure that their children's oral health care needs are addressed ahead of the new school year. This year's event, held on August 27th, welcomed 250 children to Stony Brook School of Dental Medicine's Dental Care Center to receive free dental screenings, cleanings, sealants, and fluoride treatments.

This year, visitors were also welcomed to participate in face painting and receive various goodie bags on completion of their treatment. To further assist attendees in having a successful back-to-school experience, backpacks and school supplies were distributed.   
For Lila Auricchio, age 10, the day changed her perspective on the dentist – it could be fun, she explained. According to Judi Varisco, Lila's grandmother, children were put at ease thanks to the step-by-step explanations of care provided by dental students and residents during treatment. "They've all been so patient and kind, and those are very important qualities in the medical field," she added.   
"The School of Dental Medicine aims to increase accessibility to world-class oral healthcare, and community events such as these help to make that happen," said Dr. Mary Truhlar, Dean. "This year, we welcomed an additional 100 children to our Dental Care Center, and I'm so thankful to our outstanding team for making this meaningful day come to life."   
Give Kids A Smile events are part of a national campaign of the American Dental Association to provide and promote the importance of oral health care to over 350,000 children each year who otherwise may not have ready access. Stony Brook School of Dental Medicine is proud to have participated in the program since its inception in 2003.