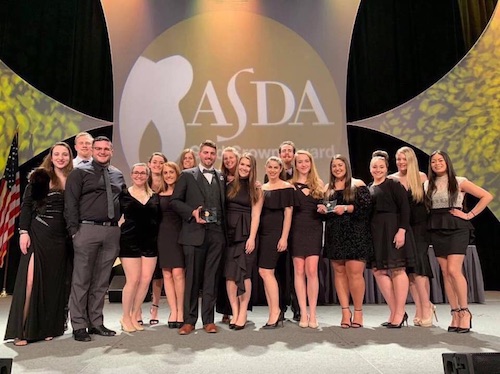 March 2019 – The Stony Brook School of Dental Medicine chapter of the American Student Dental Association was recognized on the organization's national stage for their leadership and media accomplishments.  
Seventeen students of the Stony Brook School of Dental Medicine chapter of the American Student Dental Association (ASDA) headed to Pittsburgh, PA for the organization's 49th Annual Session. The Annual Session is the official meeting of ASDA's House of Delegates, bringing together over 600 dental students and professionals from throughout the United States to debate issues, set policy, and elect the new ASDA Executive Committee.  
The three-day session affords students an opportunity to participate in and experience the power of organized dentistry. Whether by performing duties within the House of Delegates, as did students Jack Lupfer and Joe Manzella, or by participating in the interviewing and election of Executive Committee candidates, students played an active role in the future of the profession.  
The most anticipated event of the Annual Session is generally considered to be the Gold Crown Awards, a ceremony in which individual members or chapters are recognized for their accomplishments. Following a successful year and a rigorous application process highlighting the Chapter's activities, Stony Brook School of Dental Medicine was honored with two Gold Crown Awards: Most Improved Newsletter and District Delegate of the Year.  
According to ASDA, the Most Improved Newsletter Gold Crown is awarded on the basis of "dramatic improvements" having been made "in the quality of information and design and layout of the newsletter." Stony Brook School of Dental Medicine's chapter newsletter, The Articulator, is led by students Parandis Nejati, Jessica Lavery, and Meirrel Hosny, with design by students Aviva Izmailov and Noelle Fischer.  
District Delegate of the Year was awarded to student Jack Lupfer for his outstanding accomplishments in mentorship through increased membership, interaction with state and local dental societies, and encouragement of members to seek national and regional leadership. Jack has long been avidly committed to ASDA, currently serving as Chapter President, with his participation in the organization spanning several years.  
"This was truly a surprising but nice way for me to reflect on my time with ASDA and the impact I have been able to make as I begin to close out my time as Chapter President and involvement on the student level," said Jack.  
Bringing to an end the Annual Session, students joined together to debate and vote on the new policies ASDA adopted to its bylaws, further moving ASDA forward into a more progressive future. "The experience was one to remember," said student Joe Manzella, Chapter President-Elect. "Together, we proved once again, as Stony Brook always does, that though tiny, we are a force to be reckoned with, one that sticks together, welcomes others, and embraces the opportunity to have our voices heard and connect with others near and far."