October 2020 - David K. Lam, MD, DDS, PhD, has been selected as Interim Associate Dean for Research of Stony Brook University School of Dental Medicine. Dr. Lam joined the School of Dental Medicine in 2017 as Professor and Chairman of the Department of Oral & Maxillofacial Surgery. He also serves as Professor in the Department of Surgery, Chief of the Division of Oral & Maxillofacial Surgery, Department of Surgery, and Clinician-Scientist at Stony Brook Cancer Center. Dr. Lam is internationally renowned for this expertise in trigeminal pain, cancer pain, and pathology. His research contributions are vast and include discovering a new cancer pain pathway, developing a new head and neck cancer pain preclinical model, and a new chemotherapeutic for aggressive jaw tumors.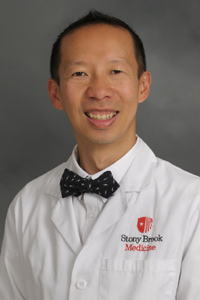 To date, Dr. Lam has more than 50 research publications to his credit. His dedication to solving challenging clinical problems using innovative research and translational techniques has earned him grants from NIH, NIDCR, NCI, and CIHR. Notably, as Principal Investigator, Dr. Lam recently secured a $1.7 million NIH grant to validate bone scaffold technology in craniofacial tissues. Additionally, Dr. Lam was named as a Fellow of the prestigious Mayday Pain & Society Fellowship: Communicating Science and Improving Care.
  
Positioned within the School of Dental Medicine as the Director of the LITElab (Lam Innovation Translation Education) and as a Clinician-Scientist within Stony Brook Medicine's Cancer Center, Dr. Lam is leading the way in interprofessional translational research. Dr. Lam represents the School of Dental Medicine both throughout Stony Brook University and Stony Brook Medicine's hospital system and within the international research community. In his role as Associate Dean for Research, Dr. Lam will expand upon research programs and funding.