March 2020 – Stony Brook School of Dental Medicine's team marked National Children's Dental Health Month by bringing oral health education to over 7,500 children in local school districts throughout January, February and March. The initiative is part of the School of Dental Medicine's comprehensive School-Based Program, which focuses on the oral health sustainability of local children through an emphasis on prevention, the teaching of good oral hygiene and nutritional practices, and strategic partnerships with school districts in Suffolk County.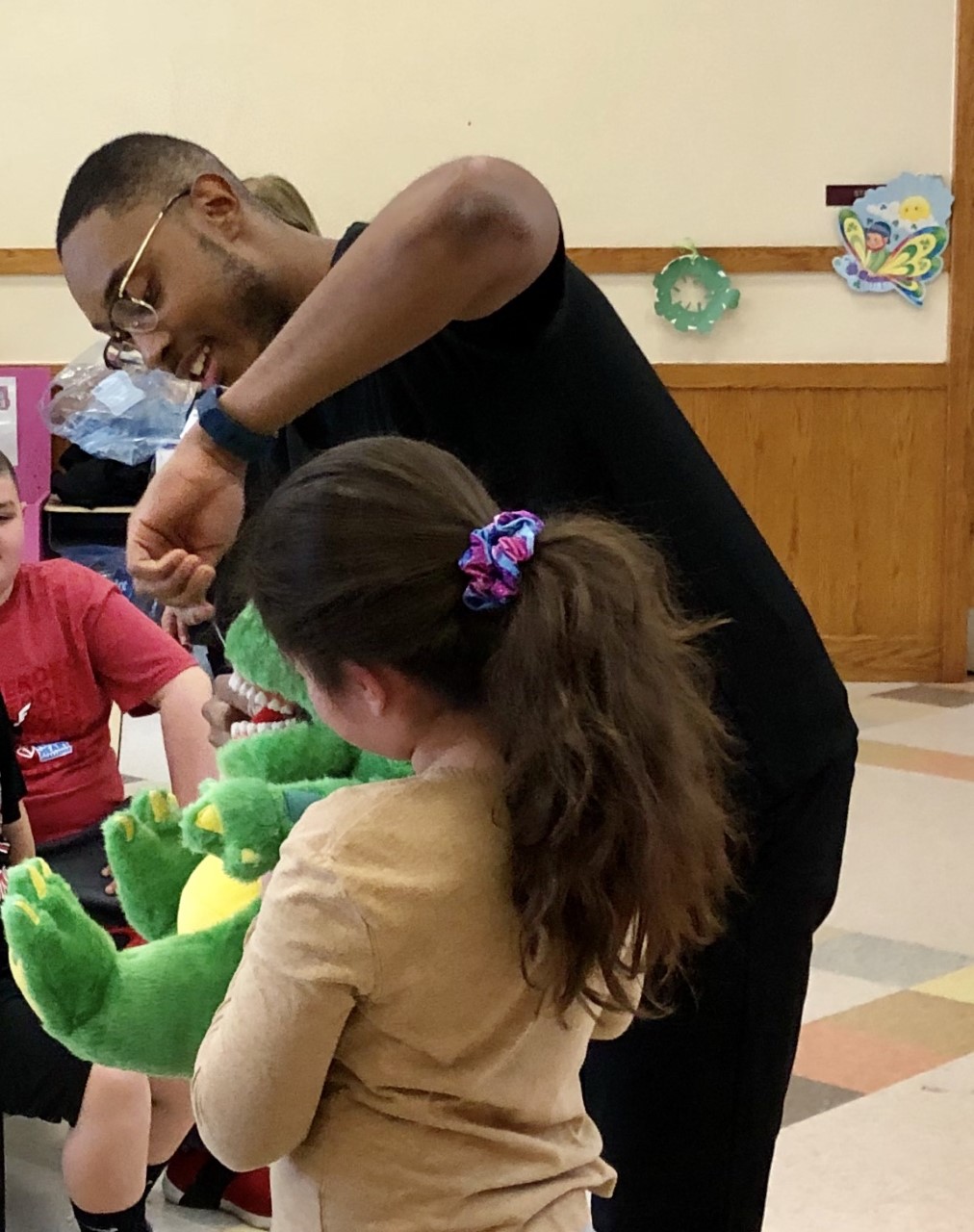 In the past year, the School of Dental Medicine's School-Based Program has expanded to 23 elementary schools following the addition of Patchogue Medford School District, Longwood School District, and South Country School District, which are comprised of 13 elementary schools. A dental team visits first-, second-, and third-grade students twice annually for preventive services, including treatment and educational components.
"The School-Based Program offered by the School of Dental Medicine and its providers has grown rapidly, and as a result of great community need, requests for additional community outreach programs are frequent," said Dr. Rhona Sherwin, Clinical Professor and Director of Pediatric Outreach. "We are proud that the development and implementation of these preventive projects have resulted in the improved oral health of local children."
Children receive oral health education through interacting with pediatric dentistry residents and dental professionals who explain the best oral hygiene practices, proper nutrition for dental and oral health, and the importance of regular dental visits. Puppets and age-appropriate videos and are used as a means of communicating these topics in a fun, accessible way for elementary school students.

Importantly, all children receive an oral hygiene kit and informational material to encourage and establish oral healthcare routines that are maintained within their homes. The promotion of care for these students does not stop there: the School of Dental Medicine's Mobile Dental Clinic van fully equipped with three dental operatories, provides participants with preventive services. These services include cleanings, fluoride treatments on a biannual basis and sealants as needed.
Beyond the record-breaking 7,500 children receiving care in two months, the School of Dental Medicine will be expanding its oral health educational services this March. Newly partnered with The Children's Oral Health Institute, the School of Dental Medicine's team will introduce Lessons in a Lunchbox® to children in the Tremont Elementary School in the Patchogue Medford School District.
According to Christine Marsh, RDH, Dental Hygienist for the local outreach team, Lessons in a Lunchbox is an interactive lesson-guide that makes use of colorful props within a plastic lunchbox to convey oral hygiene and nutritional information to young children. "Following our successful educational meetings with thousands of local Long Island students in January and February, we're looking forward to continuing with this and other new programs for the community."