March 2020 - Stony Brook University School of Dental Medicine is proud to announce Dr. Saro Atam as the recipient of two prestigious awards in recognition of his outstanding work within the field of orthodontics. Dr. Atam, an orthodontic resident in the Advanced Education Program in Orthodontics and Dentofacial Orthopedics, first received the Journal of Clinical Orthodontics (JCO) Eugene L. Gottlieb student of the Year Award, presented by American Orthodontics. This award is given in recognition of clinical excellence in orthodontic graduate programs. Dr. Atam was selected for the JCO Student of the Year Award over 24 other participants from schools around the United States in a two-stage, months-long competition judged by members of the JCO editorial board.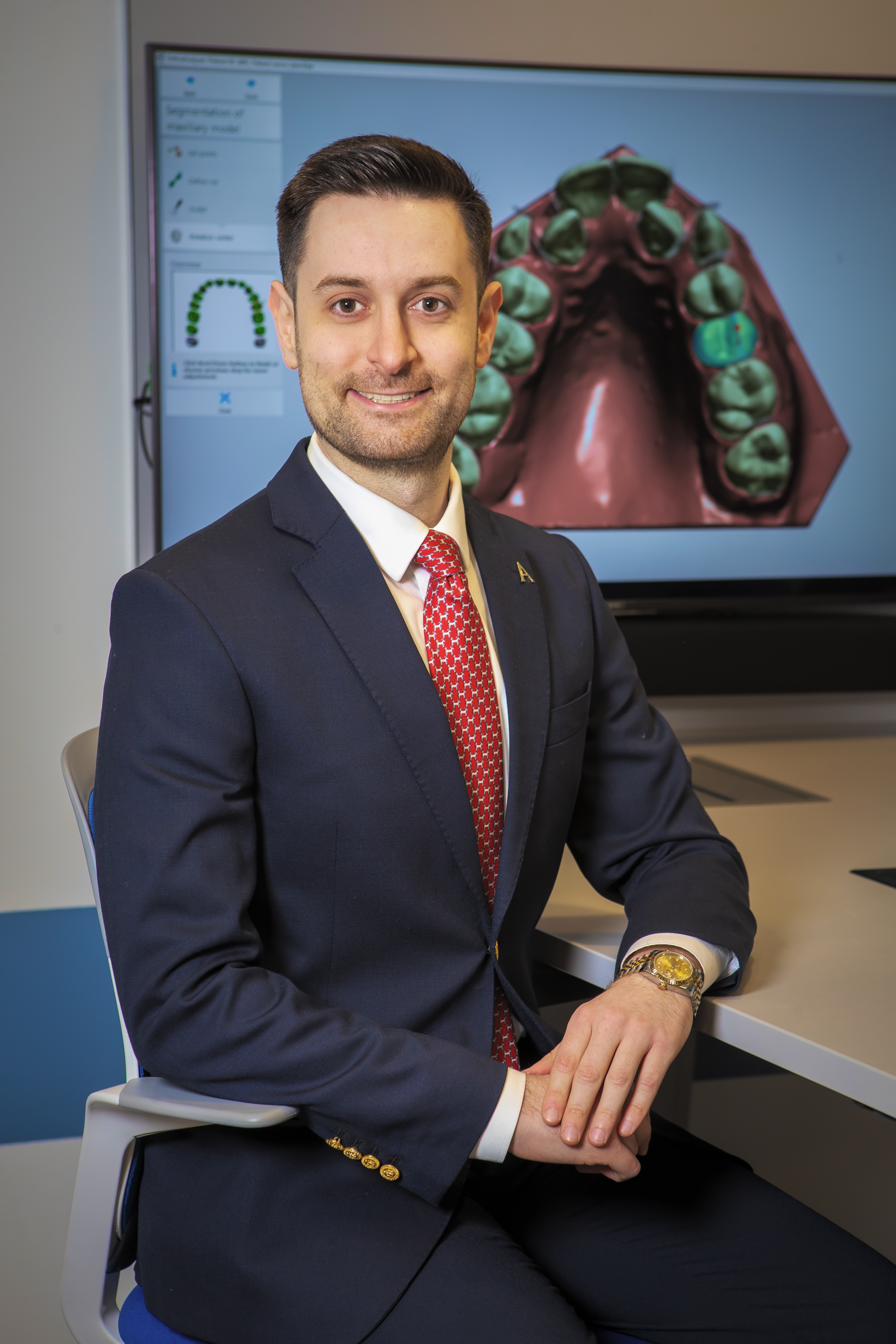 In addition, Dr. Atam received the American Association of Orthodontists Foundation (AAOF) Resident Research Aid Award (RAA) for his project, "Orthodontic Digital Workflow: From 3D Printing to Appliance Fabrication." This award was appointed with the reputable Charles J Burstone RAA in 2020 because it received the highest scoring in this category. Alongside his mentors, Dr. Atam intends to test 3D printer's accuracy, production time and failure rate using different settings and technology. They will also evaluate the influence of 3D printing parameters in the fit of clear retainers/aligners fabricated in-house. 
Dr. Atam is of Armenian heritage, was raised in Syria, and graduated from dental school there, enduring the civil war and drone strikes. He emigrated to the United States and attended dental school at the University of Pennsylvania School of Dental Medicine, where he graduated at the top of his class. He won the Dentsply Sirona Restorative Global Clinical Case contest in 2017 and was a recipient of the prestigious Earle Banks Teaching award in 2018. After graduating from the University of Pennsylvania, he was accepted into the esteemed orthodontic residency program at Stony Brook University. 
Dr. Atam describes his education at Stony Brook as one which has pushed him to excel. "The program offers invaluable research opportunities that really enhance the resident experience," he said. Dr. Atam's research will mainly be conducted within the School of Dental Medicine's Center for Implant and Digital Technology, a state-of-the-art digital learning center opened in December 2019. 
"Dr. Atam's innovative research in 3D printing technology is the product of his passion for service and sterling academic rigor," said Dr. Wellington Rody, Chair of the Department of Orthodontics and Pediatric Dentistry. "Our pride in his work is only eclipsed by our pride in his dedication to serving his profession and community." Dr. Atam works closely with Dr. Rody, as well as Dr. Cybelle Pereira, Axel Calderon, Dr. Richard Faber, and Dr. Robert Lopatkin within the School of Dental Medicine.