January 2021 – Oral healthcare providers of Stony Brook University School of Dental Medicine have received their first dose of the Pfizer-BioNTech COVID-19 vaccine. Patient-facing faculty, residents, students, and staff participated, marking a vitally important pharmacologic intervention to stop the pandemic. The vaccine was administered by residents within the Advanced Dental Education Program in Dental Anesthesiology with the support of nurses, pharmacists, and physicians from Stony Brook Medicine.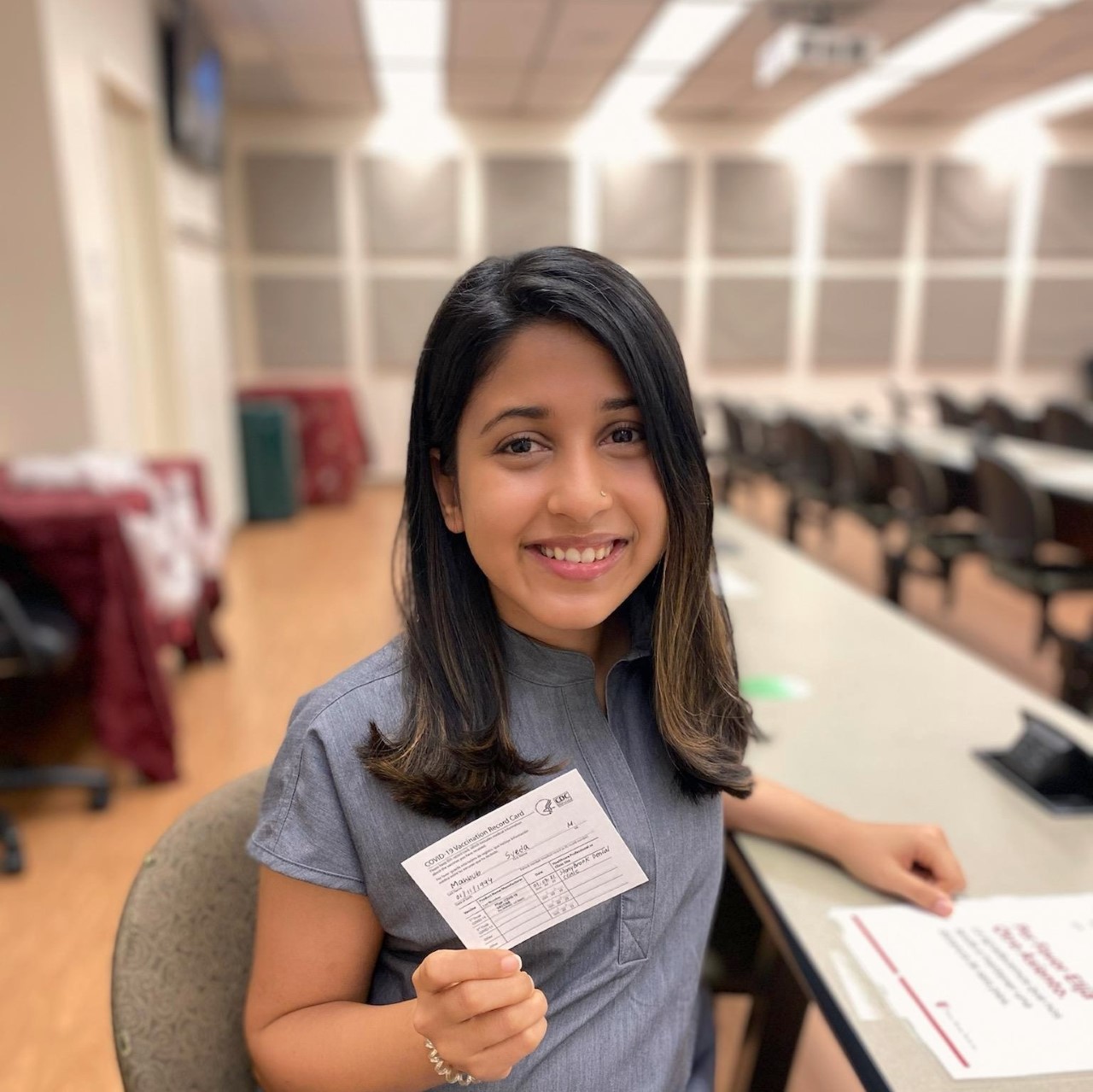 This significant milestone follows the emergency use authorization (EUA) of the Pfizer-BioNTech COVID-19 vaccine by the U.S. Food and Drug Administration to prevent COVID-19 in individuals 16 years of age and older. The vaccine has been found to be more than 90 percent effective after two doses.  
The School of Dental Medicine has remained committed to the provision of patient care throughout the ongoing coronavirus pandemic. It has implemented numerous safety protocols to protect its oral healthcare providers, staff, and patients from infection. Now, the vaccine's availability is a vital step in disease prevention, allowing practitioners to more readily and safely provide treatment and services to those in need.   
Students throughout the School of Dental Medicine met the receipt of the vaccine with excitement. "I am truly grateful for all the hard work put in by doctors and scientists for us to have this opportunity," expressed student Setareh Zareh. Student Rocco Tedesco felt that the vaccine symbolized a better direction for the year ahead. "I'm very grateful to be among some of the first to receive the COVID vaccine."   
Stony Brook Medicine has also begun to provide the COVID-19 vaccine to members of the larger healthcare community on Long Island, including patient-facing members of dental practices. Soon, Stony Brook will also be in motion as a designated New York State point of distribution (POD) for the COVID-19 vaccine. Additionally, Stony Brook is the only Long Island site and one of two in New York State to be selected to participate in a Phase 3 clinical trial to test the safety and effectiveness of a Novavax investigational vaccine for SARS-Cov-2, the novel coronavirus that causes COVID-19. 
"It has been an honor for our team to receive the Pfizer-BioNTech COVID-19 vaccine," said Dr. Allan J. Kucine, Interim Dean. "We are proud to have continued to serve our community's oral healthcare needs during the pandemic and now look forward to having this additional layer of protection to keep our team safe. We appreciate the residents of our Advanced Dental Education Program in Dental Anesthesiology for their administration of the vaccine."