May 2021 – The Staller Center for the Arts at Stony Brook University was brimming with excitement as Doctor of Dental Surgery, graduate, and advanced education certificate candidates filed into the sound of "Pomp and Circumstance," and loved ones looked on. To most, this in-person, celebratory moment felt out of reach just one year ago as the world grappled with the uncertainties of the COVID-19 pandemic.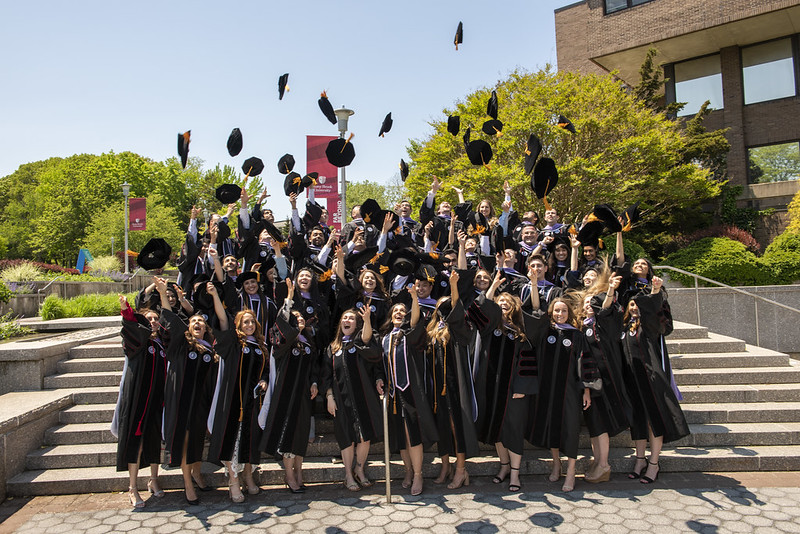 Despite the abrupt transition to remote learning and necessary accommodations for COVID-19 restrictions, the students of the Class of 2021 continued to thrive and returned to the School of Dental Medicine stronger than ever. Beyond achieving the completion of their studies and clinical competencies, they volunteered to help their community by administering vaccines.  
Dr. Patricia Swanson, selected as Grand Marshal, said similarly, "I am proud of your class for many things, but I am most proud of how you learned to lean on each other and help each other through the tough times." The Class of 2021 also selected Drs. Scott Firestone, John Lagner, Charles Larsen, Euane Newen, Christine Valestrand, and Laurence Wynn as Marshals for their overall impact on their education. 
Within his commencement address, Dr. Allan J. Kucine, Interim Dean, also reflected on the unprecedented circumstances of the past year, acknowledging the Class's ability to remain strong and committed to their goals. "I know that the future of oral healthcare is bright," he said. "You are a thoughtful, empathetic, talented, and resilient group."  
Now that they've crossed the stage, the new Doctors of Dental Surgery will head off to 29 educational institutions within 11 different states. Impressively, compared to a national average of 59%, 100% of Dental Match participants in the Class of 2021 placed into advanced education programs. Nearly half of the graduating class will go onto specialize, with the top three specialties chosen being Pediatric Dentistry, Orthodontics, and Oral and Maxillofacial Surgery. 
This class's success through adaptability is not surprising; they have been at the forefront of implementing a digitally-based curriculum and transitioning to a group practice model within their clinical training. "This class has never shied away from a challenge," said Class President Dr. Joseph Manzella. "We took things as they came, adjusted to our situation, and never, ever gave up." 
"To the Class of 2021: congratulations," concluded Dr. Kucine. "Whether you go forward as a Doctor of Dental Surgery or with the additional expertise earned in an advanced education or graduate program, be proud of all that you have accomplished to get to this day."  
We wish the Class of 2021 health, happiness, and success in the future!  
View video of the 2021 Convocation Ceremony.