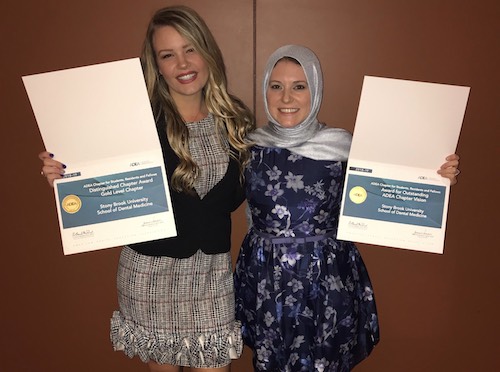 March 2019 – This year's Annual Session & Exhibition of the American Dental Education Association brought success for the Stony Brook School of Dental Medicine student chapter which received two awards at the event.  
According to the American Dental Education Association (ADEA), the ADEA Annual Session & Exhibition "is the premier event in dental education, where thousands of dental educators and solution providers connect--in one place, at one time." This year's Annual Session & Exhibition took place on March 16th-19th in Chicago, IL, and brought together full-time faculty members, pre-dental and dental students, and other dental professionals from across the United States.  
The Stony Brook School of Dental Medicine chapter of the ADEA Council of Students, Residents, and Fellows was honored at the annual event through the receipt of two prestigious awards. "It was amazing to be recognized for all of the hard work and time that was put into this year's events," said chapter President, Brianna Hines, Class of 2020. 
The first award received by Stony Brook School of Dental Medicine was the Distinguished Chapter Award, Gold Level Chapter. This award is given to chapters following the fulfillment of multiple requirements including hosting at least eight events within their institutions. One such event was a lecture titled, "Why I Teach," featuring faculty member Patricia H. Swanson, DDS, FACP, Clinical Assistant Professor, where she discussed her decision for teaching after residency and the positive aspects of an academic career.  
The chapter was also awarded Outstanding ADEA Chapter Vision, an award given to chapters articulating a set of ideals or solutions to create broader meaning for the dental education and effectively bridge the present with the future of oral health. The chapter received this award in part of because of its successful co-sponsored event held in partnership with the Hispanic Student Dental Association (HSDA). The event served as a learning opportunity with faculty member Clarisa Amarillas Gastelum, DDS, MS, Assistant Professor, teaching common Spanish phrases helpful in treating Spanish-speaking patients.  
According to Brianna, the Stony Brook chapter has been putting significant effort into growing ADEA participation within our institution. "It is nice to know that the efforts haven't gone unnoticed," said Brianna. "It was also really heartwarming to see the faculty from Stony Brook attend the awards ceremony and cheer us on when we walked on stage."
"We are proud of the strong representation of Stony Brook School of Dental Medicine through our students' participation in the ADEA Council of Students, Residents, and Fellows," said Mary Truhlar, DDS, MS, Dean. "The events and efforts of our chapter have made a positive impact within our institution and are worthy of their hard-earned recognition at this year's Annual Session."  
Stony Brook ADEA Council of Students, Residents, and Fellows Chapter Leadership: 
President: Brianna Hines 
Vice President: Linda Zheng 
Secretary: Meirrel Hosny 
Member at large: Elana Kurlander 
Treasurer: Sara Girgis  
Social Media: Carmen Hung