American Dental Education Association Leadership Institute Selects Dr. Dolores Cannella to Fellows Program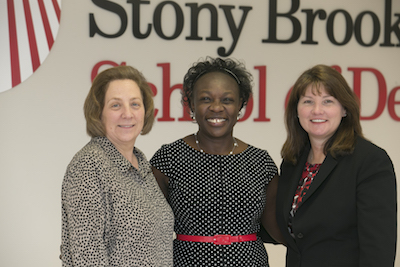 March 2016-The American Dental Education Association (ADEA) Leadership Institute has selected Dr. Dolores Cannella, Ph.D., Associate Dean for Education at the Stony Brook School of Dental Medicine, to participate in its vigorous Fellows Program. The ADEA Leadership Institute is designed to support the nation's most promising individuals at academic institutions in becoming leaders in dental and higher education.
ADEA Leadership Institute Fellows are selected from a competitive pool of applicants and participate in the year-long educational experience that prepares them for expanded roles in their institutions and the profession. Fellows emerge not only with the knowledge and skills necessary for their careers but with greater self-understanding and deeper personal vision.
Dr. Cannella graduated Summa Cum Laude from Long Island University (1999) and stayed on to earn a Master's degree in General and Experimental Psychology (2002). She continued her education at Stony Brook University, where she was awarded a Master's degree (2004) and Ph.D. (2007) in Social and Health Psychology. Dr. Cannella joined the faculty at the Stony Brook School of Dental Medicine as an Assistant Professor in 2007 and was appointed as Director of Behavioral Sciences and Practice Management in the Department of General Dentistry in 2008. In addition, she holds faculty appointments in the School of Medicine, School of Nursing and the Graduate Program in Public Health. Dr. Cannella was promoted to Associate Professor with continuing appointment in 2014 and served as the Acting Chair of the Department of General Dentistry (2014-2015). Currently, she serves as Associate Dean for Education at the School of Dental Medicine.
Dr. Cannella's teaching and research interests focus on the utilization of social psychological theories to investigate adaptation to chronic illness, stress and coping, and the promotion of health behaviors. She serves as the Project Coordinator on a 2015 HRSA-funded initiative to develop patient-centered interprofessional health care delivery teams to improve access to health promotion and disease prevention services to geriatric and medically complex adults.
Stony Brook University is one of America's most dynamic public universities, a center of academic excellence and an essential part of the region's economy.U.S.News & World Report ranks Stony Brook among the top 100 universities in the nation, and the Times Higher Education World University Rankings places us among the top 1 percent of all the universities in the world. A member of theprestigious, invitation-only Association of American Universities, Stony Brook is one of the 62 leading research institutions in North America and the co-manager of Brookhaven National Laboratory. Nobel laureates, Guggenheim fellows and MacArthur grant winners teach on our campus, making it a magnet for outstanding students. The University offers more than 200 undergraduate and 140 graduate programs and has more than 24,300 students.
Stony Brook's 1,040-acre campus on Long Island's North Shore encompasses not only the main academic areas of the University, but also Stony Brook Medicine, which includes the five health sciences schools, Stony Brook University Hospital, Stony Brook Children's Hospital, the Long Island State Veterans Home, and our major healthcare centers, programs and clinics. A Medical and Research Translation (MART) building, dedicated to imaging, neurosciences, cancer care and research, and a new Hospital Pavilion and Children's Hospital are set for completion in 2016.
Stony Brook School of Dental Medicine (SDM) is renowned for implementing cutting-edge technology in its educational programs and in the delivery of oral healthcare services. The SDM offers the Doctor of Dental Surgery degree in addition to postdoctoral education in endodontics, pediatric dentistry, orthodontics, periodontics and implant dentistry, advanced education in general dentistry, dental anesthesiology and dental care for the developmentally disabled. Master's and doctoral degrees are offered through the University's Graduate School and the School's Department of Oral Biology and Pathology. The SDM provides dental care to more than 13,000 community residents each year and is the country's leading dental school in translational research and technology transfer. SDM students participate in community outreach regionally, nationally and abroad in an effort to serve remote or impoverished regions of the world, including Kenya, Madagascar and the Indian Health Center at Pine Ridge in South Dakota.
Photo Caption: Dr. Dolores Cannella, on far right, with Dr. Nora Odingo, center, and Dr. Lucille London, far left