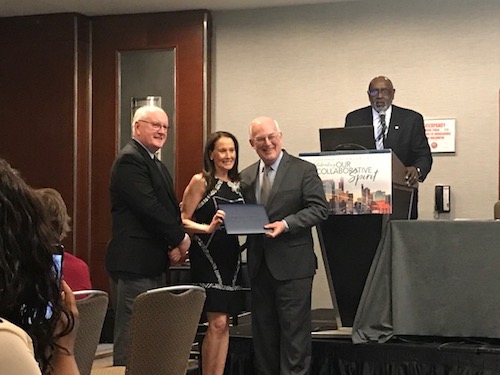 March 2019 – Dr. Ann Nasti's graduation from the American Dental Education Association's Leadership Institute marks the fourth time that a Stony Brook School of Dental Medicine faculty member has completed the competitive program.   
According to the American Dental Education Association, "the ADEA Leadership Institute is a year-long program designed to develop the nation's most promising individuals at academic dental institutions to become future leaders in dental and higher education." Selected from a competitive pool of applicants, Fellows who have graduated from the Institute hold positions ranging from department chairs to program directors to deans of dental schools.  
Ann Nasti, DMD, was chosen in 2018 as a member of the ADEA Leadership Institute's Class of 2019 and graduated from the program this March. Dr. Nasti currently serves as Associate Dean for Clinical Education and Clinical Associate Professor within the Department of General Dentistry of Stony Brook School of Dental Medicine. In addition, Dr. Nasti holds leadership positions on multiple committees within the school, including the Diversity Committee. Dr. Nasti recently helped to oversee the transition to a group practice model and is a co-director of the school's digital dentistry club, Club CAD.   
"As Associate Dean for Clinical Education, participating in the ADEA Leadership Institute was a transformative experience," said Dr. Nasti.  "The knowledge I gained from everyone I worked with -- mentors and peer Leadership fellows -- has provided me with a more global perspective about dental education. As a collaborative team, the Leadership Institute Fellows gained decision-making, priority setting, and conflict resolution skills, and came to understand the inner workings of a dental education institution—and how it fits into a parent institution and learned about policy issues affecting academic dentistry."  
Dr. Nasti's participation in the program follows the prior graduation of four Stony Brook School of Dental Medicine faculty members, including Mary Truhlar, DDS, MS, Dean. Similarly, Dr. Nasti's commencement coincides with the acceptance of faculty member Dan Colosi, DDS, PhD, to the program. Dr. Colosi serves within Stony Brook School of Dental Medicine as Acting Chair and Associate Professor of the Department of Prosthodontics and Digital Technology, and as Director of the Division of Diagnostic Imaging.   
Following an orientation held within the ADEA Annual Session & Exhibition in Chicago, Fellows participate in workshops throughout their tenure in the program. Workshops explore leadership topics including team building, mentorship, advocacy, public policy, budgeting, and program development, among others.  "My time within the Leadership Institute has opened my eyes to the endless opportunities for the advancement of dental education," said Dr. Nasti. "I am grateful for this rewarding experience."   
"Dr. Ann Nasti has long been an influential leader within our institution, and I have no doubt that with the additional, high-quality training provided within the ADEA Leadership Institute, that Dr. Nasti will quickly implement her newfound knowledge in the best ways possible," said Dean Truhlar. "Additionally, we are thrilled to continue to have Stony Brook represented within this competitive program through the acceptance and participation of Dr. Dan Colosi."