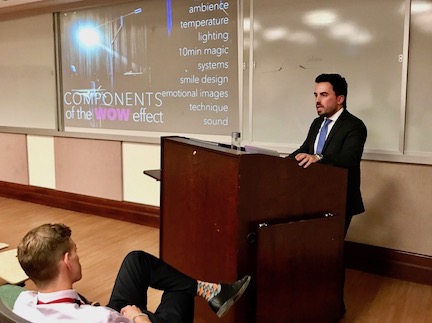 A Smile as Simple as an App Filter?
January 2018 - Can designing a new, beautiful smile be as simple as applying an app filter? According to Paul Vigario, CEO of Surf CT and Digital Smile Design (DSD), it's possible. In fact, Vigario, a pioneer of integrating digital technology in dentistry says, "living in a digital world is fascinating because we can build systems to get where we want with our businesses much faster."
Vigario presented a lecture to SDM's Digital Technology Study Club, Club CAD, on January 11th, 2018. With over 40 students and faculty in attendance, Vigario highlighted digital dentistry opportunities and explored the desires of the millennial patient. "Millennials will pay for experiences," explained Vigario, adding that "ambience, temperate, and lighting," are important factors, even in the dentist's chair.
Organized by fourth-year students Luke Shapiro and Omar Nijem, the lecture brought to light several different uses of technology for SDM students to consider in their future practices. For instance, the Digital Smile Design app quickly scans the patient's mouth and provides a proportionate, updated smile for the patient's review in real-time. The ability to allow the patients a moving, reflection-like view of themselves sporting the new smile is a motivator towards pursuing next steps.
Vigario explained other ventures utilized by high-tech dentists across the country, including changeable artwork that updates to reflect a patient's interests, and a sleek practice that hosts happy hours for its patients to encourage networking. Through his presentation, the ultimate message was clear: technology can both foster stronger relationships with patients through meeting their needs, and it can be a motivating factor in a patient's investment in their oral health.
According to Shapiro, the lecture "made us very excited about the future integration of dentistry and technology." Shapiro added, "it was great to see so many students and faculty in attendance to share this experience!"
Club CAD will reconvene on February 27th from 5-7PM to participate in the hands-on training of the design and mill of an actual patient case.