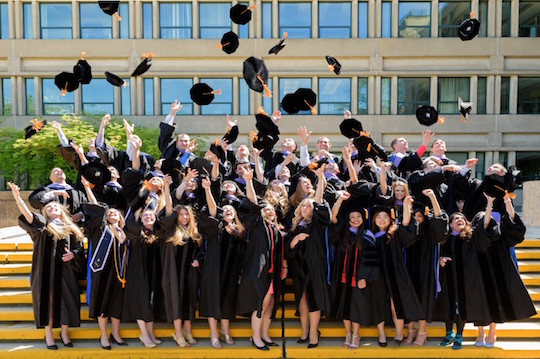 Congratulations to the Class of 2016!
May 2016- The School of Dental Medicine held its 40th commencement ceremony for the Class of 2016 on May 20. Faculty, staff, distinguished guests and families of the 40 graduates gathered to honor the academic and clinical achievements of the new dentists. Also recognized were dentists who completed their residency programs at Stony Brook and received postdoctoral certificates.
Pomp and Circumstance filled the auditorium as the Stony Brook Brass welcomed the graduates, platform party, distinguished guests and speakers as they walked with springful steps toward the future. Cheerful energy filled the room as the precession proceded and parents, friends, family, faculty and staff watched with anticipation as the candidates took their seats and the paltform party asceneded the steps to the stage, all knowing that this ceremony marked the beginning of a new professional life for each member of the class.
Grand Marshall Dr. David Krause, Distinguished Faculty Dr. Vincent Iacono and Dr. H. Barry Waldman, and Faculty Marshalls Dr. Gabriele Conte, Dr. Ann Nasti, Dr. Eugene Newen and Dr. Vincent Verderosa led the processional. Dean Mary Truhlar welcomed all and shared a heartfelt congratulatory address with the candidates. The Dean than introduced distinguished speaker Dr. Kenneth Kaushansky who spoke of the importance of a medical education and how these new graduates would impact the world through direct care and research.
Anticipation grew as the hooding ceremony began. For the first time this year family members and friends of the candidates participated in the ceremonies and assisted with the hooding of the candidates. Faculty Marshalls were on hand to lend guidance as the Class of 2016 donned their hoods, and then crossed the stage to receive their degree from Dean Mary Truhlar.
Once degrees were conferred graduate speaker Dr. Andrew Kennedy took the stage to address his classmates in a non-traditional and animated address that caused laughter, tears and thunderous applause from the graduates.
Dean Mary Truhlar closed the ceremony and Rachel Schutz led all in the singing of the Stony Brook Alma Mater.
To view the 2016 Convocation Ceremony video click here.
For more information about the Stony Brook University May 2016 Commencement Ceremonies click here.
Stay connected with your classmates, friends and colleagues by joining the Alumi Association-click here for information.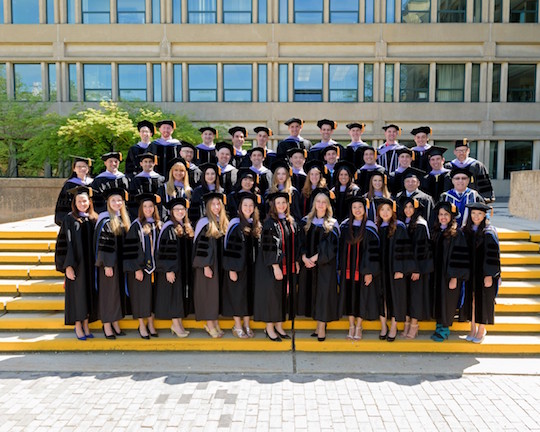 Photos: ©Media Services, Stony Brook University