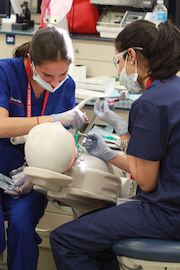 Aspiring Dentists Get a Head Start at Stony Brook
"Discover Dental School" Gives Undergraduates Hands-on Education and Training
August 2016 – Undergraduate students interested in entering the field of dentistry will participate in Stony Brook University's Discover Dental School Summer Scholars Program from Sunday, August 7, to Friday, August 12. Participants will come from 42 colleges and 11 states nationwide. Participants gain hands-on experience in an environment that simulates clinical practice and emerging technologies. The annual one-week intensive educational program runs in August each year at the Stony Brook University School of Dental Medicine and is among the most comprehensive of its kind nationwide.
This year's 54 participants come from a number of New York colleges and universities including Stony Brook University, Binghamton, Cornell and New York University, as well as a variety of undergraduate institutions nationwide, such as Yale, Notre Dame, Georgetown University, Clemson University, University of Wisconsin, University of North Carolina at Chapel Hill and Tulane.
"The need for dentists is increasing due to many retiring dentists and our growing and aging population that is in need of oral healthcare services," said Ann Nasti, DMD, and Associate Dean for Clinical Education, and Director of the Discover Dental School Summer Scholars Program. "Learning about new practices and technologies affords these prospective dental students a true sense of the profession and its direction."
The School of Dental Medicine's faculty, residents and students instruct the participants during each of the training modules.
This program introduces students to some of the most recent revolutionary technologies in the dental field such as CAD/CAM technologies which allow for one visit crown appointments and the CompuDent Wand System, which is a system that provides painless injections for all routine procedures.
The hands-on training will take place at the Thomas and Nicolina Nasti Simulation Laboratory, a high-technology training classroom, which stimulates a dental care environment and at Stony Brook University's Center for Clinical Simulation and Patient Safety.
Applications for the 2017 program will be available December 1, 2016. See this webpage.
Click here to see photos from the 2016 Discover Dental School Summer Scholars Program.
Click here to see more photos from the 2015 Discover Dental School Summer Scholars Program.
View Newsday's video coverage of Discover Dental School Summer Scholars Program here.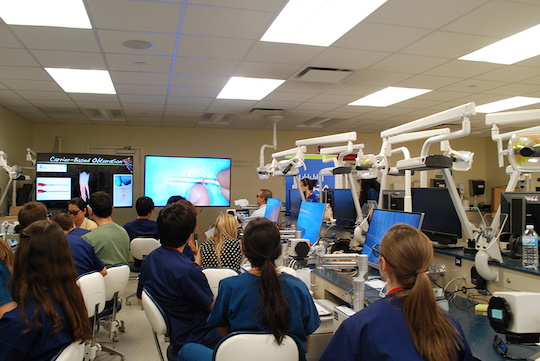 Students will perform simulated endodontic procedures utilizing revolutionary 3D video technology.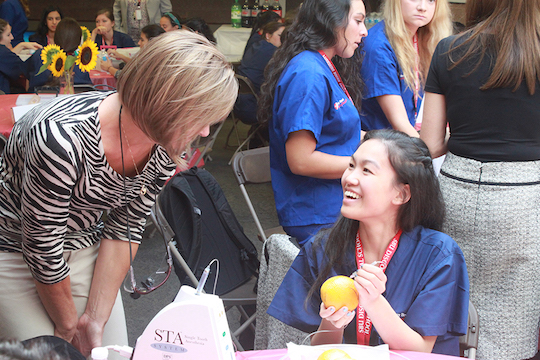 Participants will be trained in new technologies, such as giving painless injections using The Wand.