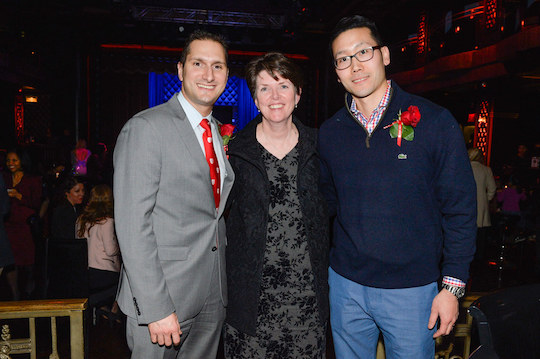 Drs. Dimitrious "Jimmy" Kilimitzoglou, Dean Mary Truhlar and Albert Yoo
Stony Brook University "40 Under Forty" Honors Two Dental School Alumni
January 2016- On January 26, more than 200 alumni, former honorees, family, and friends joined Stony Brook University President Samuel L. Stanley Jr. at the second annual "40 Under Forty" celebration at the Edison Ballroom in Times Square, New York City.
The "40 Under Forty" program honors forty of the most innovative and entrepreneurial spirited Stony Brook University alumni age forty or younger who are making significant contributions to their professions and communities.
This year's honorees were recognized for their achievements in medicine, the arts, public service, business, and academia, among other fields.
Stony Brook School of Dental Medicine is proud to have two of our alumni honored this year.
Drs. Dimitrious "Jimmy" Kilimitzoglou and Albert Yoo were honored for their superior achievements, community service, research, dedication and innovation.
Dr. Kilimitzoglou is a Clinical Associate Profrssor at Stony Brook University, School of Dental Medicine where he teaches 2nd, 3rd, and 4th year dental students. He is founder of the Dimitrios Kilimitzoglou Pioneer in Dentistry Award which is awarded to the graduating dental student demonstrating incredible pride, zeal and enthusiasm in dentistry by going above and beyond the requirements of the curriculum. Dr. Kilimitzoglou is also president of Stony Brook's School of Dental Medicine alumni chapter. A Major in the Air National Guard/ Air Force and a member of the 106th Medical Group, 106th Rescue Wing at Westhampton Beach, NY, Dr. Kilimitzoglou continually serves his community and country.
It wasn't long after his graduation in '02 from dental school that Dr. Kilimitzoglou started giving back to the institution that he credits for inspiring so much in him. To date, he has donated more than $100,000 to establish three student scholarships and awards at the dental school.
In 2006, he established the Dimitrios Kilimitzoglou Pioneer in Dentistry Award with an annual contribution of $1,000 to Stony Brook's School of Dental Medicine.
In 2012, he created an endowed scholarship fund with a transformative $35,000 donation, a gift that was matched by the Simons Foundation for a total impact of $70,000.
Dr. Kilimitzoglou recently donated $55,000 to create two additional endowed funds for an award and a scholarship.
Now, three Stony Brook dental school students each year will receive scholarships or awards courtesy of the Kilimitzoglou endowed funds.
With his generosity and his dedication to the profession, Dr. Kilimitzoglou is helping ensure that the community continues to reap the benefits of having excellent Stony Brook dental school graduates serving the public.
Dr. Albert Yoo, a Clinical Assistant Professor in the School of Dental Medicine's (SDM) Department of Periodontology, is well acquainted with the allure of the Caribbean nation of Jamaica, as he has gone there every year for the past five years. His reason for traveling to Jamaica, however, has nothing to do with leisure.
His destination is Buff Bay, a small seaside community on Jamaica's northeast coast, where despite a thriving agro-tourism industry, the income of most residents falls below the poverty line, according to a study commissioned by the Caribbean Natural Resources Institute in collaboration with the Jamaica Forestry Department. In fact, many Buff Bay residents can't afford or lack access to even the most basic oral healthcare, but that's beginning to change since Yoo began making annual trips there.
Since 2010 he has traveled to Buff Bay to treat the local population. Last year for the first time he led a team of faculty, students and staff on a weeklong mission. This past January he returned with a 13-person team that included four licensed periodontists, eight third- and fourth-year dental students, and a certified dental assistant. Yoo supervised the clinical operation and team, which worked out of a local community clinic and provided care to 411 patients, most of whom underwent cleanings, extractions, gum surgery and alveoplasty.
The SDM sponsors similar trips to varied locations around the world, such as Madagascar, Chile and Kenya, and to remote or underserved areas within the United States, such as in South Dakota, Virginia and Tennessee. Now it has added Jamaica to its permanent roster.
As the mission organizer, Dr. Yoo raises funds from friends, family and colleagues to help defray the cost of the trip, which is estimated at $850 per student and includes transportation and room and board for one week.
Dr. Yoo said the trip to Jamaica is a great way for dental students to embrace volunteerism. "Their teamwork, incredible work ethic, positive attitude, willingness to learn, progress in the clinic, skill and confidence — coupled with the professionalism and sincerity they show each patient — are a great encouragement. Our mission has truly grown into something great."
Addressing the audience, President Stanley reminded the honorees and alumni in attendance that they are vitally important to the University's mission and he urged them to become even more involved in their alma mater.
"My vision of a great university includes an alumni network so strong that students want to come to Stony Brook because they know their alumni network will be standing by to support them and their university," he said.
Each year the University solicits nominations of alumni age 40 and under who are making exceptional contributions in their respective professions or in their communities and who reflect the impact of a Stony Brook degree.
To learn more about the "40 Under Forty" celebration and to watch the video click here.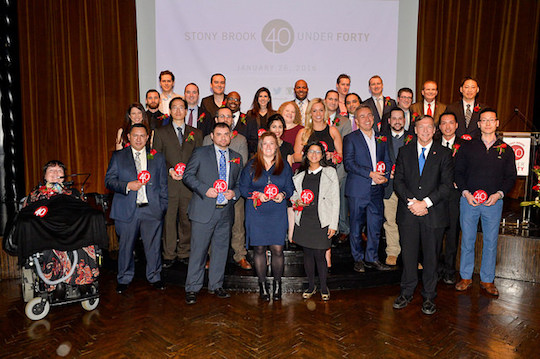 "40 Under Forty" Honorees with President Stanley, January 2016