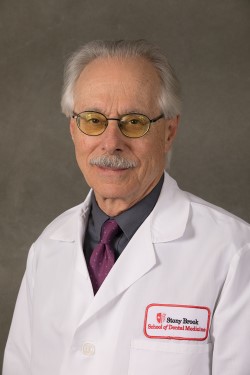 The SDM congratulates Lorne Golub, DMD, MSc, MD (Honorary)!
March 2018 - Dr. Golub, Distinguished Professor in the Department of Oral Biology and Pathology, received the Gies Award for Innovation by a Dental Educator at the 2018 American Dental Education Association (ADEA) Annual Session & Exhibition on March 19th.
The ADEA Gies Awards, named after William J. Gies, Ph.D., honor individuals and organizations that exemplify the highest standards in oral health and dental education, research and leadership, and are considered the pre-eminent event for recognizing significant contributions in the oral health field.
Dr. Golub is recognized as a truly prolific academic educator and inventor. He has published over 300 peer-reviewed papers and monographs in various dental, medical and biological journals. Dr. Golub's body of work includes the patents for zinc-binding, sub-antimicrobial dose tetracycline, and Periostat® and Oracea®, both marketed by Galderma.
Dr. Golub's commitment to innovation also earned him Fellowship within the 2016 class of the National Academy of Inventors (NAI). NAI is a non-profit member organization comprised of chapters at more than 240 institutions worldwide that was formed to recognize inventors with patents from the U.S. Patent and Trademark Office who enhance economic development and quality of life.