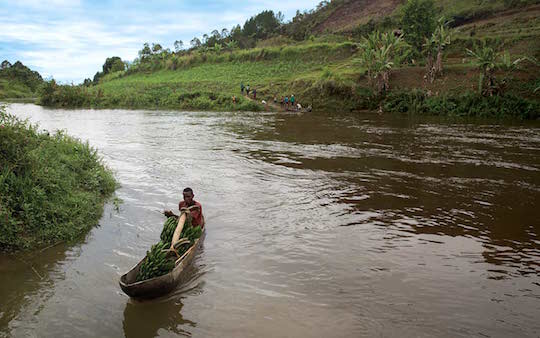 Madagascar Mission Explored in New FAR BEYOND New York Video
April 2016- Go behind the scenes and explore the Stony Brook University mission in Madagascar. Click here to watch the video.
Watch this video to learn more about the School of Dental Medicine's care for children of Madagascar.
Learn about student experiences here.
Explore the planning for our mission trip to Madagascar here.
Caption: The team of Stony Brook dental students honored with the ADA Foundation's first Thomas J. Zwemer Award is pictured in 2012 in Madagascar with Stony Brook University President Samuel L. Stanley Jr., MD, and Ellen Li, MD, PhD (center). Also pictured: David Krause, PhD, founder of the Madagascar Ankizy Fund (upper left); J. Hamil Willoughby, DDS, student advisor (next to Dr. Krause); Laurence Wynn, DDS, student advisor (next to Dr. Li); student leader Jennifer Lonnen (behind President Stanley), and one of the many children in Madagascar treated by the team.
About the School of Dental Medicine Madagascar Outreach Project
Since 2005, Stony Brook dental students and faculty have traveled to Madagascar to support efforts to improve the oral health of underserved communities by providing oral health and nutritional counseling, and dental services. The project is part of the Madagascar Ankizy Fund, a non-profit organization through the Stony Brook Foundation that builds schools and provides temporary healthcare clinics to children living in remote areas. For more about the Fund and the Stony Brook dental mission see this Stony Brook video.
Under faculty supervision, the student dental teams in Madagascar have treated more than 11,000 patients over the years. Each year the students also run oral health hygiene education programs for children and families in villages to emphasize the importance of preventing tooth decay. Additionally, the outreach experience provides students with data useful for their own dental school research projects.
The School was awarded the American Dental Association's first annual Dr. Thomas J. Zwemer Award for its 2012 mission. The award recognizes outstanding dental student outreach programs to underserved populations outside of the U.S. Read more about this recognition here.