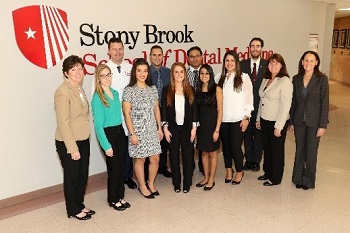 SDM Celebrates Scholarship Recipients
November 2017 - Seven Year 1 Stony Brook School of Dental Medicine (SDM) students were selected as recipients of merit-based scholarships: Elana Kurlander, Gina Dolisi, Upasna Malhotra, Alexander McGuiness, Sarthak Nayyar, Noelle Fischer, and Stefanny Vieira. During the luncheon reception hosted within SDM, scholarship recipients were greeted by Dr. Mary Truhlar, Dean of SDM, as well as by the representatives of the scholarship donors.
"We are so appreciative of the generosity of the donors, and of their support of the students within the School of Dental Medicine," says Dr. Mary Truhlar, Dean of SDM. "It is certain that the scholarship contributions will assist in, and inspire, the students' success on their educational paths towards careers in dentistry."
The reception allowed the scholarship recipients an opportunity to meet with their respective scholarship donors, and to participate in discussions regarding their educational and career trajectories. Students expressed their messages of thanks, and reflected upon the positive impact of becoming scholarship recipients.
"Receiving this scholarship has reminded me that the work I put in to get this far has not gone unnoticed," says Alexander McGuiness. Upasna Malhotra adds, "This scholarship has encouraged me to help other people the way my donors helped me and to continue to help anyone in need, whether it be academic or personal."
The J. Howard Oaks Scholarship was presented to Elana Kurlander, The Dental Medicine Scholarship was awarded to Gina Dolisi, the Thomas and Nicolina Nasti Scholarship in Dental Medicine was awarded to Upasna Malhotra and Alexander McGuiness, the Dimitrios Kilimitzoglous Scholarship was awarded to Sarthak Nayyar, The Robert Renner Scholarship was awarded to Noelle Fischer, and the Fred S. Ferguson Scholarship was awarded to Stefanny Viera.
SDM congratulates the scholarship recipients on their recognition.