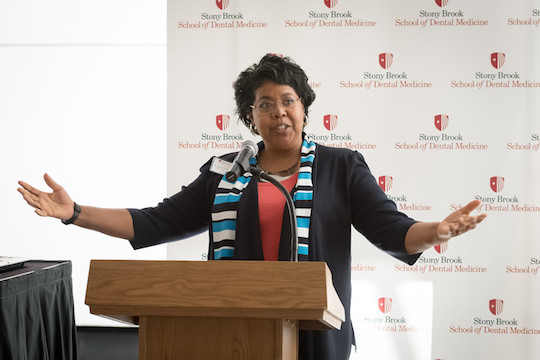 Jennifer Webster-Cyriaque, DDS, PhD delivers keynote address
2016 Leo and Mickey Sreebny Student Research Symposium Sets Attendance and Participation Record
April 2016- Hundreds of students, faculty, staff and visitors filled the Charels B. Wang Center on April 27 to participate in the 2016 Leo and Mickey Sreebny Symposium, the largest in event history. More than forty posters and research projects were presented by predoctoral, postdoctoral, graduate and undergraduate students.
Dr. Mary R. Truhlar, Dean of the School of Dental Medicine, welcomed the crowd and gave introductory remarks reflecting upon the history and success of the Leo and Mickey Sreebny Student Research Symposium. Dr. Truhlar spoke about the growth and development of this annual celebration of student research. Thanking the organizers of this annual event she acknowledged the hard work, inquiry and dedication of students, faculty and staff and graciouolsy thanked corporate friends for the financial support for this event.
Dr. Steven D. London, Associate Dean for Research and Professor, Department of Oral Biology and Pathology, and a leading organizer of this event, introduced the Keynote Distinguished Lecturer.
Jennifer Webster-Cyriaque, DDS, PhD, Professor, Depatment of Dental Ecology, University of North Carolina at Chapel Hill School of Dentistry presented the Distinguished Lecture. Dr. Webster-Cyriaque presented, "Decoding Oral Disease and Malignancy: Lessons from the Immune Suppressed."
Following the keynote address, eight awards were presented to student researchers that best exemplified the cornerstones of research.
Awards included:
New York Academy of Dentistry Award presented to Daniella Forman, BA and Aliza Kaye, BA
ADA/DENTSPLY Student Clinician Research Award presented to Michael Hanna, BS
Hinman Student Research Symposium Award presented to Nicholas Montanaro, BS
AADR Student Research Day Award presented to Mingyu Kwak, BS
Postdoctoral Students/Residents Research Award presented to Maria Diaz, DDS and Rebecca Sternberger, DDS, MA, MBA
Graduate Student Research Award presented to Veena Raja, BDS
Undergraduate Student Research Award presented to Upasna Malhorta, BS candidate
Omicron Kappa Upsilon Sigma Tau Chapter Research Award presented to Michael Hanna, BS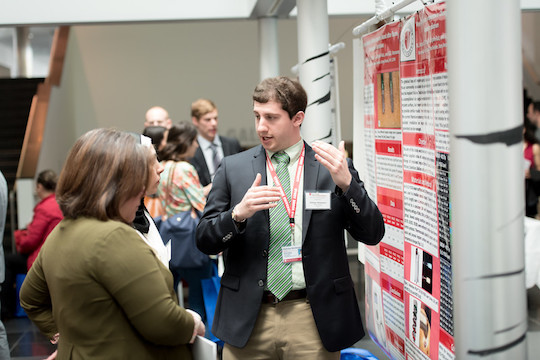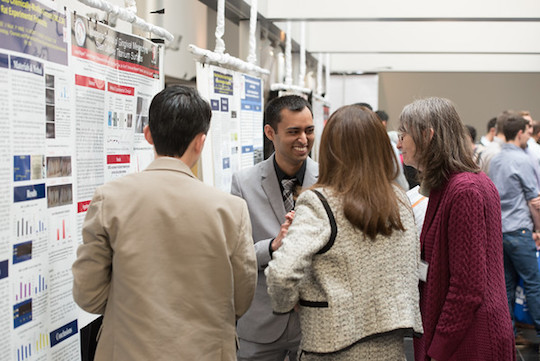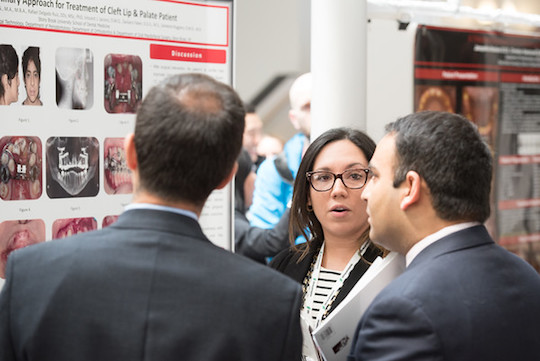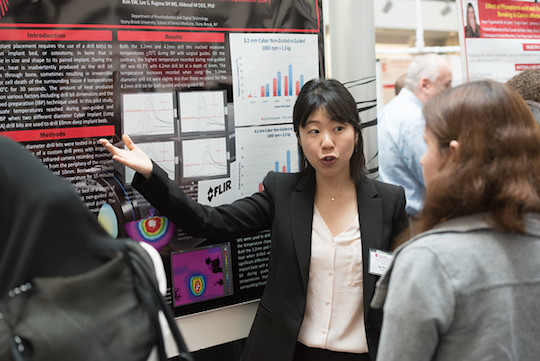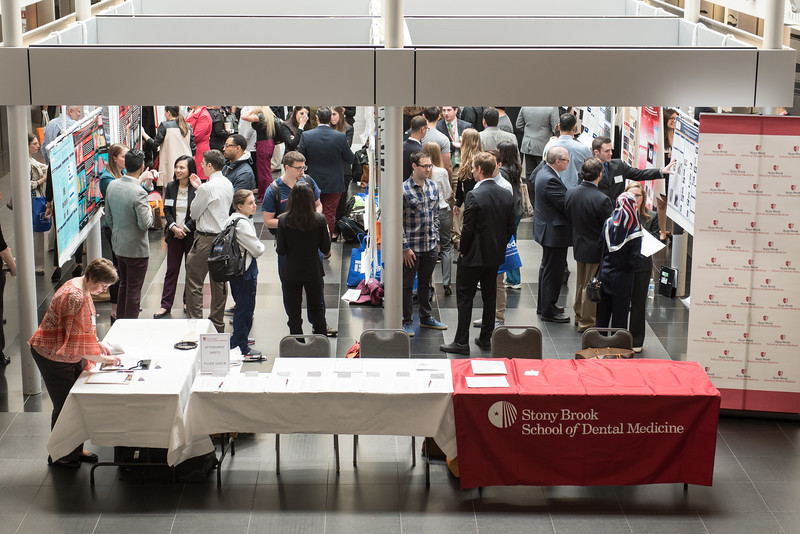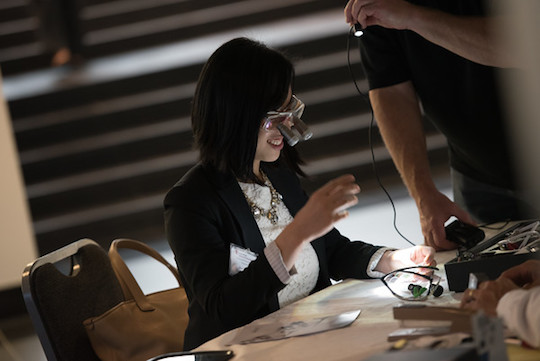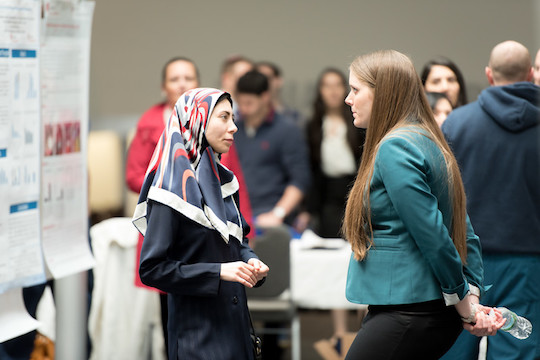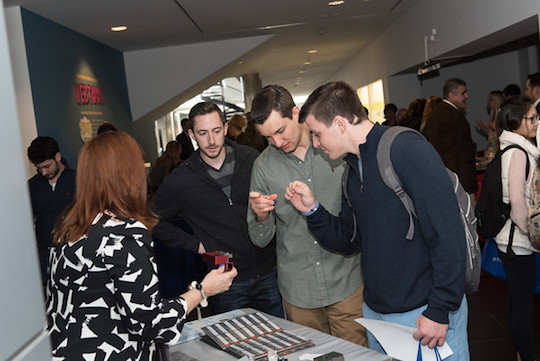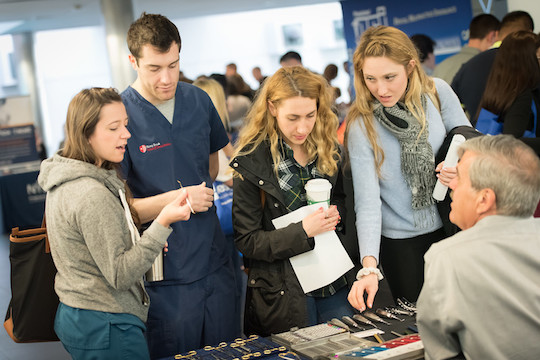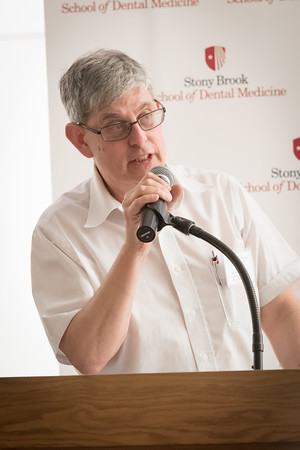 Dr. Steven London introduces the Keynote Distinguished Lecturer
New York Academy of Dentistry Award presented to Daniella Forman, BA and Aliza Kaye, BA by Dr. Lucille London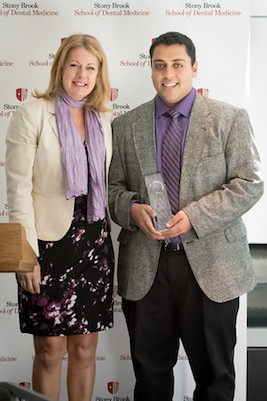 ADA/DENTSPLY Student Clinician Research Award presented to Michael Hanna, BS
Hinman Student Research Symposium Award presented to Nicholas Montanaro, BS by Dr. Lucille London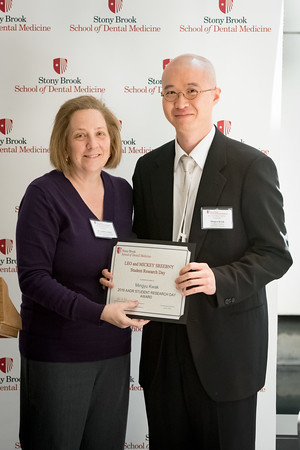 AADR Student Research Day Award presented to Mingyu Kwak, BS by Dr. Lucille London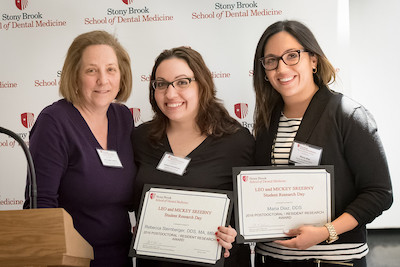 Postdoctoral Students/Residents Research Award presented to Maria Diaz, DDS and Rebecca Sternberger, DDS, MA, MBA by Dr. Lucille London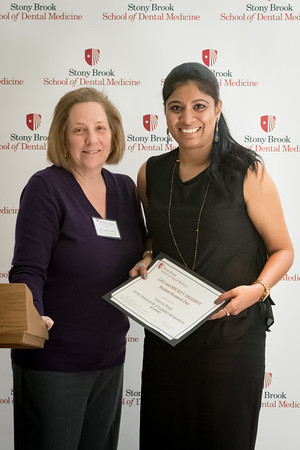 Graduate Student Research Award presented to Veena Raja, BDS by Dr. Lucille London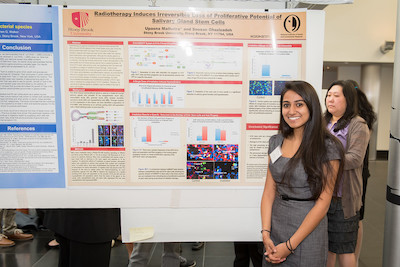 Undergraduate Student Research Award presented to Upasna Malhorta, BS candidate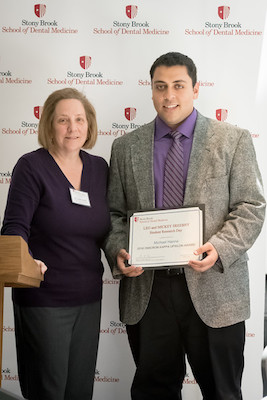 Omicron Kappa Upsilon Sigma Tau Chapter Research Award presented to Michael Hanna, BS by Dr. Lucille London